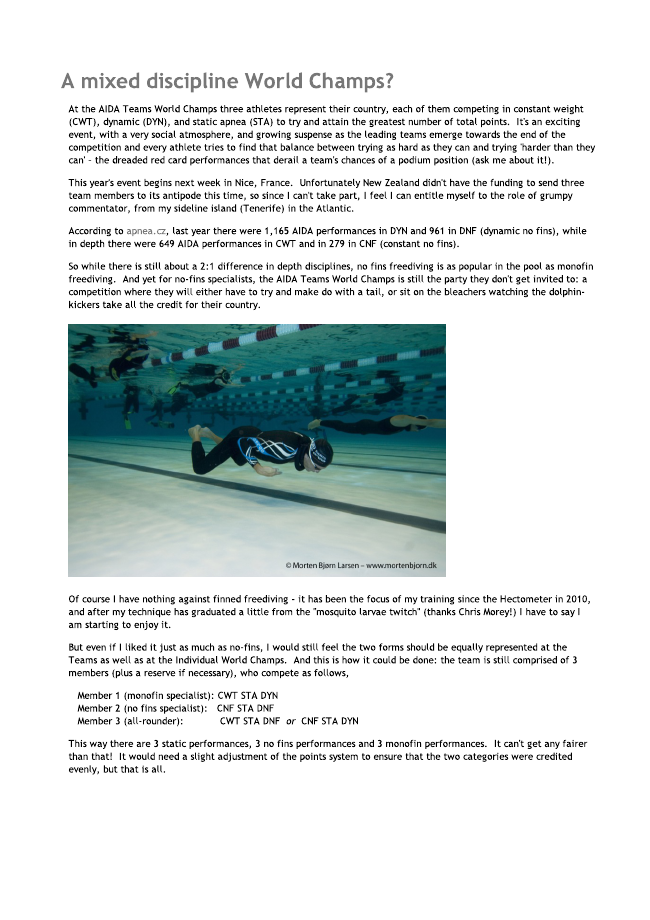 A mixed discipline World Champs?
At the AIDA Teams World Champs three athletes represent their country, each of them competing in constant weight (CWT), dynamic (DYN), and static apnea (STA) to try and attain the greatest number of total points. It's an exciting event, with a very social atmosphere, and growing suspense as the leading teams emerge towards the end of the competition and every athlete tries to find that balance between trying as hard as they can and trying 'harder than they can' - the dreaded red card performances that derail a team's chances of a podium position (ask me about itl).
This year's event begins next week in Nice, France. Unfortunately New Zealand didn't have the funding to send three team members to its antipode this time, so since I can't take part, I feel I can entitle myself to the role of grumpy commentator, from my sideline island (Tenerife) in the Atlantic.
According to apnea.cz, last year there were 1,165 AIDA performances in DYN and 961 in DNF (dynamic no fins), while in depth there were 649 AIDA performances in CWT and in 279 in CNF (constant no fins).
So while there is still about a 2:1 difference in depth disciplines, no fins freediving is as popular in the pool as monofin freediving. And yet for no-fins specialists, the AIDA Teams World Champs is still the party they don't get invited to: a competition where they will either have to try and make do with a tail, or sit on the bleachers watching the dolphinkickers take all the credit for their country.
Of course I have nothing against finned freediving - it has been the focus of my training since the Hectometer in 2010, and after my technique has graduated a little from the mosquito larvae twitch (thanks Chris Morey!) I have to say I am starting to enjoy it.
But even if I liked it just as much as no-fins, I would still feel the two forms should be equally represented at the Teams as well as at the Individual World Champs. And this is how it could be done: the team is still comprised of 3 members (plus a reserve if necessary), who compete as follows,
Member 1 (monofin specialist): CWT STA DYN Member 2 (no fins specialist): CNF STA DNF Member 3 (all-rounder): CWT STA DNF or CNF STA DYN
This way there are 3 static performances, 3 no fins performances and 3 monofin performances. It can't get any fairer than that! It would need a slight adjustment of the points system to ensure that the two categories were credited evenly, but that is all.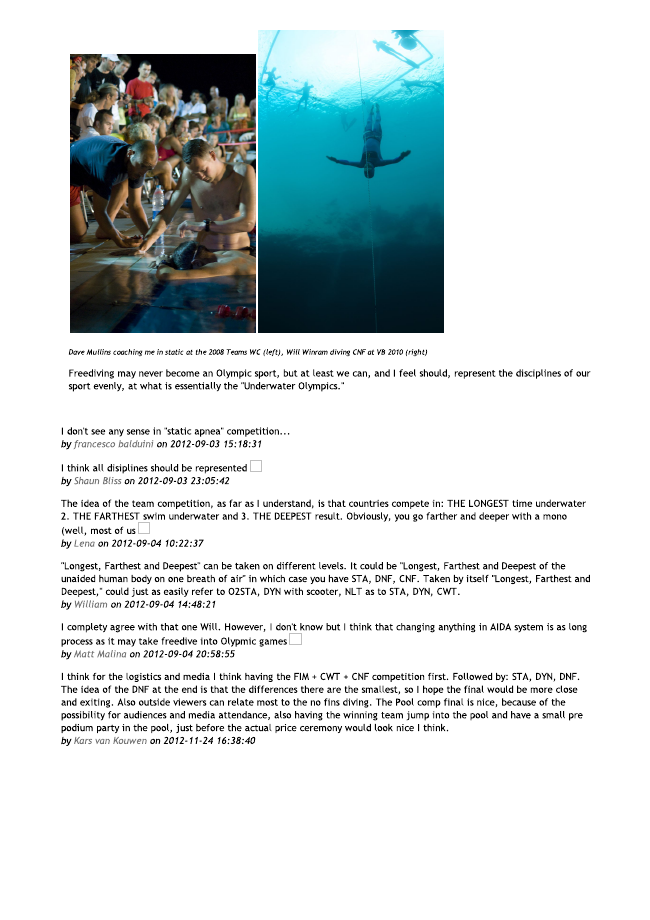 Dave` Mullins coaching me in static at the 2008 Teams WC (left), Will Winram diving CNF at VB 2010 (right)
Freediving may never become an Olympic sport, but at least we can, and I feel should, represent the disciplines of our sport evenly, at what is essentially the Underwater Olympics.
I don't see any sense in static apnea competition. ._ by francesco balduini on 2012-09-03 15: 18:31
I think all disiplines should be represented by Shaun Bliss on 2012-09-03 23:05:42
The idea of the team competition, as far as I understand, is that countries compete in: THE LONGEST time underwater 2. THE FARTHEST swim underwater and 3. THE DEEPEST result. Obviously, you go farther and deeper with a mono (well, most of us
by Lena on 2012-09-04 10:22:37
Longest, Farthest and Deepest can be taken on different levels. It could be Longest, Farthest and Deepest of the unaided human body on one breath of airJI in which case you have STA, DNF, CNF. Taken by itself Longest, Farthest and Deepest, could just as easily refer to OZSTA, DYN with scooter, NLT as to STA, DYN, CWT.
by William On 2012-09-04 14:48:21
I complety agree with that one Will. However, I don't know but I think that changing anything in AIDA system is as long process as it may take freedive into Olypmic games by Matt Malina on 2012-09-04 20:58:55
I think for the logistics and media I think having the FIM + CWT CNF competition first. Followed by: STA, DYN, DNF. The idea of the DNF at the end is that the differences there are the smallest, so I hope the final would be more close and exiting. Also outside viewers can relate most to the no fins diving. The Pool comp final is nice, because of the possibility for audiences and media attendance, also having the winning team jump into the pool and have a small pre podium party in the pool, just before the actual price ceremony would look nice I think.
by Kars van Kouwen on 2012-11-24 16:38:40