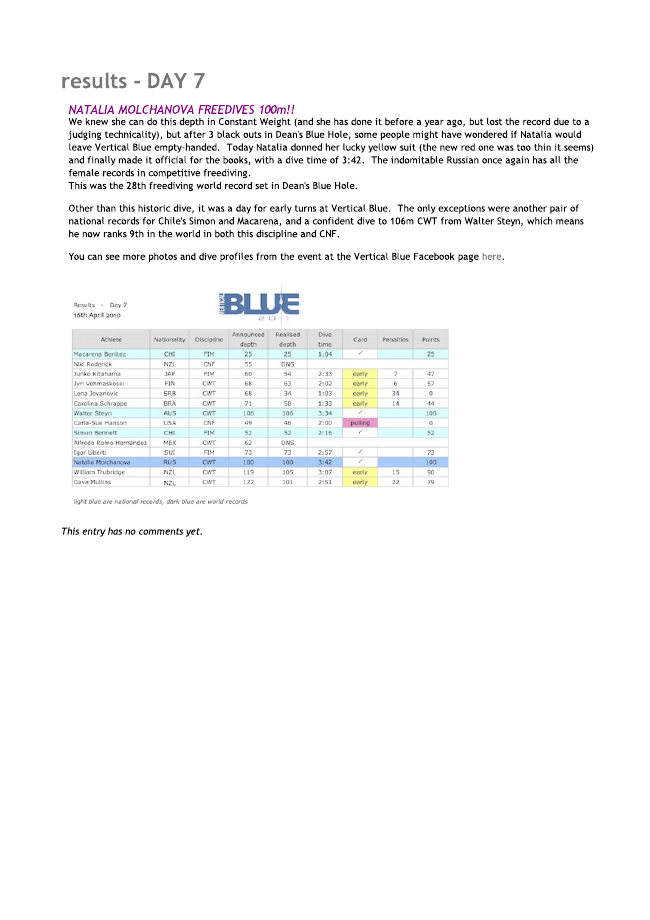 results - DAY 7
NATALIA MOLCHANOVA FREEDIVES 100m!!
We knew she can do this depth in Constant Weight (and she has done it before a year ago, but lost the record due to a judging technicality), but after 3 black outs in Dean's Blue Hole, some people might have wondered if Natalia would leave Vertical Blue empty-handed. Today Natalia donned her lucky yellow suit (the new red one was too thin it seems) and finally made it official for the books, with a dive time of 3:42. The indomitable Russian once again has all the female records in competitive freediving.
This was the 28th freediving world record set in Dean's Blue Hole.
Other than this historic dive, it was a day for early turns at Vertical Blue. The only exceptions were another pair of national records for Chile's Simon and Macarena, and a confident dive to 106m CWT from Walter Steyn, which means he now ranks 9th in the world in both this discipline and CNF.
You can see more photos and dive profiles from the event at the Vertical Blue Facebook page here.
This entry has no comments yet.