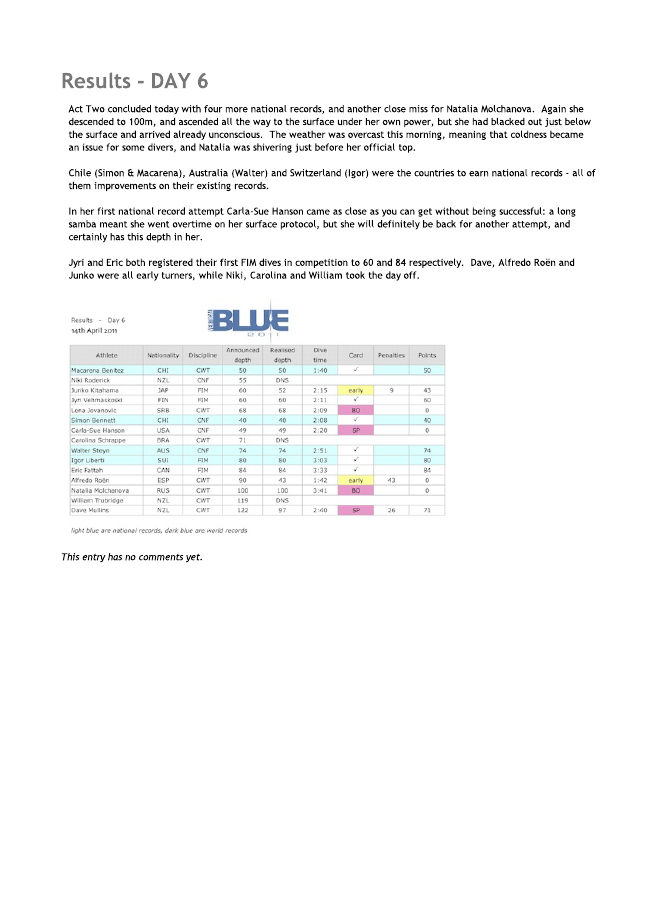 Results - DAY 6
Act Two concluded today with four more national records, and another close miss for Natalia Molchanova. Again she descended to 100m, and ascended all the way to the surface under her own power, but she had blacked out just below the surface and arrived already unconscious. The weather was overcast this morning, meaning that coldness became an issue for some divers, and Natalia was shivering just before her official top.
Chile (Simon & Macarena), Australia (Walter) and Switzerland (Igor) were the countries to earn national records - all of them improvements on their existing records.
In her first national record attempt Carla-Sue Hanson came as close as you can get without being successful: a long samba meant she went overtime on her surface protocol, but she will definitely be back for another attempt, and certainly has this depth in her.
Jyri and Eric both registered their first FIM dives in competition to 60 and 84 respectively. Dave, Alfredo Roën and Junko were all early turners, while Niki, Carolina and William took the day off.
This entry has no comments yet.