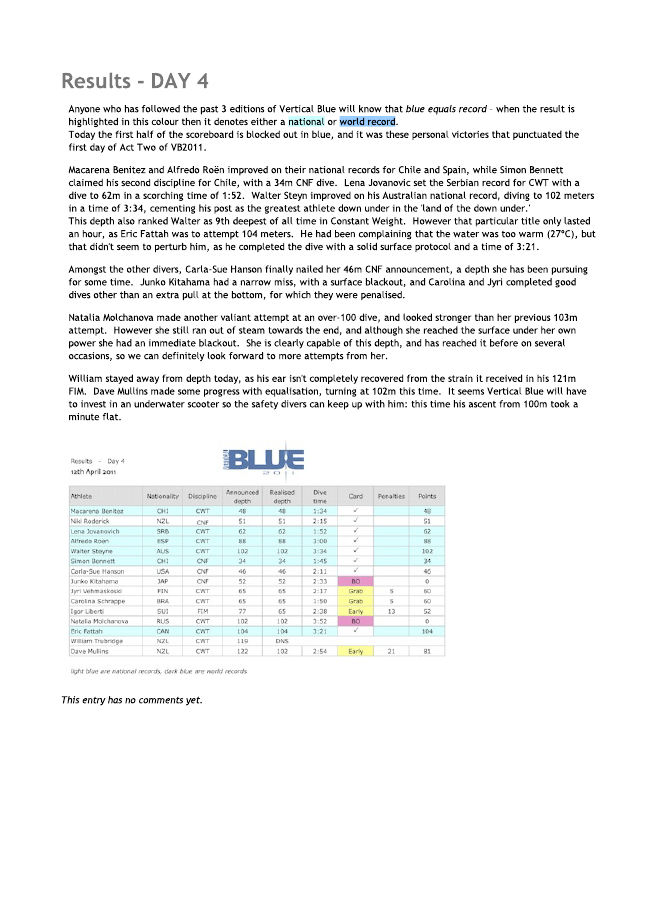 Results - DAY 4
Anyone who has followed the past 3 editions of Vertical Blue will know that blue equals record - when the result is highlighted in this colour then it denotes either a national or world record.
Today the first half of the scoreboard is blocked out in blue, and it was these personal victories that punctuated the first day of Act Two of VB2011.
Macarena Benitez and Alfredo Roën improved on their national records for Chile and Spain, while Simon Bennett claimed his second discipline for Chile, with a 34m CNF dive. Lena Jovanovic set the Serbian record for CWT with a dive to 62m in a scorching time of 1:52. Walter Steyn improved on his Australian national record, diving to 102 meters in a time of 3:34, cementing his post as the greatest athlete down under in the 'land of the down under.'
This depth also ranked Walter as 9th deepest of all time in Constant Weight. However that particular title only lasted an hour, as Eric Fattah was to attempt 104 meters. He had been complaining that the water was too warm (27°C), but that didn't seem to perturb him, as he completed the dive with a solid surface protocol and a time of 3:21.
Amongst the other divers, Carla-Sue Hanson finally nailed her 46m CNF announcement, a depth she has been pursuing for some time. Junko Kitahama had a narrow miss, with a surface blackout, and Carolina and Jyri completed good dives other than an extra pull at the bottom, for which they were penalised.
Natalia Molchanova made another valiant attempt at an over-100 dive, and looked stronger than her previous 103m attempt. However she still ran out of steam towards the end, and although she reached the surface under her own power she had an immediate blackout. She is clearly capable of this depth, and has reached it before on several occasions, so we can definitely look forward to more attempts from her.
William stayed away from depth today, as his ear isn't completely recovered from the strain it received in his 121m FIM. Dave Mullins made some progress with equalisation, turning at 102m this time. It seems Vertical Blue will have to invest in an underwater scooter so the safety divers can keep up with him: this time his ascent from 100m took a minute flat.
This entry has no comments yet.