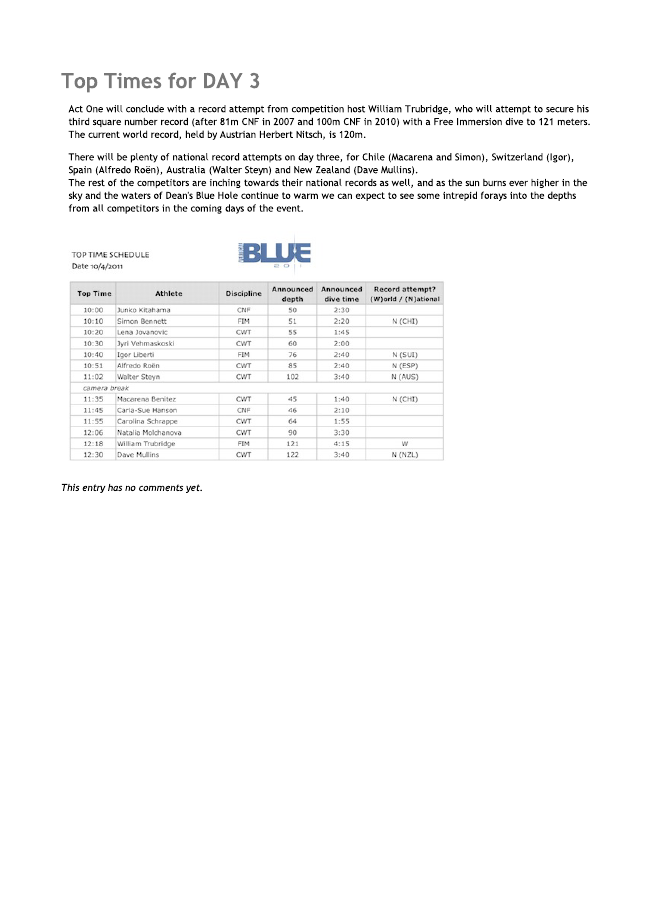 Top Times for DAY 3
Act One will conclude with a record attempt from competition host William Trubridge, who will attempt to secure his
third square number record (after 81m CNF in 2007 and 100m CNF in 2010) with a Free Immersion dive to 121 meters.
The current world record, held by Austrian Herbert Nitsch, is 120m.
There will be plenty of national record attempts on day three, for Chile (Macarena and Simon), Switzerland (Igor), Spain (Alfredo Roën), Australia (Walter Steyn) and New Zealand (Dave Mullins).
The rest of the competitors are inching towards their national records as well, and as the sun burns ever higher in the sky and the waters of Dean's Blue Hole continue to warm we can expect to see some intrepid forays into the depths from all competitors in the coming days of the event.
IIITIF
TU D TIME SCH EDULE
This entry has no comments yet.