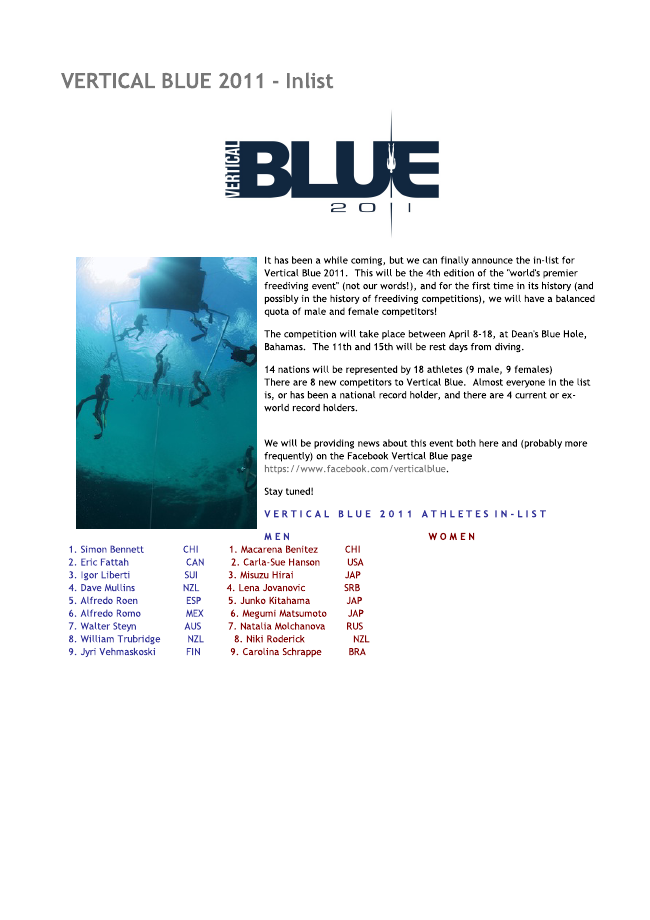 VERTICAL BLUE 2011 - Inlist
1. Simon Bennett
2. Eric Fattah
3. Igor Liberti
4. Dave Mullins
5. Alfredo Roen
6. Alfredo Romo
7. Walter Steyn
8. William Trubridge 9. Jyri Vehmaskoskí
CHI
CAN
SUI
NZL
ESP
MEX
AUS
NZL
FIN
- It has been a while coming, but we can finally announce the in-list for «I Vertical Blue 2011. This will be the 4th edition of the I'world's premier
freediving event (not our wordsl), and for the first time in its history (and possibly in the history of freediving competitions), we will have a balanced quota of male and female competitors!
çà. The competition will take place between April 8-18, at Dean's Blue Hole,
Bahamas. The 11th and 15th will be rest days from diving.
14 nations will be represented by 18 athletes (9 male, 9 females)
There are 8 new competitors to Vertical Blue. Almost everyone in the list is, or has been a national record holder, and there are 4 current or exworld record holders.
We will be providing news about this event both here and (probably more frequently) on the Facebook Vertical Blue page https: / /www.facebook.com/verticalblue.
Staytuned!
VERTICAL BLUE 2011ATHLETES|N-LIST
MEN WOMEN
1. Macarena Benitez CHI
2. Carla-Sue Hanson USA
3. Misuzu Hirai JAP
4. Lena Jovanovic SRB
5. Junko Kitahama JAP
6. Megumi Matsumoto JAP
7. Natalia Molchanova RUS
8. Niki Roderick NZL
9. Carolina Schrappe BRA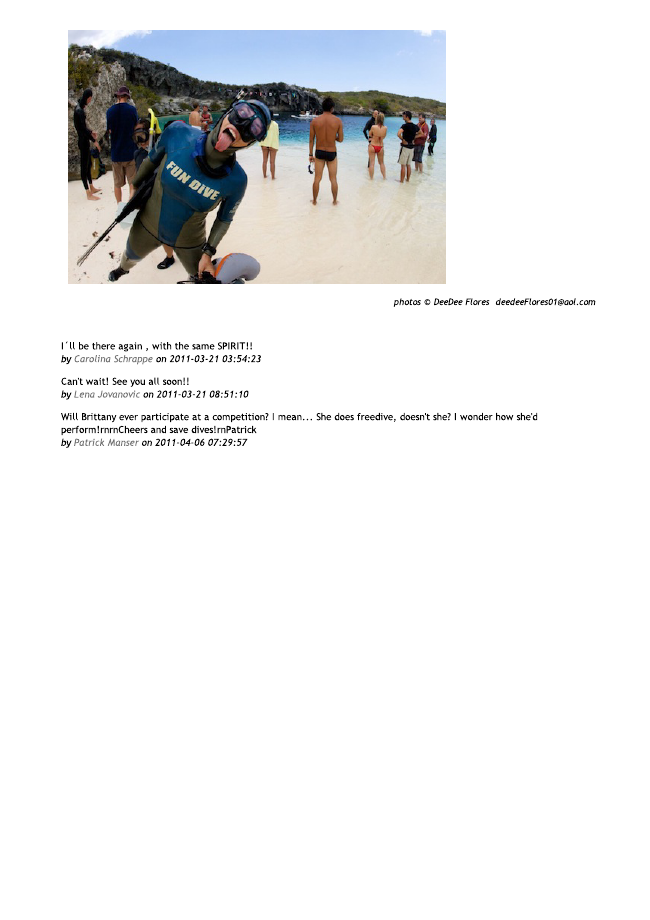 photos DeeDee Flores deedeeFlores01@aol.com
I' ll be there again , with the same SPIRIT!! by Carolina Schrappe on 2011-03-21 03:54:23
Can't wait! See you all soon!! by Lena Jovanovíc on 2011-03-21 08:51:10
Will Brittany ever participate at a competition? I mean... She does freedive, doesn't she? I wonder how she'd perform!rnrnCheers and save dives!rnPatrick by Patrick Manser on 2011-04-06 07:29:57