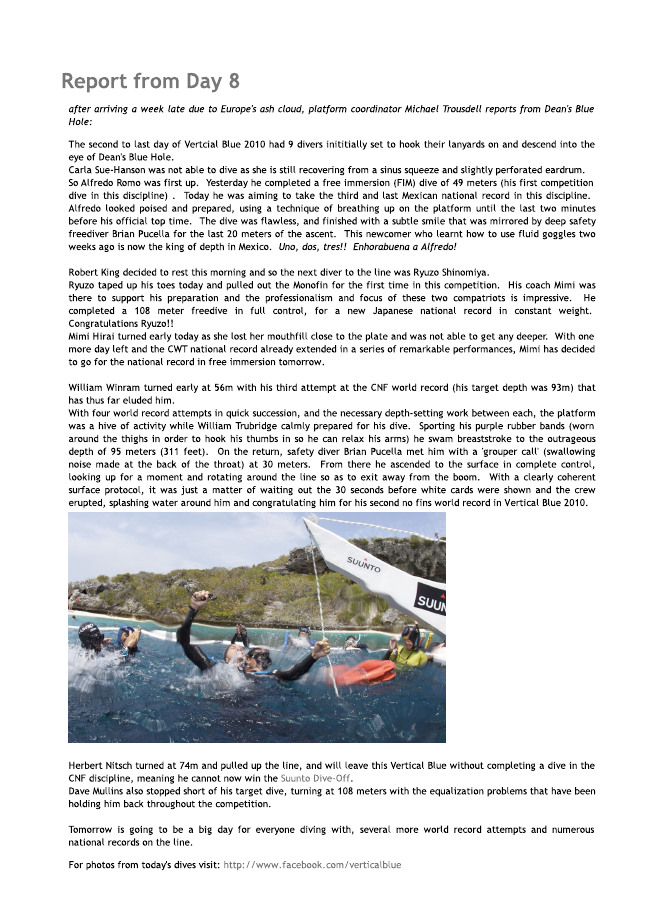 Report from Day 8
after arriving a week late due to Europe's ash cloud, platform coordinator Michael Trousdell reports from Dean's Blue Hole:
The second to last day of Vertcial Blue 2010 had 9 divers inititially set to hook their lanyards on and descend into the eye of Dean's Blue Hole.
Carla Sue-Hanson was not able to dive as she is still recovering from a sinus squeeze and slightly perforated eardrum. So Alfredo Romo was first up. Yesterday he completed a free immersion (FIM) dive of 49 meters (his first competition dive in this discipline) . Today he was aiming to take the third and last Mexican national record in this discipline. Alfredo looked poised and prepared, using a technique of breathing up on the platform until the last two minutes before his official top time. The dive was flawless, and finished with a subtle smile that was mirrored by deep safety freediver Brian Pucella for the last 20 meters of the ascent. This newcomer who learnt how to use fluid goggles two weeks ago is now the king of depth in Mexico. Uno, dos, tres!! Enhorabuena a Alfredo!
Robert King decided to rest this morning and so the next diver to the line was Ryuzo Shinomiya.
Ryuzo taped up his toes today and pulled out the Monofin for the first time in this competition. His coach Mimi was there to support his preparation and the professionalism and focus of these two compatriots is impressive. He completed a 108 meter freedive in full control, for a new Japanese national record in constant weight.
Congratulations Ryuzo!!
Mimi Hirai turned early today as she lost her mouthfill close to the plate and was not able to get any deeper. With one more day left and the CWT national record already extended in a series of remarkable performances, Mimi has decided to go for the national record in free immersion tomorrow.
William Winram turned early at 56m with his third attempt at the CNF world record (his target depth was 93m) that has thus far eluded him.
With four world record attempts in quick succession, and the necessary depth-setti ng work between each, the platform was a hive of activity while William Trubridge calmly prepared for his dive. Sporting his purple rubber bands (worn around the thighs in order to hook his thumbs in so he can relax his arms) he swam breaststroke to the outrageous depth of 95 meters (311 feet). On the return, safety diver Brian Pucella met him with a 'grouper call' (wvallowing noise made at the back of the throat) at 30 meters. From there he ascended to the surface in complete control, looking up for a moment and rotating around the line so as to exit away from the boom. With a clearly coherent surface protocol, it was just a matter of waiting out the 30 seconds before white cards were shown and the crew erupted, splashing water around him and congratulating him for his second no fins world record in Vertical Blue 2010.
Herbert Nitsch turned at 74m and pulled up the line, and will leave this Vertical Blue without completing a dive in the CNF discipline, meaning he cannot now win the Suunto Dive-Off.
Dave Mullins also stopped short of his target dive, turning at 108 meters with the equalization problems that have been holding him back throughout the competition.
Tomorrow is going to be a big day for everyone diving with, several more world record attempts and numerous national records on the line.
For photos from today's dives visit: http:/ /www.facebook.com/verticalblue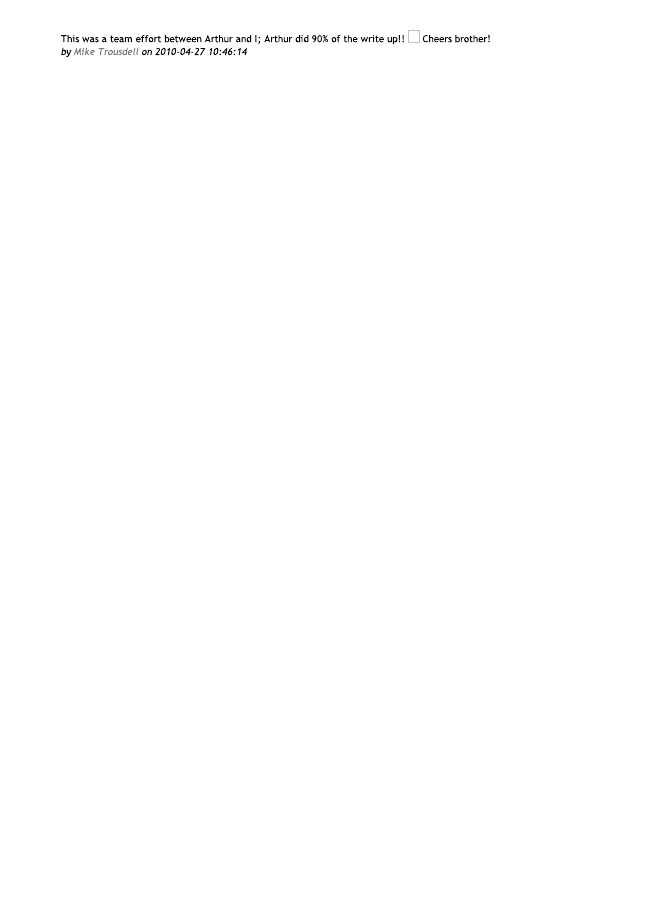 This was a team effort between Arthur and I; Arthur did 90% of the write up!! Cheers brother! by Mike Trousdell on 2010-04-27 10:46: 14