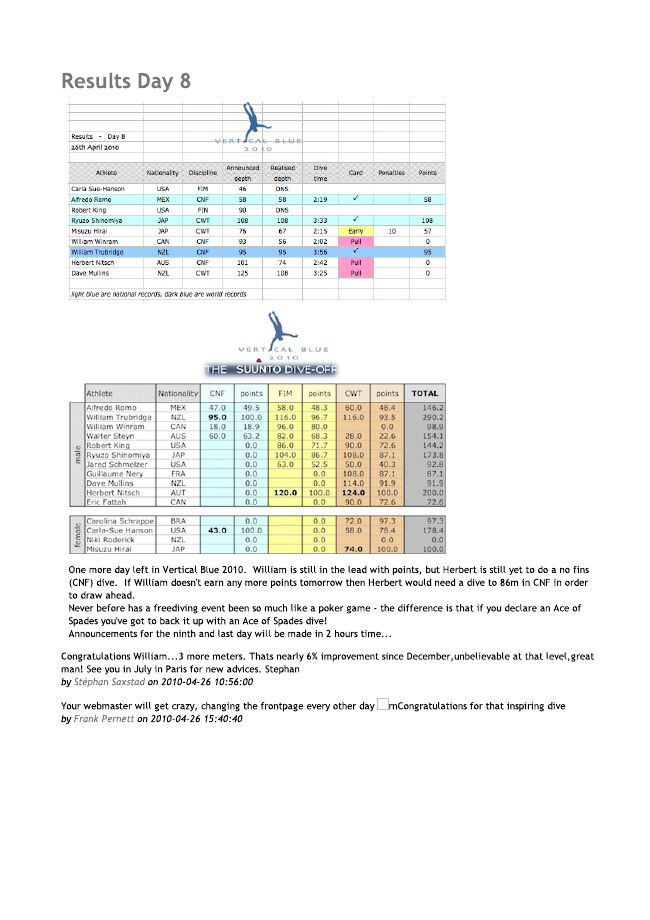 Results Day 8
One more day left in Vertical Blue 2010. William is still in the lead with points, but Herbert is still yet to do a no fins (CNF) dive. If William doesn't earn any more points tomorrow then Herbert would need a dive to 86m in CNF in order to draw ahead.
Never before has a freediving event been so much like a poker game - the difference is that if you declare an Ace of Spades you've got to back it up with an Ace of Spades dive!
Announcements for the ninth and last day will be made in 2 hours time...
Congratulations William...3 more meters. Thats nearly 6% improvement since December,unbelievable at that level,great man! See you in July in Paris for new advices. Stephan by Stéphan Saxstad on 2010-04-26 10:56:00
Your webmaster will get crazy, changing the frontpage every other day rnCongratulations for that inspiring dive by Frank Pernett on 2010-04-26 15:40:40