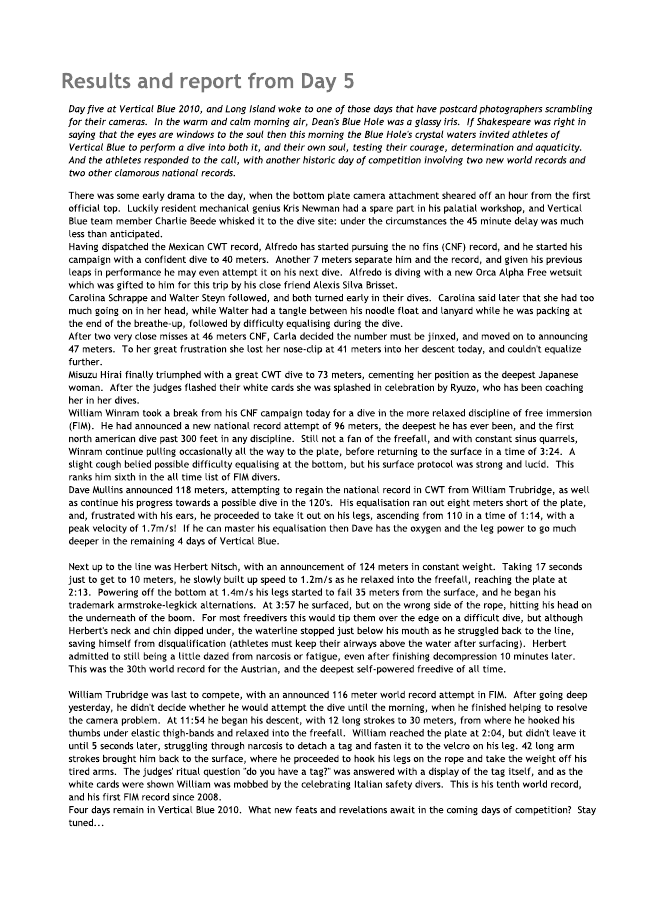 Results and report from Day 5
Day five at Vertical Blue 2010, and Long Island woke to one of those days that have postcard photographers scrambling for their cameras. ln the warm and calm morning air, Dean's Blue Hole was a glassy iris. lf Shakespeare was right in saying that the eyes are windows to the soul then this morning the Blue Hole's crystal waters invited athletes of Vertical Blue to perform a dive into both it, and their own soul, testing their courage, detennination and aquaticity. And the athletes responded to the call, with another historic day of competition involving two new world records and two other clamorous national records.
There was some early drama to the day, when the bottom plate camera attachment sheared off an hour from the first official top. Luckily resident mechanical genius Kris Newman had a spare part in his palatial workshop, and Vertical Blue team member Charlie Beede whisked it to the dive site: under the circumstances the 45 minute delay was much less than anticipated.
Having dispatched the Mexican CWT record, Alfredo has started pursuing the no fins (CNF) record, and he started his campaign with a confident dive to 40 meters. Another 7 meters separate him and the record, and given his previous leaps in performance he may even attempt it on his next dive. Alfredo is diving with a new Orca Alpha Free wetsuit which was gifted to him for this trip by his close friend Alexis Silva Brisset.
Carolina Schrappe and Walter Steyn followed, and both turned early in their dives. Carolina said later that she had too much going on in her head, while Walter had a tangle between his noodle float and lanyard while he was packing at the end of the breathe-up, followed by difficulty equalising during the dive.
After two very close misses at 46 meters CNF, Carla decided the number must be jinxed, and moved on to announcing 47 meters. To her great frustration she lost her nose-clip at 41 meters into her descent today, and couldn't equalize further.
Misuzu Hirai finally triumphed with a great CWT dive to 73 meters, cementing her position as the deepest Japanese woman. After the judges flashed their white cards she was splashed in celebration by Ryuzo, who has been coaching her in her dives.
William Winram took a break from his CNF campaign today for a dive in the more relaxed discipline of free immersion (FIM). He had announced a new national record attempt of 96 meters, the deepest he has ever been, and the first north american dive past 300 feet in any discipline. Still not a fan of the freefall, and with constant sinus quarrels, Winram continue pulling occasionally all the way to the plate, before returning to the surface in a time of 3:24. A slight cough belied possible difficulty equalising at the bottom, but his surface protocol was strong and lucid. This ranks him sixth in the all time list of FIM divers.
Dave Mullins announced 118 meters, attempting to regain the national record in CWT from William Trubridge, as well as continue his progress towards a possible dive in the 120's. His equalisation ran out eight meters short of the plate, and, frustrated with his ears, he proceeded to take it out on his legs, ascending from 110 in a time of 1:14, with a peak velocity of 1.7m/sl If he can master his equalisation then Dave has the oxygen and the leg power to go much deeper in the remaining 4 days of Vertical Blue.
Next up to the line was Herbert Nitsch, with an announcement of 124 meters in constant weight. Taking 17 seconds just to get to 10 meters, he slowly built up speed to 1.2m/ s as he relaxed into the freefall, reaching the plate at 2:13. Poweríng off the bottom at 1.4m/ s his legs started to fail 35 meters from the surface, and he began his trademark armstroke-legkíck alternations. At 3:57 he surfaced, but on the wrong side of the rope, hitting his head on the underneath of the boom. For most freedivers this would tip them over the edge on a difficult dive, but although Herbert's neck and chin dipped under, the waterline stopped just below his mouth as he struggled back to the line, saving himself from disqualification (athletes must keep their airways above the water after surfacing). Herbert admitted to still being a little dazed from narcosis or fatigue, even after finishing decompression 10 minutes later. This was the 30th world record for the Austrian, and the deepest self-powered freedive of all time.
William Trubridge was last to compete, with an announced 116 meter world record attempt in FIM. After going deep yesterday, he didn't decide whether he would attempt the dive until the morning, when he finished helping to resolve the camera problem. At 11:54 he began his descent, with 12 long strokes to 30 meters, from where he hooked his
thumbs under elastic thigh-bands and relaxed into the freefall. William reached the plate at 2:04, but didn't leave it until 5 seconds later, struggling through narcosis to detach a tag and fasten it to the velcro on his leg. 42 long arm strokes brought him back to the surface, where he proceeded to hook his legs on the rope and take the weight off his tired arms. The judges' ritual question do you have a tag? was answered with a display of the tag itself, and as the white cards were shown William was mobbed by the celebrating Italian safety divers. This is his tenth world record, and his first FIM record since 2008.
Four days remain in Vertical Blue 2010. What new feats and revelations await in the coming days of competition? Stay tuned...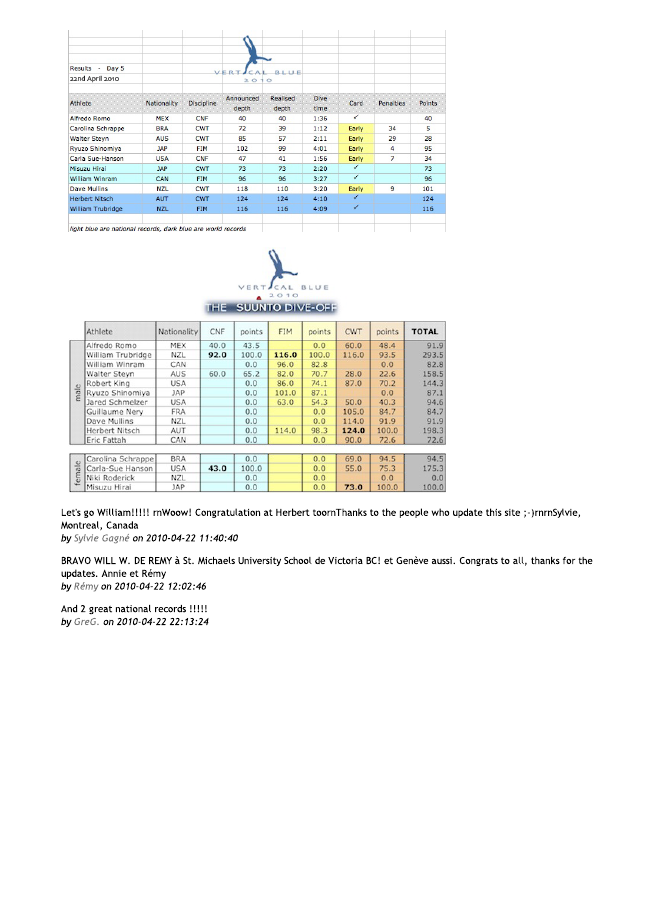 Resuts - Dayä
und Aprll 1010
VERTICAL BLUE
Let's go William!!!!! rnWoow! Congratulation at Herbert toornThanks to the people who update this site ;-)rnrnSylv1'e, Montreal, Canada by Sylvie Gagné on 2010-04-22 11:40:40
BRAVO WILL W. DE REMY à St. Michaels University School de Victoria BC! et Genève aussi. Congrats to all, thanks for the updates. Annie et Rémy by Rémy on 2010-04-22 12:02:46
And 2 great national records ll!!! by GreG. on 2010-04-22 22:13:24