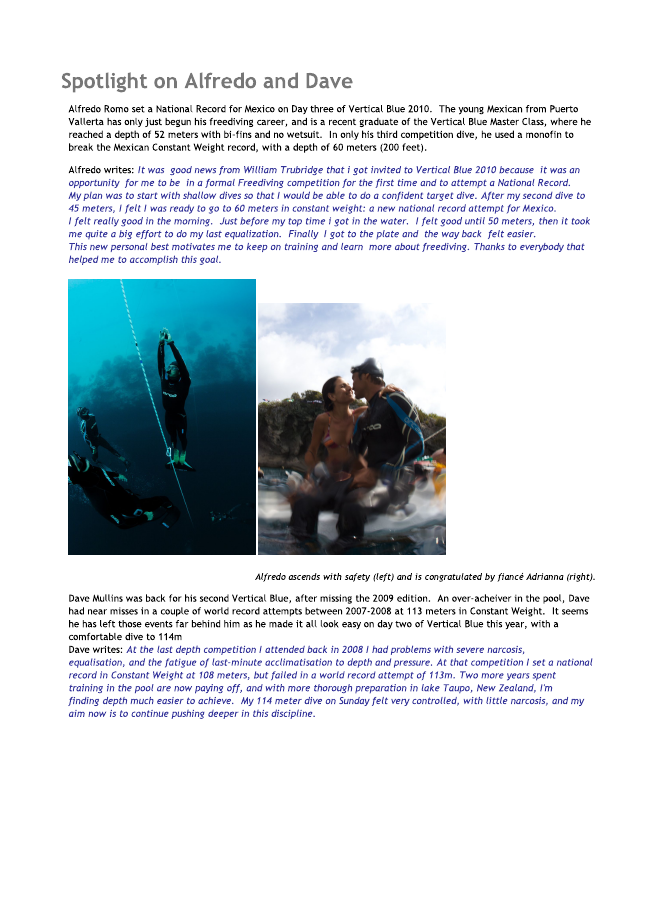 Spotlight on Alfredo and Dave
Alfredo Romo set a National Record for Mexico on Day three of Vertical Blue 2010. The young Mexican from Puerto Vallerta has only just begun his freediving career, and is a recent graduate of the Vertical Blue Master Class, where he reached a depth of 52 meters with bi-fins and no wetsuit. In only his third competition dive, he used a monofin to break the Mexican Constant Weight record, with a depth of 60 meters (200 feet).
Alfredo writes: lt was good news from William Trubridge that i got invited to Vertical Blue 2010 because it was an opportunity for me to be in a formal Freediving competition for the first time and to attempt a National Record.
My plan was to start with shallow dives so that I would be able to do a confident target dive. After my second dive to 45 meters, I felt I was ready to go to 60 meters in constant weight: a new national record attempt for Mexico.
I felt really good in the morning. Just before my top time i got in the water. I felt good until 50 meters, then it took me quite a big effort to do my last equalization. Finally I got to the plate and the way back felt easier.
This new personal best motivates me to keep on training and learn more about freediving. Thanks to everybody that helped me to accomplish this goal.
Alfredo ascends with safety (left) and is congratulated by fiancé Adrianna (right).
Dave Mullins was back for his second Vertical Blue, after missing the 2009 edition. An over-acheiver in the pool, Dave had near misses in a couple of world record attempts between 2007-2008 at 113 meters in Constant Weight. It seems he has left those events far behind him as he made it all look easy on day two of Vertical Blue this year, with a comfortable dive to 114m
Dave writes: At the last depth competition I attended back in 2008 I had problems with severe narcosis,
equalisation, and the fatigue of last-minute acclimatisation to depth and pressure. At that competition I set a national record in Constant Weight at 108 meters, but failed in a world record attempt of 113m. Two more years spent training in the pool are now paying off, and with more thorough preparation in lake Taupo, New Zealand, l'rn
finding depth much easier to achieve. My 114 meter dive on Sunday felt very controlled, with little narcosis, and my aim now is to continue pushing deeper in this discipline.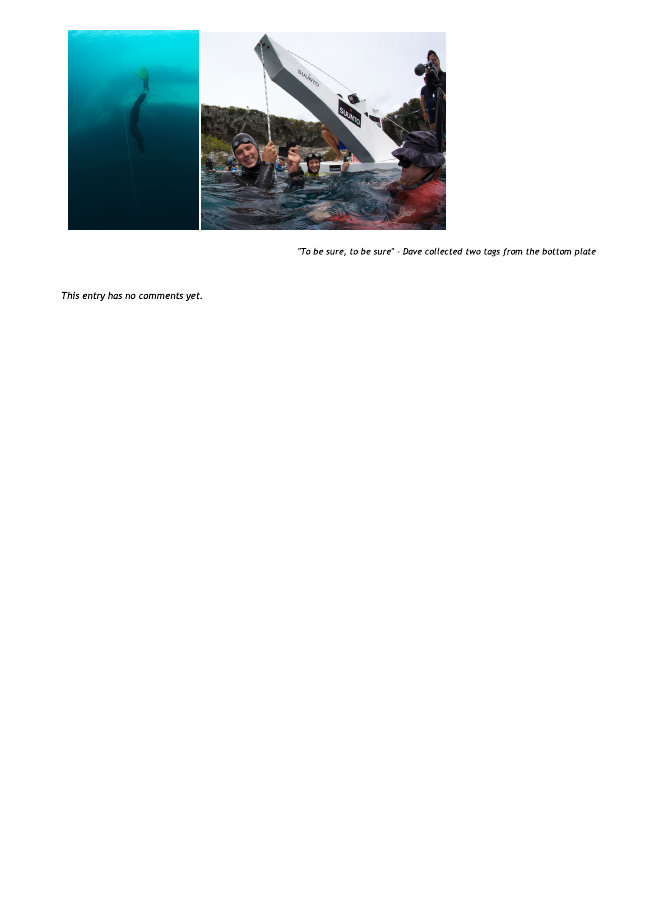 To be sure, to be sure - Dave collected two tags from the bottom plate
This entry has no comments yet.