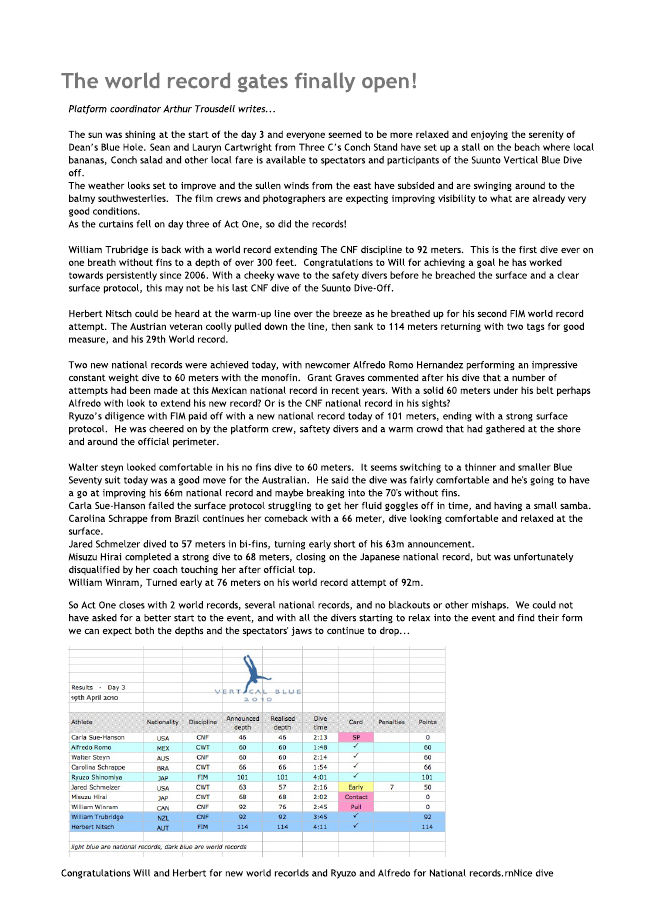 The world record gates finally open!
Platfonn coordinator Arthur Trousdell writes. . .
The sun was shining at the start of the day 3 and everyone seemed to be more relaxed and enjoying the serenity of Dean's Blue Hole. Sean and Lauryn Cartwright from Three C's Conch Stand have set up a stall on the beach where local bananas, Conch salad and other local fare is available to spectators and participants of the Suunto Vertical Blue Dive off.
The weather looks set to improve and the sullen winds from the east have subsided and are swinging around to the balmy southwesterlies. The film crews and photographers are expecting improving visibility to what are already very good conditions.
As the curtains fell on day three of Act One, so did the records!
William Trubridge is back with a world record extending The CNF discipline to 92 meters. This is the first dive ever on one breath without fins to a depth of over 300 feet. Congratulations to Will for achieving a goal he has worked towards persistently since 2006. With a cheeky wave to the safety divers before he breached the surface and a clear surface protocol, this may not be his last CNF dive of the Suunto Dive-Off.
Herbert Nitsch could be heard at the warm-up line over the breeze as he breathed up for his second FIM world record attempt. The Austrian veteran coolly pulled down the line, then sank to 114 meters returning with two tags for good measure, and his 29th World record.
Two new national records were achieved today, with newcomer Alfredo Romo Hernandez performing an impressive constant weight dive to 60 meters with the monofin. Grant Graves commented after his dive that a number of attempts had been made at this Mexican national record in recent years. With a solid 60 meters under his belt perhaps Alfredo with look to extend his new record? Oris the CNF national record in his sights?
Ryuzo's diligence with FIM paid off with a new national record today of 101 meters, ending with a strong surface protocol. He was cheered on by the platform crew, saftety divers and a warm crowd that had gathered at the shore and around the official perimeter.
Walter steyn looked comfortable in his no fins dive to 60 meters. It seems switching to a thinner and smaller Blue Seventy suit today was a good move for the Australian. He said the dive was fairly comfortable and he's going to have a go at improving his 66m national record and maybe breaking into the 70's without fins.
Carla Sue-Hanson failed the surface protocol struggling to get her fluid goggles off in time, and having a small samba. Carolina Schrappe from Brazil continues her comeback with a 66 meter, dive looking comfortable and relaxed at the surface.
Jared Schmelzer dived to 57 meters in bi-fins, turning early short of his 63m announcement.
Misuzu Hi rai completed a strong dive to 68 meters, closing on the Japanese national record, but was unfortunately disqualified by her coach touching her after official top.
William Winram, Turned early at 76 meters on his world record attempt of 92m.
So Act One closes with 2 world records, several national records, and no blackouts or other mishaps. We could not have asked for a better start to the event, and with all the divers starting to relax into the event and find their form we can expect both the depths and the spectators' jaws to continue to drop...
Results - D593
Congratulations Will and Herbert for new world recorlds and Ryuzo and Alfredo for National records.rnNice dive Wal!!!!rnLove the commentary Arthur. by Fran Rose` on 2010-04- 19 21:26:55