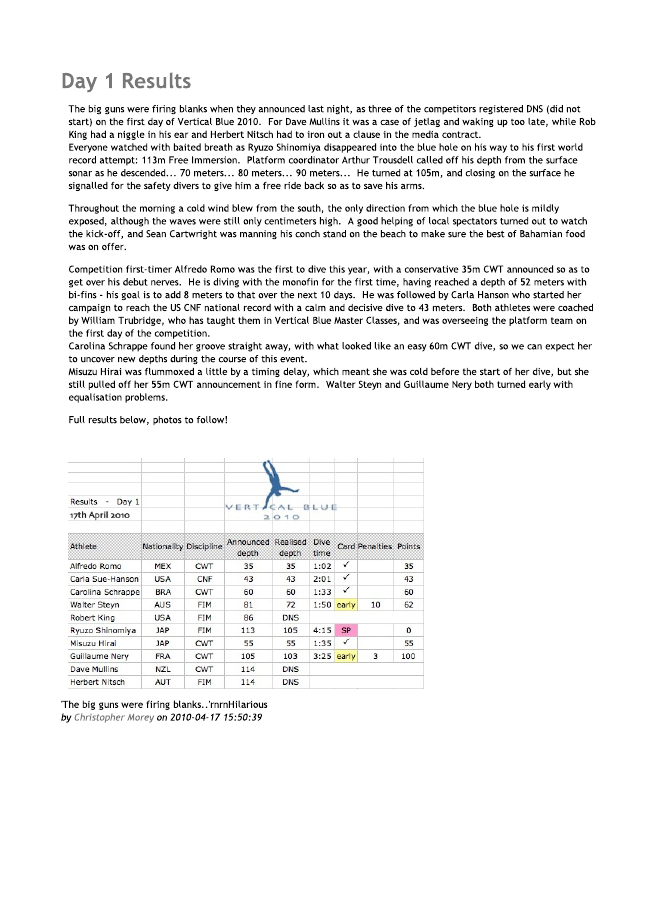 Day 1 Results
The big guns were firing blanks when they announced last night, as three of the competitors registered DNS (did not
start) on the first day of Vertical Blue 2010. For Dave Mullins it was a case of jetlag and waking up too late, while Rob
King had a niggle in his ear and Herbert Nitsch had to iron out a clause in the media contract.
Everyone watched with baited breath as Ryuzo Shinomíya disappeared into the blue hole on his way to his first world record attempt: 113m Free Immersion. Platform coordinator Arthur Trousdell called off his depth from the surface sonar as he descended... 70 meters... 80 meters... 90 meters... He turned at 105m, and closing on the surface he signalled for the safety divers to give him a free ride back so as to save his arms.
Throughout the morning a cold wind blew from the south, the only direction from which the blue hole is mildly exposed, although the waves were still only centimeters high. A good helping of local spectators turned out to watch the kick-off, and Sean Cartwright was manning his conch stand on the beach to make sure the best of Bahamian food was on offer.
Competition first-timer Alfredo Romo was the first to dive this year, with a conservative 35m CWT announced so as to get over his debut nerves. He is diving with the monofin for the first time, having reached a depth of 52 meters with bi-fins - his goal is to add 8 meters to that over the next 10 days. He was followed by Carla Hanson who started her campaign to reach the US CNF national record with a calm and decisive dive to 43 meters. Both athletes were coached by William Trubridge, who has taught them in Vertical Blue Master Classes, and was overseeing the platform team on the first day of the competition.
Carolina Schrappe found her groove straight away, with what looked like an easy 60m CWT dive, so we can expect her to uncover new depths during the course of this event.
Misuzu Hirai was flummoxed a little by a timing delay, which meant she was cold before the start of her dive, but she still pulled off her 55m CWT announcement in fine form. Walter Steyn and Guillaume Nery both turned early with equalisation problems.
Full results below, photos to follow!
Resuits - Dayl
The big guns were firing blanks..'rnrnHilarious by Christopher Morey on 2010-04-17 15:50:39