another denizen of Dean's Blue Hole
This morning at 9:30 Guillaume, Julie, Jared and Lauren were on hand to witness a rare and magnificent sea-creature inspecting the blue hole. A sawfish, sole members of the order Pristifonnes. Best estimates was that it was around 3 meters (10 feet), or a lot bigger than Jared, who spotted it when he was 2 minutes into a warm-up hang at 20 meters.
The sawfish did several laps round the inside of the blue hole, allowing Julie Gautier to come close enough to take these pictures with a Canon 5D and wide angle lens, before it disappeared again.
Did it arrive from over the shallows, or from some hidden connection between the depths of the blue hole and the open ocean, or does it even live in the blue hole, this being its first sighting? Little is known about this critically endangered animal...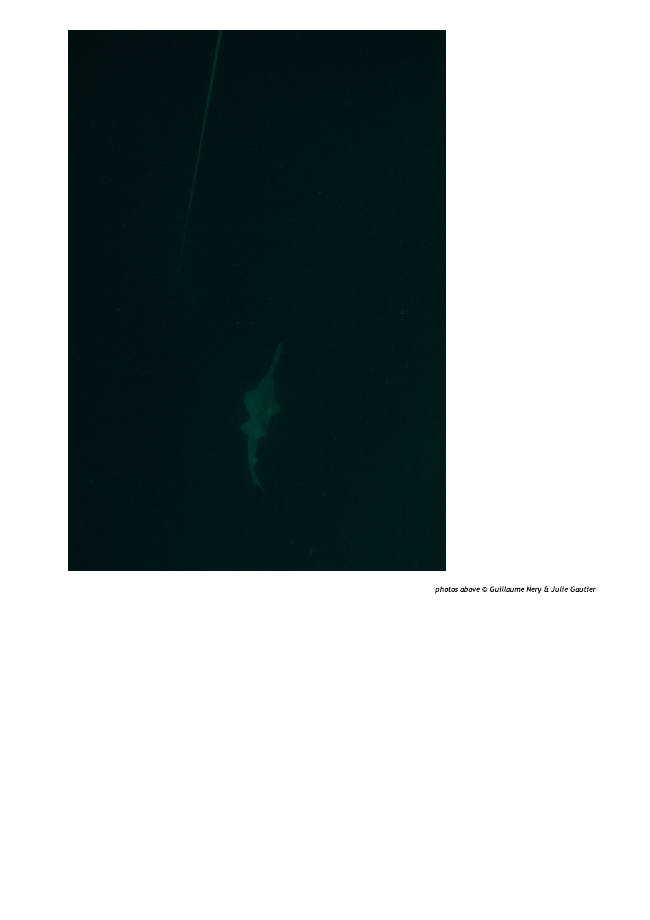 photos above Guillaume Nery & Julie Gautier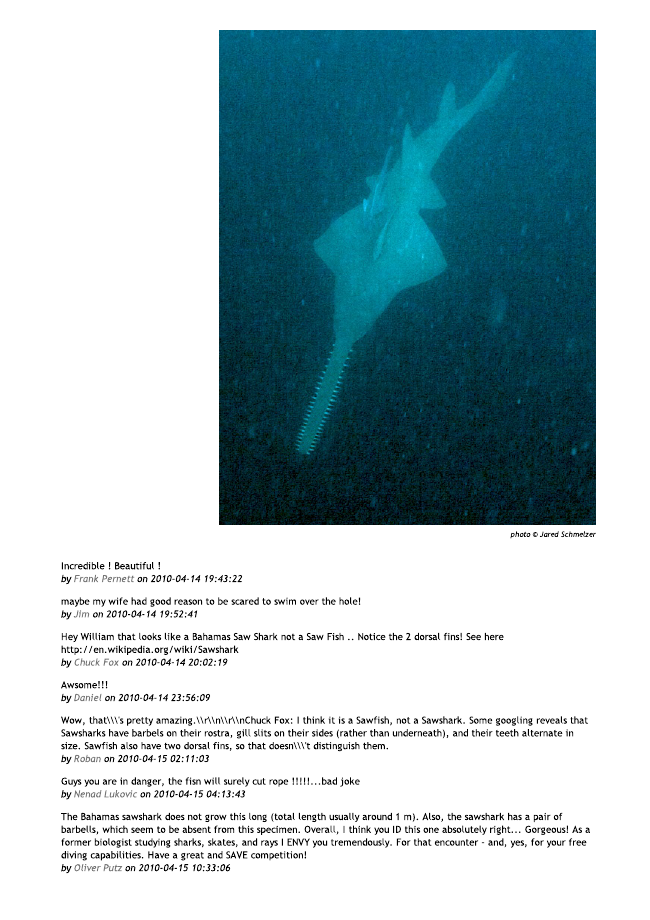 photo © Jared Schmelzer
Incredible Beautiful
by Frank Pernett on 2010-04- 14 19:43:22
maybe my wife had good reason to be scared to swim over the hole! by Jim on 2010-04-14 19:52:41
Hey William that looks like a Bahamas Saw Shark not a Saw Fish .. Notice the 2 dorsal fins! See here http: / / en.wi ki pedia.org/ wi ki / Sawshark by Chuck Fox on 2010-04-14 20:02: 19
Awsome!!!
by Daniel on 2010-04-14 23:56:09
Wow, that\\\'s pretty amazing.\\r\\n\\r\\nChuck Fox: I think it is a Sawfish, not a Sawshark. Some googling reveals that Sawsharks have barbels on their rostra, gill slits on their sides (rather than underneath), and their teeth alternate in size. Sawfish also have two dorsal fins, so that doesn\\\'t distinguish them.
by Roban on 2010-04-15 02:11:03
Guys you are in danger, the fisn will surely cut rope !!!!!...bad joke by Nenad Lukovic on 2010-04-15 04:13:43
The Bahamas sawshark does not grow this long (total length usually around 1 rn). Also, the sawshark has a pair of barbells, which seem to be absent from this specimen. Overall, I think you ID this one absolutely right... Gorgeous! As a former biologist studying sharks, skates, and rays I ENVY you tremendously. For that encounter - and, yes, for your free diving capabilities. Have a great and SAVE competition!
by Oliver Putz on 2010-04- 15 10:33:06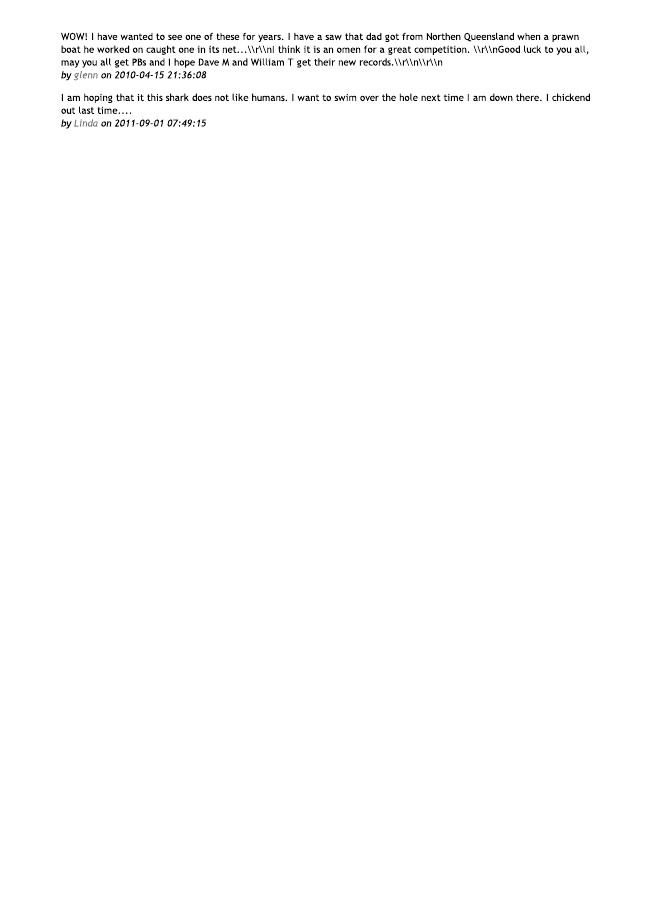 WOW! I have wanted to see one of these for years. I have a saw that dad got from Northen Queensland when a prawn boat he worked on caught one in its net...\\r\\nI think it is an omen for a great competition. \\r\\nGood luck to you all, may you all get PBS and I hope Dave M and William T get their new records.\\r\\n\\r\\n
by glenn on 2010-04- 15 21:36:08
I am hoping that it this shark does not like humans. I want to swim over the hole next time I am down there. I chickend out last time....
by Linda on 2011-09-01 07:49: 15