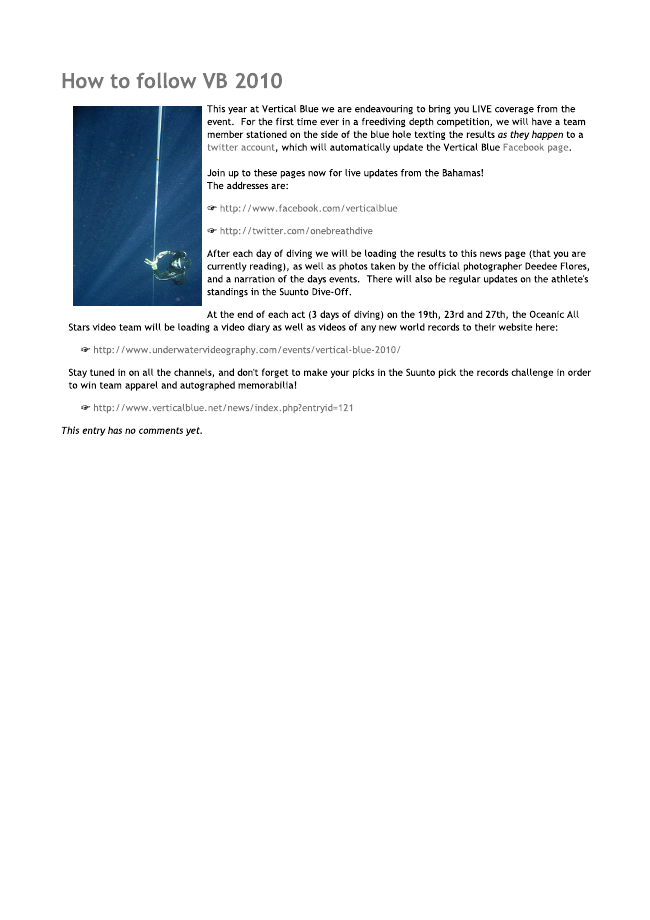 How to follow VB 2010
This year at Vertical Blue we are endeavouring to bring you LIVE coverage from the event. For the first time ever in a freediving depth competition, we will have a team member stationed on the side of the blue hole texting the results as they happen to a twitter account, which will automatically update the Vertical Blue Facebook page.
Join up to these pages now for live updates from the Bahamas! The addresses are:
After each day of diving we will be loading the results to this news page (that you are currently reading), as well as photos taken by the official photographer Deedee Flores, and a narration of the days events. There will also be regular updates on the athlete's standings in the Suunto Dive-Off.
At the end of each act (3 days of diving) on the 19th, 23rd and 27th, the Oceanic All Stars video team will be loading a video diary as well as videos of any new world records to their website here:
'fà' http: / /www. underwatervideography. com/ events/ vertical-blue-201 O/
Stay tuned in on all the channels, and don't forget to make your picks in the Suunto pick the records challenge in order to win team apparel and autographed memorabilia!
This entry has no comments yet.