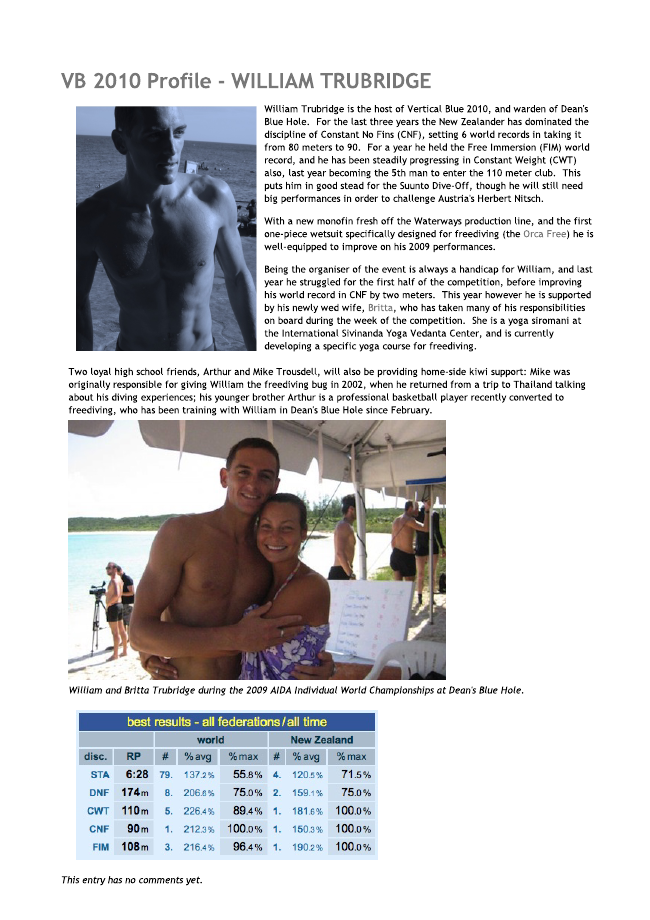 VB 2010 Profile - WILLIAM TRUBRIDGE
William Trubridge is the host of Vertical Blue 2010, and warden of Dean's
Blue Hole. For the last three years the New Zealander has dominated the
discipline of Constant No Fins (CNF), setting 6 world records in taking it
from 80 meters to 90. For a year he held the Free Immersion (FIM) world I record, and he has been steadily progressing in Constant Weight (CWT)
_! also, last year becoming the 5th man to enter the 110 meter club. This puts him in good stead for the Suunto Dive-Off, though he will still need big performances in order to challenge Austría's Herbert Nitsch.
2 With a new monofin fresh off the Waterways production line, and the first one-piece wetsuit specifically designed for freediving (the Orca Free) he is well-equipped to improve on his 2009 performances.
Being the organiser of the event is always a handicap for William, and last year he struggled for the first half of the competition, before improving his world record in CNF by two meters. This year however he is supported by his newly wed wife, Britta, who has taken many of his responsibilities on board during the week of the competition. She is a yoga siromani at the International Sivinanda Yoga Vedanta Center, and is currently developing a specific yoga course for freedivíng.
Two loyal high school friends, Arthur and Mike Trousdell, will also be providing home-side kiwi support: Mike was originally responsible for giving William the freediving bug in 2002, when he returned from a trip to Thailand talking about his diving experiences; his younger brother Arthur is a professional basketball player recently converted to freediving, who has been training with William in Dean's Blue Hole since February.
wu rld New Zealand
This entry has no comments yet.