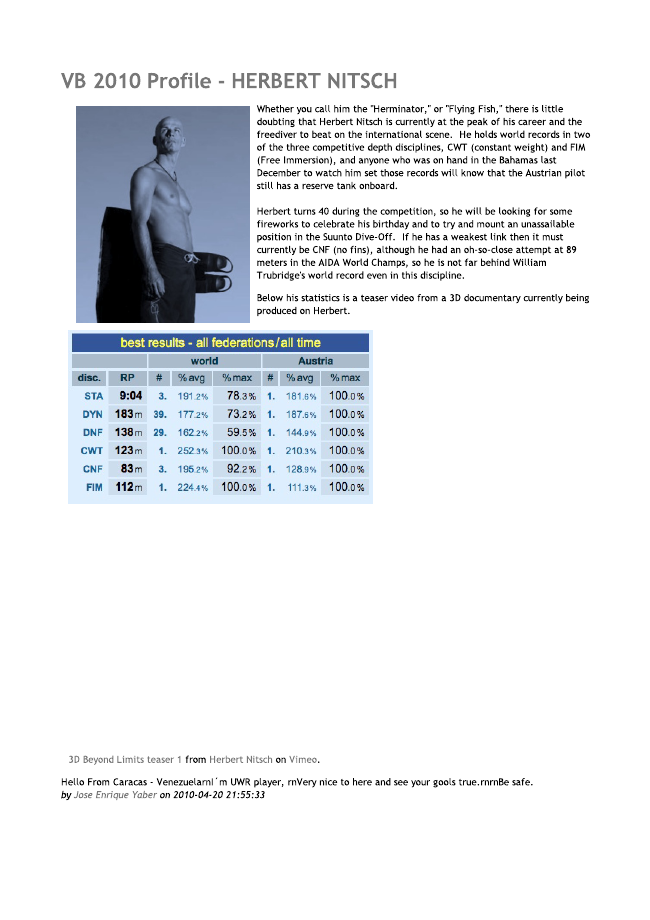 VB 2010 Profile - HERBERT NITSCH
Whether you call him the Herminator, or Flying Fish, there is little doubting that Herbert Nitsch is currently at the peak of his career and the freediver to beat on the international scene. He holds world records in two of the three competitive depth disciplines, CWT (constant weight) and FIM (Free Immersion), and anyone who was on hand in the Bahamas last December to watch him set those records will know that the Austrian pilot still has a reserve tank onboard.
Herbert turns 40 during the competition, so he will be looking for some fireworks to celebrate his birthday and to try and mount an unassailable position in the Suunto Dive-Off. If he has a weakest link then it must currently be CNF (no fins), although he had an oh-so-close attempt at 89 meters in the AIDA World Champs, so he is not far behind William Trubridge's world record even ín this discipline.
Below his statistics is a teaser video from a 3D documentary currently being produced on Herbert.
3D Beyond Limits teaser 1 from Herbert Nitsch on Vimeo.
Hello From Caracas - Venezuelarnl 'm UWR player, rnVery nice to here and see your gools true.rnrnBe safe. by Jose Enrique Yaber on 2010-04-20 21:55:33