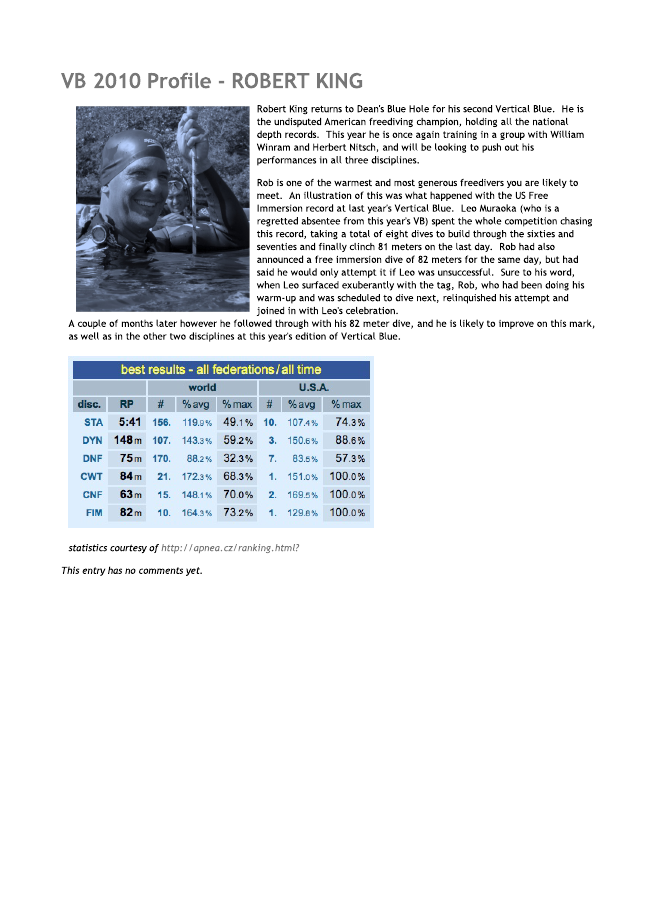 VB 2010 Profile - ROBERT KING
Robert King returns to Dean's Blue Hole for his second Vertical Blue. He is
the undisputed American freediving champion, holding all the national
depth records. This year he is once again training in a group with William I Winram and Herbert Nitsch, and will be looking to push out his
Q performances in all three disciplines.
Rob is one of the warmest and most generous freedivers you are likely to meet. An illustration of this was what happened with the US Free Immersion record at last year's Vertical Blue. Leo Muraoka (who is a regretted absentee from this years VB) spent the whole competition chasing this record, taking a total of eight dives to build through the sixties and seventies and finally clinch 81 meters on the last day. Rob had also announced a free immersion dive of 82 meters for the same day, but had said he would only attempt it if Leo was unsuccessful. Sure to his word, | when Leo surfaced exuberantly with the tag, Rob, who had been doing his
warm-up and was scheduled to dive next, relinquished his attempt and joined in with Leo's celebration. A couple of months later however he followed through with his 82 meter dive, and he is likely to improve on this mark, as well as in the other two disciplines at this year's edition of Vertical Blue.
statistics courtesy of http: / / apnea. cz/ ranking. html?
This entry has no comments yet.