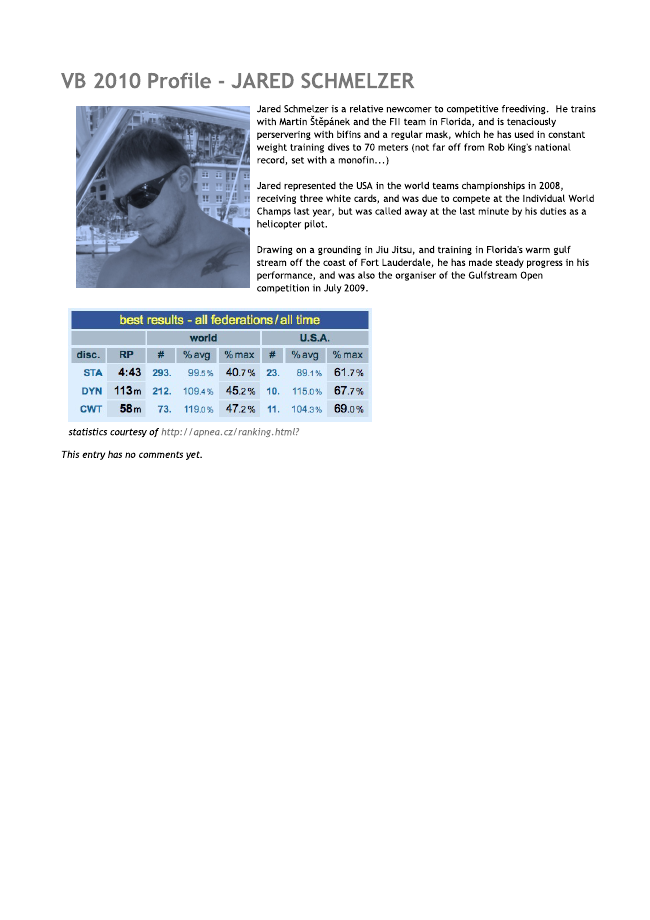 VB 2010 Profile - JARED SCHMELZER
Jared Schmelzer is a relative newcomer to competitive freediving. He trains with Martin Étëpánek and the FII team in Florida, and is tenaciously perservering with bifins and a regular mask, which he has used in constant weight training dives to 70 meters (not far off from Rob King's national record, set with a monofin...)
Jared represented the USA in the world teams championships in 2008,
receiving three white cards, and was due to compete at the Individual World
E Champs last year, but was called away at the last minute by his duties as a
1 helicopter pilot.
Drawing on a grounding in Jiu Jitsu, and training in Florida's warm gulf stream off the coast of Fort Lauderdale, he has made steady progress in his
W performance, and was also the organiser of the Gulfstream Open
competition in July 2009.
statistics courtesy of http: / / apnea. cz/ ranking. html?
This entry has no comments yet.