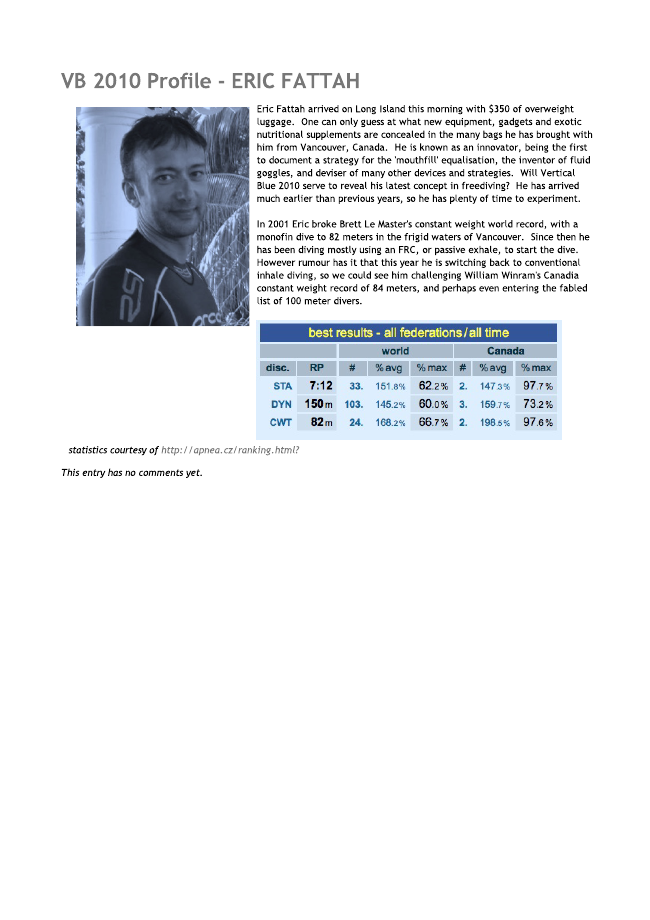 VB 2010 Profile - ERIC
i Eric Fattah arrived on Long Island this morning with $350 of overweight
luggage. One can only guess at what new equipment, gadgets and exotic nutritional supplements are concealed in the many bags he has brought with
I him from Vancouver, Canada. He is known as an innovator, being the first
to document a strategy for the 'mouthfill' equalisation, the inventor of fluid goggles, and deviser of many other devices and strategies. Will Vertical Blue 2010 serve to reveal his latest concept in freediving? He has arrived
I much earlier than previous years, so he hes plenty of tiriie to experiment.
: In 2001 Eric broke Brett Le Master's constant weight world record, with a
monofin dive to 82 meters in the frigid waters of Vancouver. Since then he
has been diving mostly using an FRC, or passive exhale, to start the dive. However rumour has it that this year he is switching back to conventional
inhale diving, so we could see him challenging William Winram's Canadia constant weight record of 84 meters, and perhaps even entering the fabled list of 100 meter divers.
statistics courtesy of http: / / apnea. cz/ ranking. html?
This entry has no comments yet.