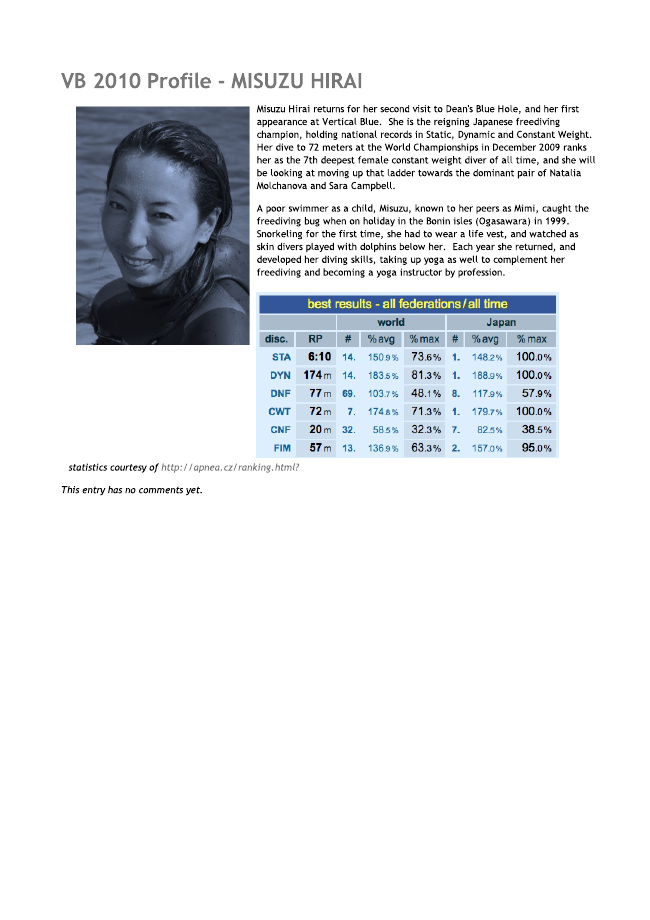 VB 2010 Profile - MISUZU HIRAI
Misuzu Hirai returns for her second visit to Dean's Blue Hole, and her first appearance at Vertical Blue. She is the reigning Japanese freediving champion, holding national records in Static, Dynamic and Constant Weight. Her dive to 72 meters at the World Championships in December 2009 ranks her as the 7th deepest female constant weight diver of all time, and she will be looking at moving up that ladder towards the dominant pair of Natalia Molchanova and Sara Campbell.
A poor swimmer as a child, Misuzu, known to her peers as Mimi, caught the freediving bug when on holiday in the Bonin isles (0gasawara) in 1999. Snorkeling for the first time, she had to wear a life vest, and watched as skin divers played with dolphins below her. Each year she returned, and developed her diving skills, taking up yoga as well to complement her freediving and becoming a yoga instructor by profession.
statistics courtesy of http: / / apnea. cz/ ranking. html?
This entry has no comments yet.