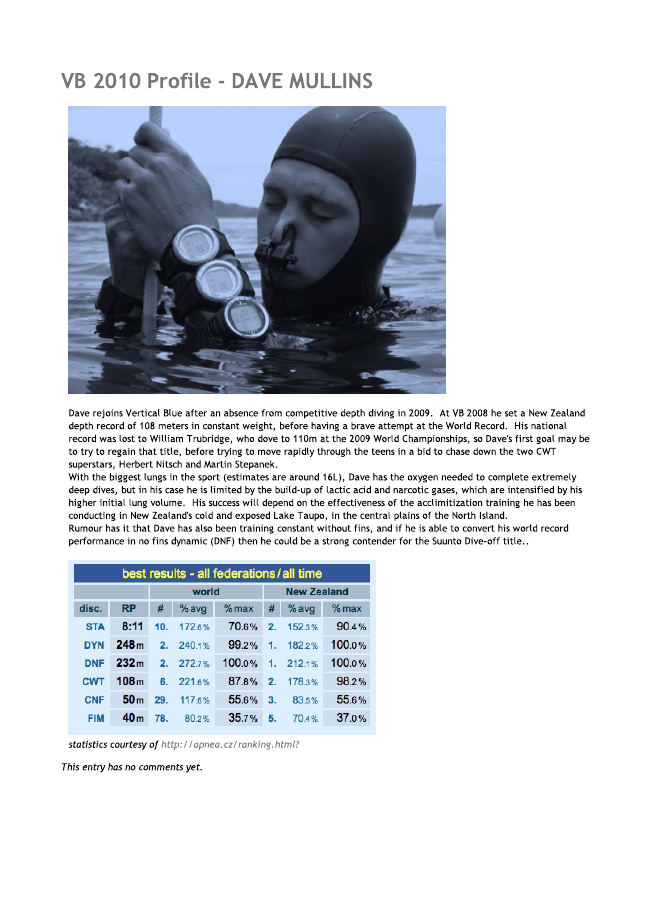 VB 2010 Profile - DAVE MULLINS
Dave rejoins Vertical Blue after an absence from competitive depth diving in 2009. At VB 2008 he set a New Zealand depth record of 108 meters in constant weight, before having a brave attempt at the World Record. His national record was lost to William Trubridge, who dove to 110m at the 2009 World Championships, so Dave's first goal may be to try to regain that title, before trying to move rapidly through the teens in a bid to chase down the two CWT superstars, Herbert Nitsch and Marti n Stepanek.
With the biggest lungs in the sport (estimates are around 16L), Dave has the oxygen needed to complete extremely deep dives, but in his case he is limited by the build-up of lactic acid and narcotic gases, which are intensified by his higher initial lung volume. His success will depend on the effectiveness of the acclimitization training he has been conducting in New Zealand's cold and exposed Lake Taupo, in the central plains of the North Island.
Rumour has it that Dave has also been training constant without fins, and if he is able to convert his world record performance in no fins dynamic (DNF) then he could be a strong contender for the Suunto Dive-off title..
statistics courtesy of http: / / apnea. cz/ ranking. html?
This entry has no comments yet.