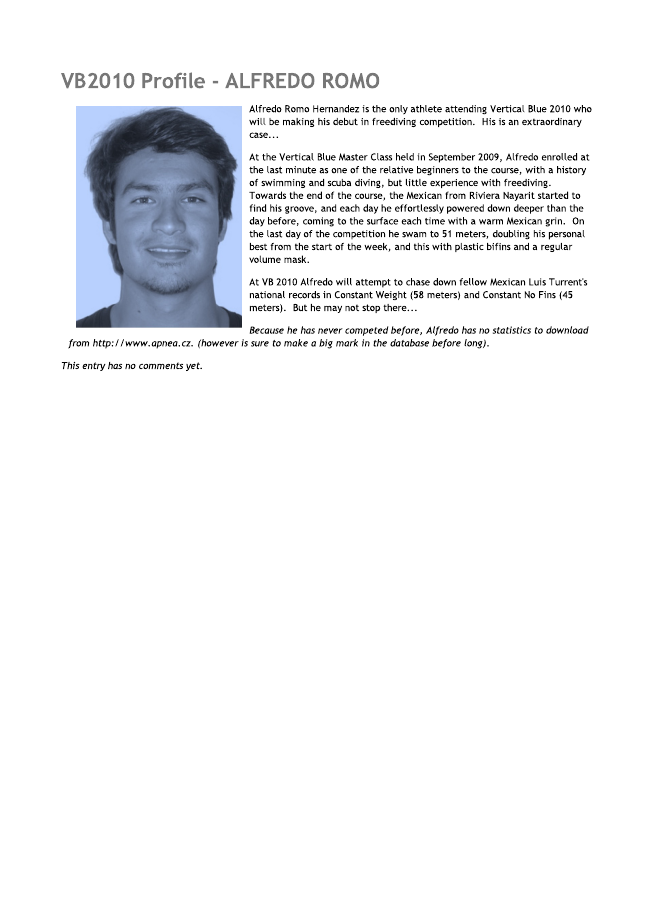 VB201O Profile - ALFREDO ROMO
Alfredo Romo Hernandez is the only athlete attending Vertical Blue 2010 who will be making his debut in freediving competition. His is an extraordinary
case...
At the Vertical Blue Master Class held in September 2009, Alfredo enrolled at the last minute as one of the relative beginners to the course, with a history of swimming and scuba diving, but little experience with freediving. Towards the end of the course, the Mexican from Riviera Nayarit started to find his groove, and each day he effortlessly powered down deeper than the day before, coming to the surface each time with a warm Mexican grin. On the last day of the competition he swam to 51 meters, doubling his personal best from the start of the week, and this with plastic bifins and a regular volume mask.
At VB 2010 Alfredo will attempt to chase down fellow Mexican Luis Turrent's national records in Constant Weight (58 meters) and Constant No Fins (45 meters). But he may not stop there...
Because he has never competed before, Alfredo has no statistics to download from http:/ / www.apnea.cz. (however is sure to make a big mark in the database before long).
This entry has no comments yet.