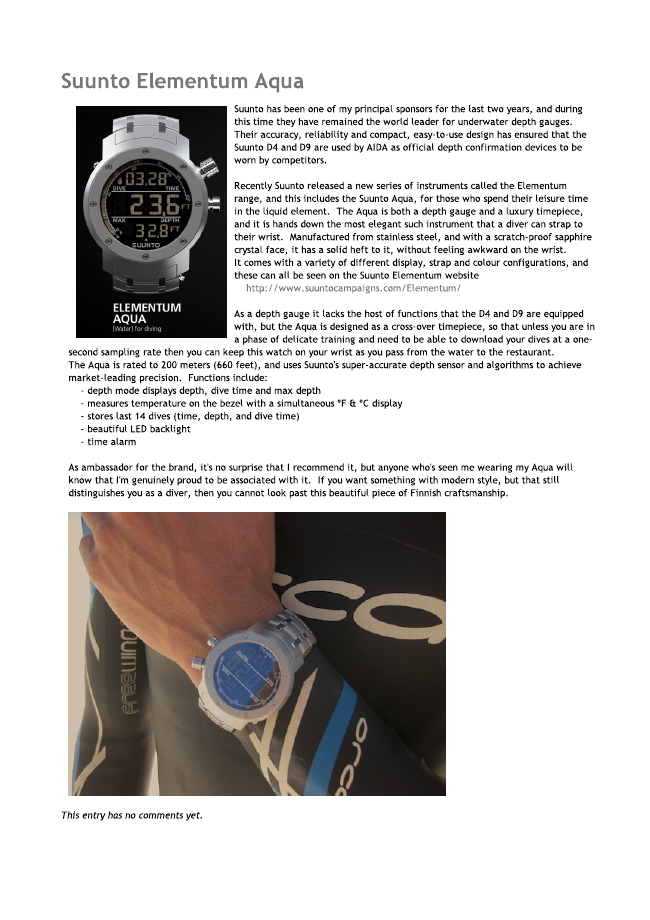 Suunto Elementum Aqua
Suunto has been one of my principal sponsors for the last two years, and during this time they have remained the world leader for underwater depth gauges. Their accuracy, reliability and compact, easy-to-use design has ensured that the Suunto D4 and D9 are used by AIDA as official depth confirmation devices to be worn by competitors.
Recently Suunto released a new series of instruments called the Elementum range, and this includes the Suunto Aqua, for those who spend their leisure time in the liquid element. The Aqua is both a depth gauge and a luxury timepiece, and it is hands down the most elegant such instrument that a diver can strap to their wrist. Manufactured from stainless steel, and with a scratch-proof sapphire crystal face, it has a solid heft to it, without feeling awkward on the wrist.
It comes with a variety of different display, strap and colour configurations, and these can all be seen on the Suunto Elementum website
http: / /www.suuntocampaigns.com/ Elementum/
1' 1 I V A As a depth gauge it lacks the host of functions that the D4 and D9 are equipped
QUA . . . . . . waterlfm diving w1th, but the Aqua ls designed as a cross-over t1mep1ece, so that unless you are 1n
a phase of delicate training and need to be able to download your dives at a onesecond sampling rate then you can keep this watch on your wrist as you pass from the water to the restaurant. The Aqua is rated to 200 meters (660 feet), and uses Suunto's super-accurate depth sensor and algorithms to achieve market-leading precision. Functions include:
- depth mode displays depth, dive time and max depth
- measures temperature on the bezel with a simultaneous & "C display
- stores last 14 dives (time, depth, and dive time)
- beautiful LED backlight
- time alarm
As ambassador for the brand, it's no surprise that I recommend it, but anyone who's seen me wearing my Aqua will know that I'm genuinely proud to be associated with it. If you want something with modern style, but that still distinguishes you as a diver, then you cannot look past this beautiful piece of Finnish craftsmanship.
This entry has no comments yet.