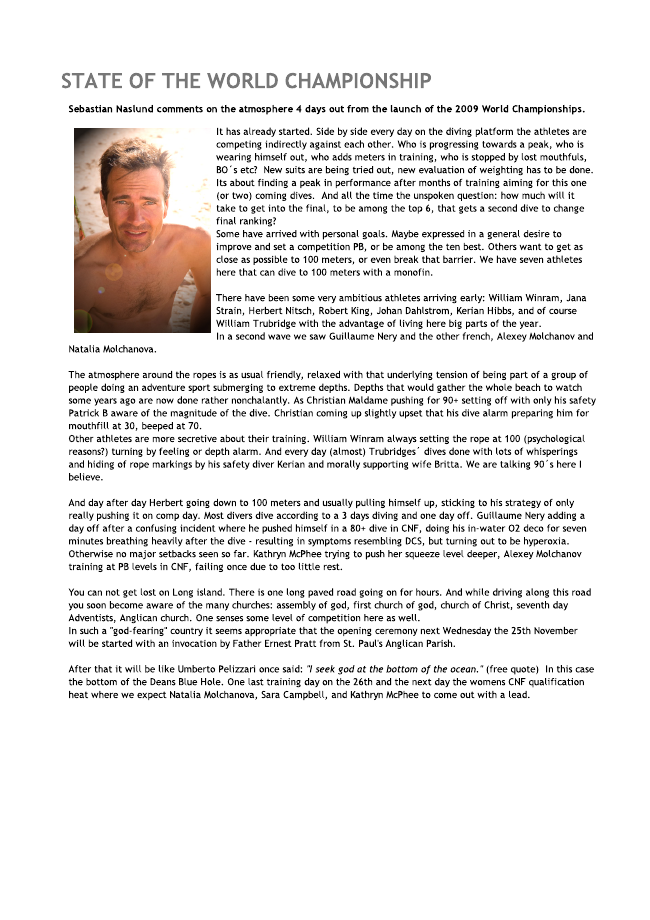 STATE OF THE WGRLD CHAMPIONSHIP
Sebastian Naslund comments on the atmosphere 4 days out from the launch of the 2009 World Championships.
It has already started. Side by side every day on the diving platform the athletes are competing indirectly against each other. Who is progressing towards a peak, who is wearing himself out, who adds meters in training, who is stopped by lost mouthfuls, BO's etc? New suits are being tried out, new evaluation of weighting has to be done. Its about finding a peak in performance after months of training aiming for this one (or two) coming dives. And all the time the unspoken question: how much will it take to get into the final, to be among the top 6, that gets a second dive to change final ranking?
Some have arrived with personal goals. Maybe expressed in a general desire to improve and set a competition PB, or be among the ten best. Others want to get as close as possible to 100 meters, or even break that barrier. We have seven athletes here that can dive to 100 meters with a monofin.
There have been some very ambitious athletes arriving early: William Winram, Jana Strain, Herbert Nitsch, Robert King, Johan Dahlstrom, Kerian Hibbs, and of course William Trubridge with the advantage of living here big parts of the year.
In a second wave we saw Guillaume Nery and the other french, Alexey Molchanov and
Natalia Molchanova.
The atmosphere around the ropes is as usual friendly, relaxed with that underlying tension of being part of a group of people doing an adventure sport submerging to extreme depths. Depths that would gather the whole beach to watch some years ago are now done rather nonchalantly. As Christian Maldame pushing for 90+ setting off with only his safety Patrick B aware of the magnitude of the dive. Christian coming up slightly upset that his dive alarm preparing him for mouthfill at 30, beeped at 70.
Other athletes are more secretive about their training. William Winram always setting the rope at 100 (psychological reasons?) turning by feeling or depth alarm. And every day (almost) Trubridges' dives done with lots of whisperíngs and hiding of rope markings by his safety diver Kerian and morally supporting wife Britta. We are talking 90's here I believe.
And day after day Herbert going down to 100 meters and usually pulling himself up, sticking to his strategy of only really pushing it on comp day. Most divers dive according to a 3 days diving and one day off. Guillaume Nery adding a day off after a confusing incident where he pushed himself in a 80+ dive ín CNF, doing his in-water O2 deco for seven minutes breathing heavily after the dive - resulting in symptoms resembling DCS, but turning out to be hyperoxia. Otherwise no major setbacks seen so far. Kathryn McPhee trying to push her squeeze level deeper, Alexey Molchanov training at PB levels in CNF, failing once due to too little rest.
You can not get lost on Long island. There is one long paved road going on for hours. And while driving along this road you soon become aware of the many churches: assembly of god, first church of god, church of Christ, seventh day Adventists, Anglican church. One senses some level of competition here as well.
In such a god-fearing country it seems appropriate that the openi ng ceremony next Wednesday the 25th November will be started with an invocation by Father Ernest Pratt from St. Paul's Anglican Parish.
After that it will be like Umberto Pelizzari once said: l seek god at the bottom of the ocean. (free quote) In this case the bottom of the Deans Blue Hole. One last training day on the 26th and the next day the womens CNF qualification heat where we expect Natalia Molchanova, Sara Campbell, and Kathryn McPhee to come out with a lead.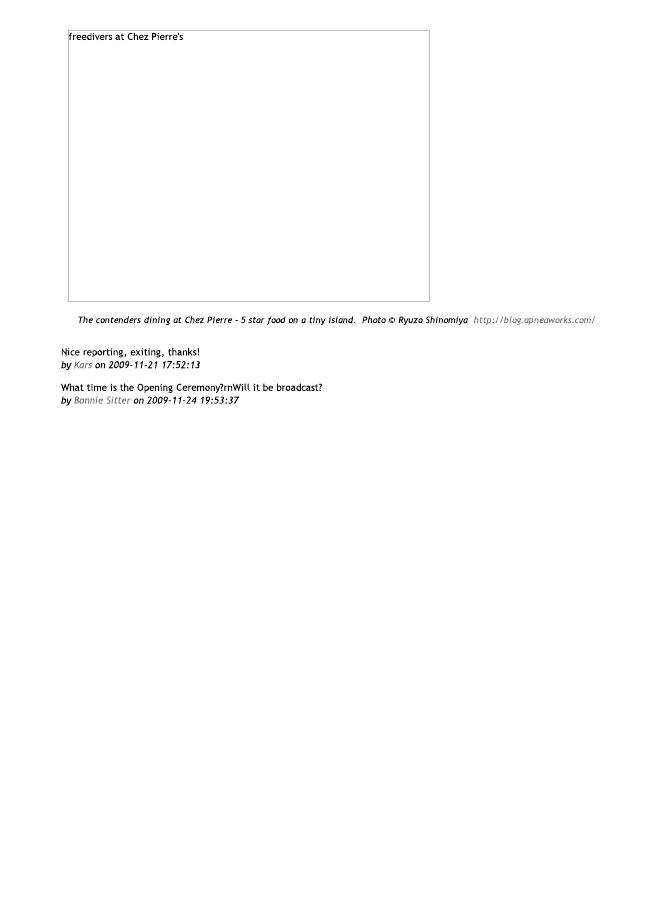 freedivers at Chez Pierre's
The contenders dining at Chez Pierre 5 star food on a tiny island. Photo © Ryuzo Shinomiya http://blog.apneaworks.com/
Nice reporting, exiting, thanks! by Kars on 2009-11-21 17:52: 13
What time is the Opening Ceremony?rnWíll it be broadcast? by Bonnie Sitter on 2009-11-24 19:53:37