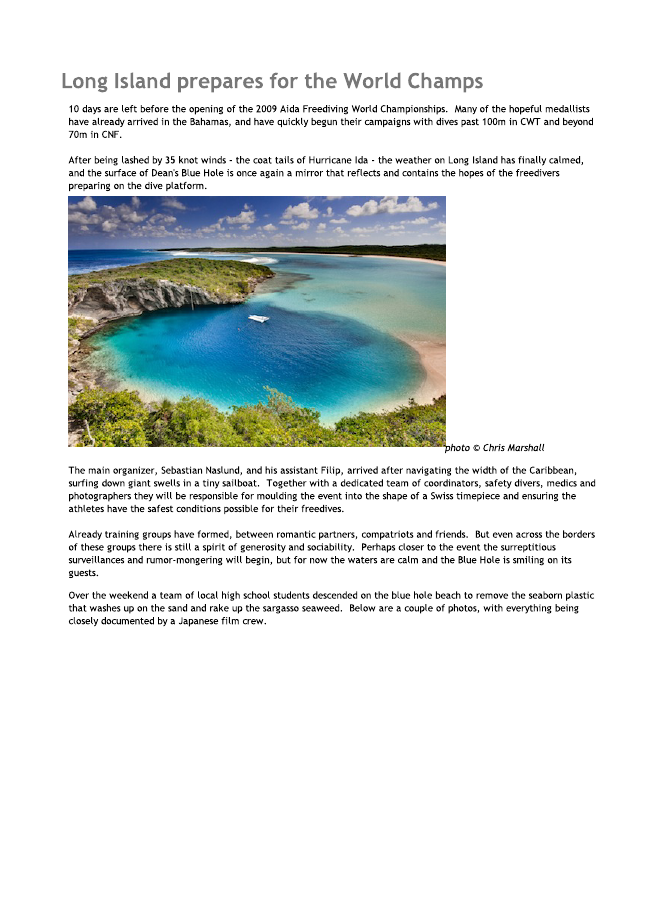 Long Island prepares for the World Champs
10 days are left before the opening of the 2009 Aida Freediving World Championships. Many of the hopeful medallists have already arrived in the Bahamas, and have quickly begun their campaigns with dives past 100m in CWT and beyond 70m in CNF.
After being lashed by 35 knot winds - the coat tails of Hurricane Ida - the weather on Long Island has finally calmed, and the surface of Dean's Blue Hole is once again a mirror that reflects and contains the hopes of the freedivers preparing on the dive platform.
The main organizer, Sebastian Naslund, and his assistant Filip, arrived after navigating the width of the Caribbean, surfing down giant swells in a tiny sailboat. Together with a dedicated team of coordinators, safety divers, medics and photographers they will be responsible for moulding the event into the shape of a Swiss timepiece and ensuring the athletes have the safest conditions possible for their freedives.
Already training groups have formed, between romantic partners, compatriots and friends. But even across the borders of these groups there is sti ll a spirit of generosity and sociability. Perhaps closer to the event the surreptitious surveillances and rumor-mongering will begin, but for now the waters are calm and the Blue Hole is smiling on its guests.
Over the weekend a team of local high school students descended on the blue hole beach to remove the seaborn plastic that washes up on the sand and rake up the Sargasso seaweed. Below are a couple of photos, with everything being closely documented by a Japanese film crew.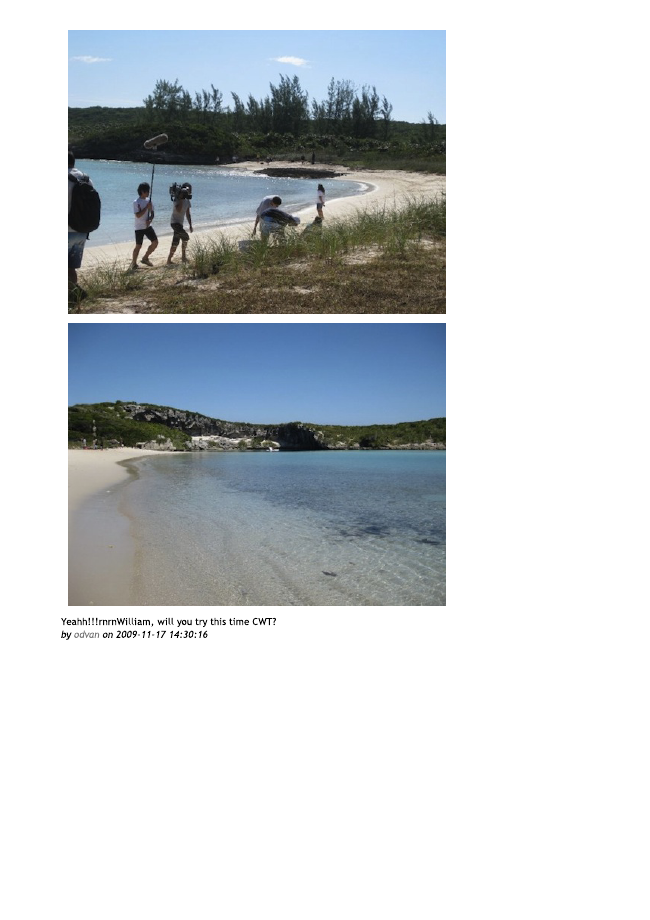 Yeahh!!!rnrnWilliam, will you try this time CWT? by odvan on 2009-11-17 14:30:16