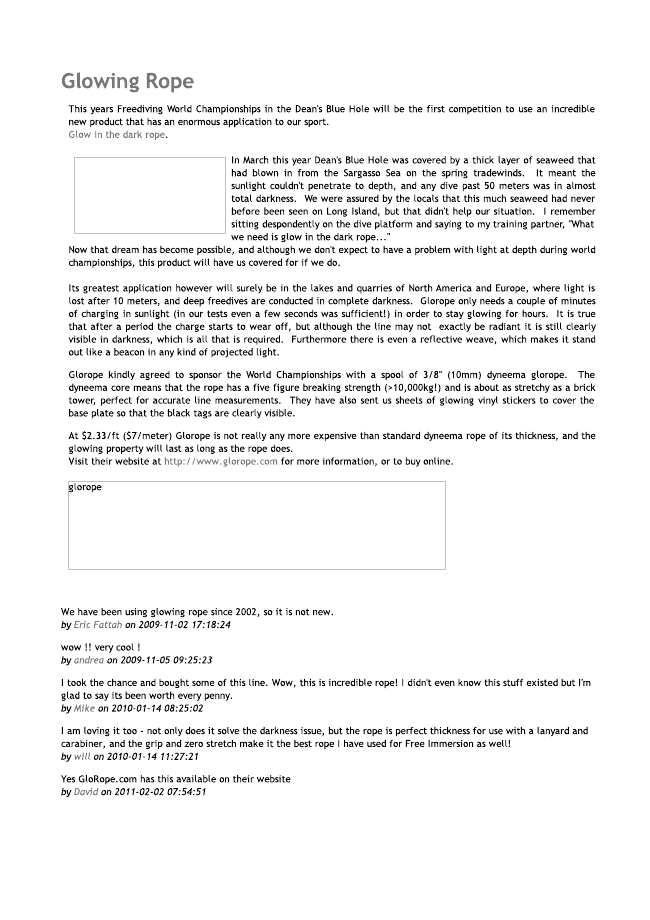 Glowing Rope
This years Freediving World Championships in the Dean's Blue Hole will be the first competition to use an incredible new product that has an enormous application to our sport. Glow in the dark rope.
In March this year Dean's Blue Hole was covered by a thick layer of seaweed that had blown in from the Sargasso Sea on the spring tradewinds. It meant the sunlight couldn't penetrate to depth, and any dive past 50 meters was in almost total darkness. We were assured by the locals that this much seaweed had never before been seen on Long Island, but that didn't help our situation. I remember sitting despondently on the dive platform and saying to my training partner, 'What we need is glow in the dark rope...
Now that dream has become possible, and although we don't expect to have a problem with light at depth during world
championships, this product will have us covered for if we do.
Its greatest application however will surely be in the lakes and quarries of North America and Europe, where light is lost after 10 meters, and deep freedives are conducted in complete darkness. Glorope only needs a couple of minutes of charging in sunlight (in our tests even a few seconds was sufficient!) in order to stay glowing for hours. It is true that after a period the charge starts to wear off, but although the line may not exactly be radiant it is still clearly visible in darkness, which is all that is required. Furthermore there is even a reflective weave, which makes it stand out like a beacon in any kind of projected light.
Glorope kindly agreed to sponsor the World Championships with a spool of 3/8 (10mm) dyneema glorope. The dyneema core means that the rope has a five figure breaking strength (>10,000kg!) and is about as stretchy as a brick tower, perfect for accurate line measurements. They have also sent us sheets of glowing vinyl stickers to cover the base plate so that the black tags are clearly visi ble.
At $2.33/ft ($7/ meter) Glorope is not really any more expensive than standard dyneema rope of its thickness, and the glowing property will last as long as the rope does. Visit their website at http:/ /www.glorope.com for more information, or to buy online.
glorope
We have been using glowing rope since 2002, so it is not new. by Eric Fattah on 2009-11-02 17: 18:24
wow !! very cool by andrea on 2009-11-05 09:25:23
I took the chance and bought some of this line. Wow, this is incredible rope! I didn't even know this stuff existed but glad to say its been worth every penny. by Mike on 2010-01-14 08:25:02
I am loving it too - not only does it solve the darkness issue, but the rope is perfect thickness for use with a lanyard and carabiner, and the grip and zero stretch make it the best rope I have used for Free Immersion as well! by will on 2010-01-14 11:27:21
Yes GloRope.com has this available on their website by David on 2011-02-02 07:54:51