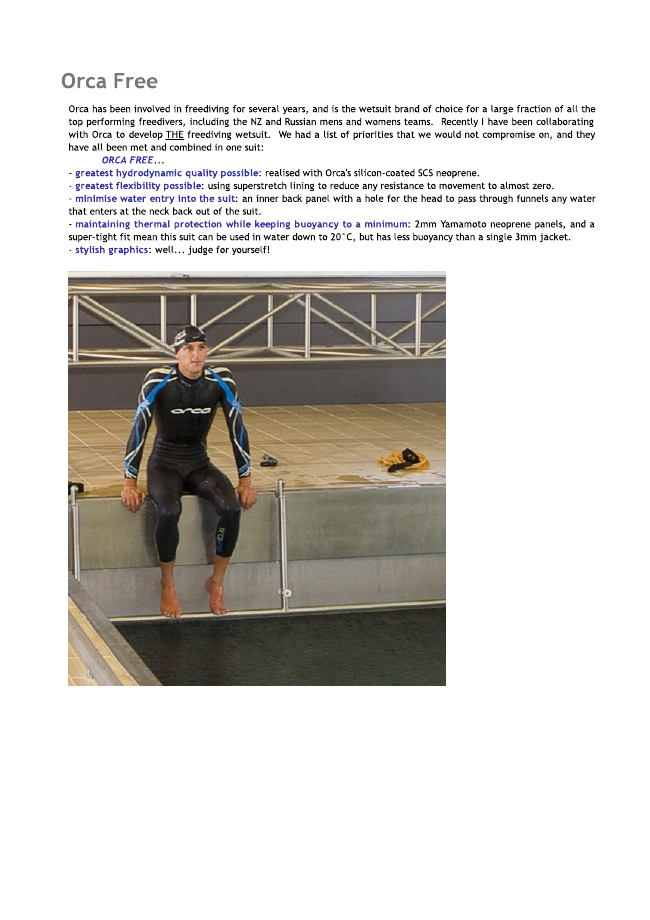 Orca Free
Orca has been involved in freediving for several years, and is the wetsuit brand of choice for a large fraction of all the top performing freedivers, including the NZ and Russian mens and womens teams. Recently I have been collaborating with Orca to develop E freediving wetsuit. We had a list of priorities that we would not compromise on, and they have all been met and combined in one suit:
ORCA FREE...
- greatest hydrodynamic quality possible: realised with 0rca's silicon-coated SCS neoprene.
- greatest flexibility possible: using superstretch lining to reduce any resistance to movement to almost zero.
- minimise water entry into the suit: an inner back panel with a hole for the head to pass through funnels any water that enters at the neck back out of the suit.
- maintaining thermal protection while keeping buoyancy to a minimum: 2mm Yamamoto neoprene panels, and a super-tight fit mean this suit can be used in water down to 20°C, but has less buoyancy than a single 3mm jacket.
- stylish graphics: well... judge for yourself!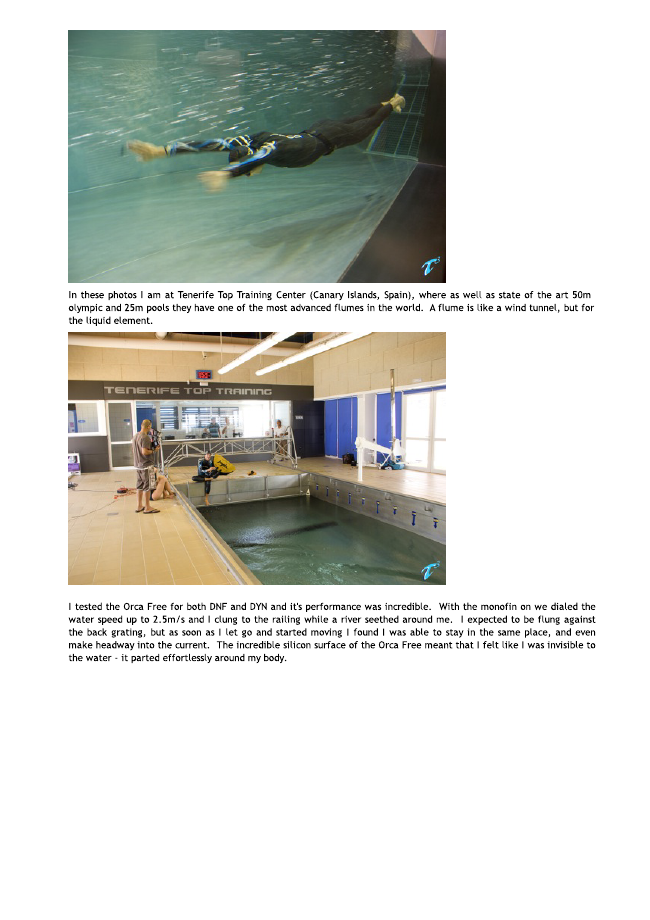 In these photos I am at Tenerife Top Training Center (Canary Islands, Spain), where as well as state of the art 50m olympic and 25m pools they have one of the most advanced flumes in the world. A flume is like a wind tunnel, but for the liquid element.
I tested the Orca Free for both DNF and DYN and it's performance was incredible. With the monofin on we dialed the water speed up to 2.5m/s and I clung to the railing while a river seethed around me. I expected to be flung against the back grating, but as soon as I let go and started moving I found I was able to stay in the same place, and even make headway into the current. The incredible silicon surface of the Orca Free meant that I felt like I was invisible to the water - it parted effortlessly around my body.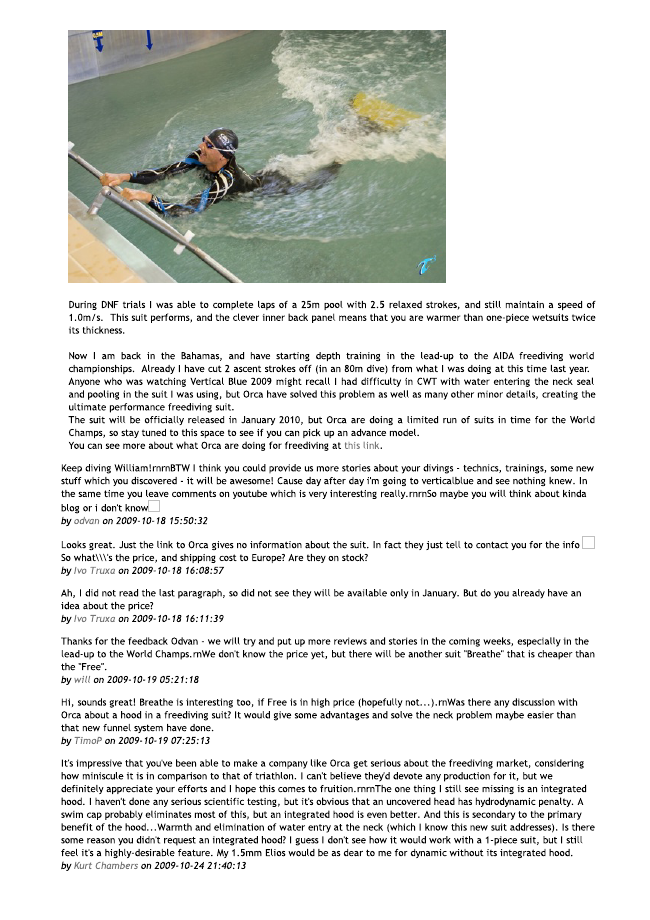 During DNF trials I was able to complete laps of a 25m pool with 2.5 relaxed strokes, and still maintain a speed of 1.0m/ s. This suit performs, and the clever inner back panel means that you are warmer than one-piece wetsuits twice its thickness.
Now I am back in the Bahamas, and have starting depth training in the lead-up to the AIDA freediving world championships. Already I have cut 2 ascent strokes off (in an 80m dive) from what I was doing at this time last year. Anyone who was watching Vertical Blue 2009 might recall I had difficulty in CWT with water entering the neck seal and pooling in the suit I was using, but Orca have solved this problem as well as many other minor details, creating the ultimate performance freediving suit.
The suit will be officially released in January 2010, but Orca are doing a limited run of suits in time for the World Champs, so stay tuned to this space to see if you can pick up an advance model.
You can see more about what Orca are doing for freediving at this link.
Keep diving WilliamlrnrnBTW I think you could provide us more stories about your divings - technics, trainings, some new stuff which you discovered - it will be awesome! Cause day after day i'm going to verticalblue and see nothing knew. In the same time you leave comments on youtube which is very interesting really. rnrnSo maybe you will think about kinda blog ori don't know
by odvan on 2009-10-18 15:50:32
Looks great. Just the link to Orca gives no information about the suit. In fact they just tell to contact you for the info So what\\\'s the price, and shipping cost to Europe? Are they on stock? by Ivo Truxa on 2009-10- 18 16:08:57
Ah, I did not read the last paragraph, so did not see they will be available only in January. But do you already have an idea about the price? by Ivo Truxa on 2009-10-18 16:11:39
Thanks for the feedback Odvan - we will try and put up more reviews and stories in the coming weeks, especially in the lead-up to the World Champs.rnWe don't know the price yet, but there will be another suit Breathe that is cheaper than the Free.
by will on 2009-10-19 05:21: 18
Hi, sounds great! Breathe is interesting too, if Free is in high price (hopefully not...).rnWas there any discussion with Orca about a hood in a freediving suit? It would give some advantages and solve the neck problem maybe easier than that new funnel system have done.
by Tím0P on 2009-10-19 07:25: 13
|t's impressive that you've been able to make a company like Orca get serious about the freediving market, considering how miniscule it is in comparison to that of triathlon. I can't believe they'd devote any production for it, but we
definitely appreciate your efforts and I hope this comes to fruition.rnrnThe one thing I still see missing is an integrated hood. I haven't done any serious scientific testing, but it's obvious that an uncovered head has hydrodynamic penalty. A swim cap probably eliminates most of this, but an integrated hood is even better. And this is secondary to the primary benefit of the hood...Warmth and elimination of water entry at the neck (which I know this new suit addresses). Is there some reason you dídn't request an integrated hood? I guess I don't see how it would work with a 1-piece suit, but I still feel it's a highly-desirable feature. My 1.5mm Elios would be as dear to me for dynamic without its integrated hood.
by Kurt Chambers on 2009-10-24 21:40: 13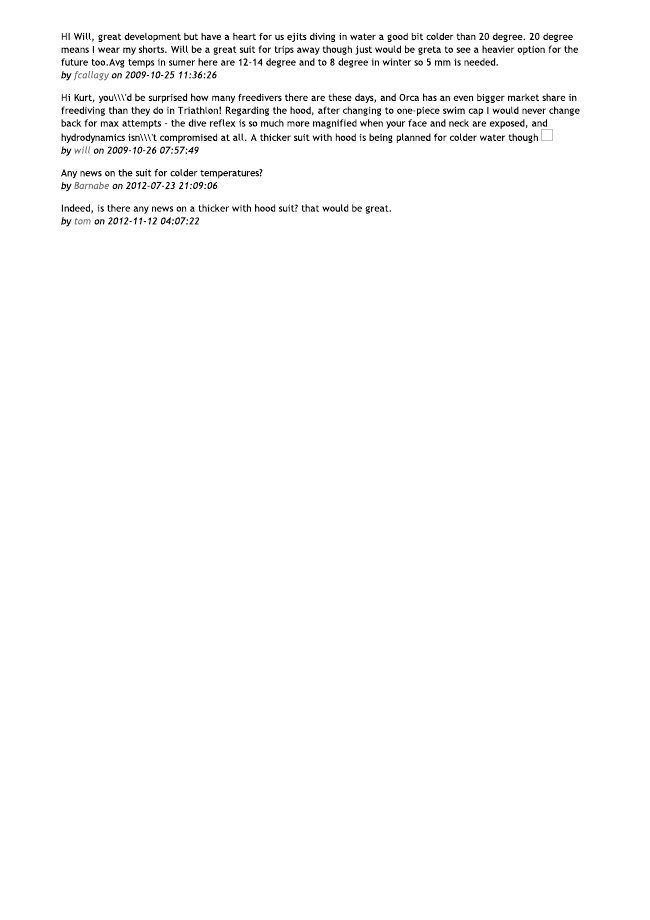 HI Will, great development but have a heart for us ejits diving in water a good bit colder than 20 degree. 20 degree means I wear my shorts. Will be a great suit for trips away though just would be greta to see a heavier option for the future too.Avg temps in sumer here are 12-14 degree and to 8 degree in winter so 5 mm is needed.
by fcallagy on 2009-10-25 11:36:26
Hi Kurt, you\\\'d be surprised how many freedivers there are these days, and Orca has an even bigger market share in freediving than they do in Triathlon! Regarding the hood, after changing to one-piece swim cap I would never change back for max attempts - the dive reflex is so much more magnified when your face and neck are exposed, and hydrodynamics isn\\\'t compromised at all. A thicker suit with hood is being planned for colder water though
by will on 2009-10-26 07:57:49
Any news on the suit for colder temperatures? by Barnabe on 2012-07-23 21:09:06
Indeed, is there any news on a thicker with hood suit? that would be great. by tom on 2012-11-12 04:07:22