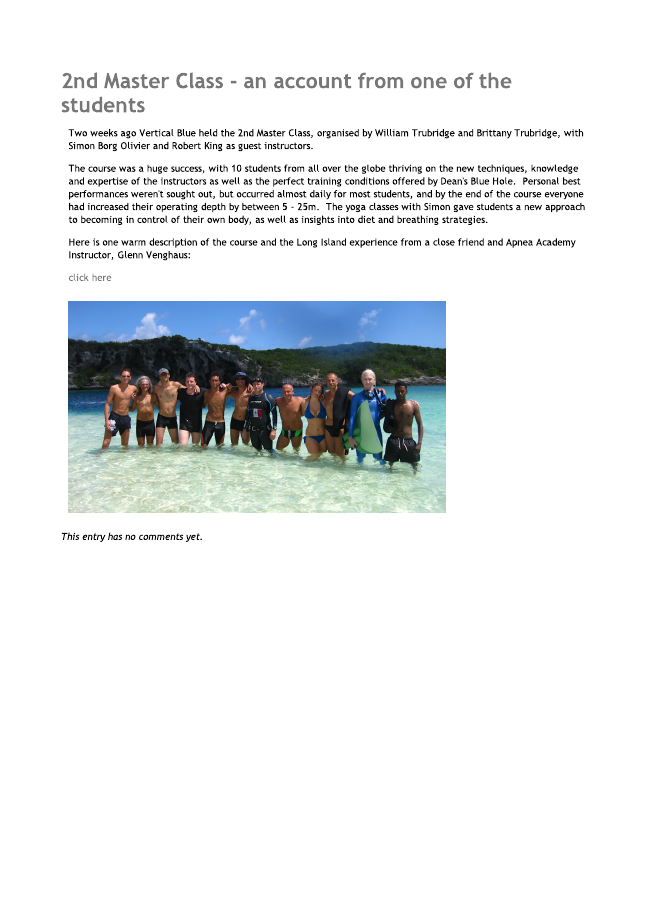 2nd Master Class - an account from one of the students
Two weeks ago Vertical Blue held the 2nd Master Class, organised by William Trubridge and Brittany Trubridge, with Simon Borg Olivier and Robert King as guest instructors.
The course was a huge success, with 10 students from all over the globe thriving on the new techniques, knowledge and expertise of the instructors as well as the perfect training conditions offered by Dean's Blue Hole. Personal best performances weren't sought out, but occurred almost daily for most students, and by the end of the course everyone had increased their operating depth by between 5 - 25m. The yoga classes with Simon gave students a new approach to becoming in control of their own body, as well as insights into diet and breathing strategies.
Here is one warm description of the course and the Long Island experience from a close friend and Apnea Academy Instructor, Glenn Venghaus:
click here
This entry has no comments yet.