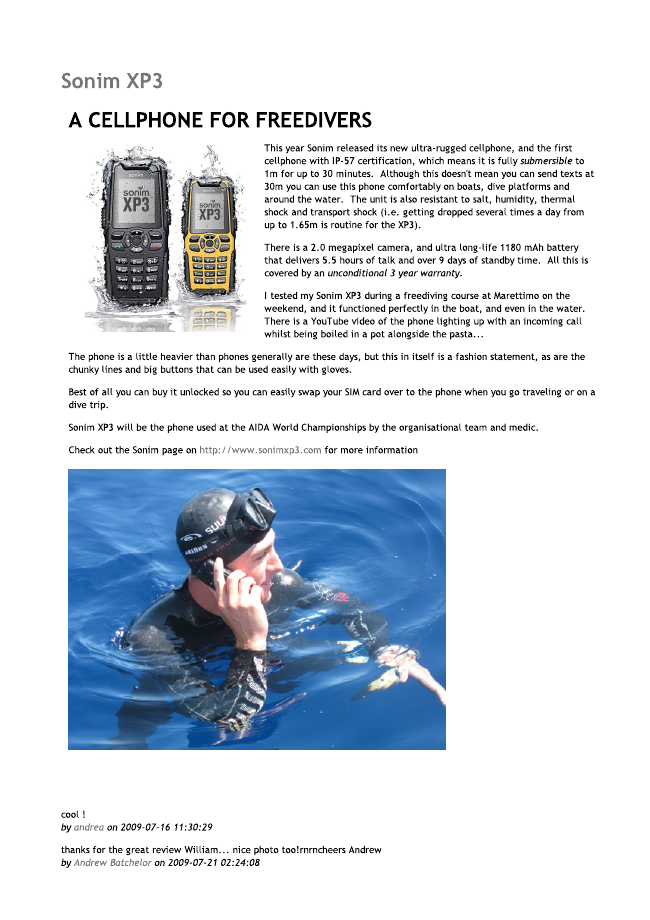 Sonim XP3
A CELLPHONE FOR FREEDIVERS
This year Sonim released its new ultra-rugged cellphone, and the first cellphone with IP-57 certification, which means it is fully submersible to 1rn for up to 30 minutes. Although this doesn't mean you can send texts at 30m you can use this phone comfortably on boats, dive platforms and around the water. The unit is also resistant to salt, humidity, thermal shock and transport shock (i.e. getting dropped several times a day from up to 1.65m is routine for the XP3).
There is a 2.0 megapixel camera, and ultra long-life 1180 mAh battery that delivers 5.5 hours of talk and over 9 days of standby time. All this is covered by an unconditional 3 year warranty.
I tested my Sonim XP3 during a freediving course at Marettimo on the weekend, and it functioned perfectly in the boat, and even in the water. There is a YouTube video of the phone lighting up with an incoming call whilst being boiled in a pot alongside the pasta...
The phone is a little heavier than phones generally are these days, but this in itself is a fashion statement, as are the chunky lines and big buttons that can be used easily with gloves.
Best of all you can buy it unlocked so you can easily swap your SIM card over to the phone when you go traveling or on a
dive trip.
Sonim XP3 will be the phone used at the AIDA World Championships by the organisational team and medic.
Check out the Sonim page on http:/ /www.sonimxp3.com for more information
cool
by andrea on 2009-07- 16 11:30:29
thanks for the great review William... nice photo toolrnrncheers Andrew
by Andrew Batchelor on 2009-07-21 02:24:08 Hi William, the direct link to your mobile is now http://www.sonimtech.com/features_xp3quest.php cheers Andrew by Andrew Batchelor on 2009-07-21 02:48:32