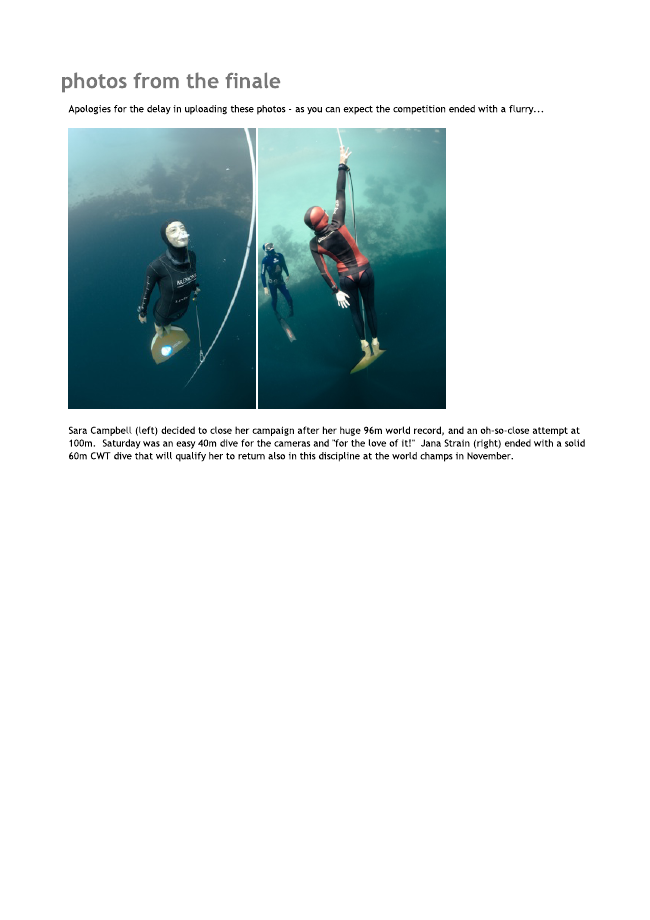 photos from the finale
Apologies for the delay in uploading these photos - as you can expect the competition ended with a flurry...
Sara Campbell (left) decided to close her campaign after her huge 96m world record, and an oh-so-close attempt at 100m. Saturday was an easy 40m dive for the cameras and for the love of it! Jana Strain (right) ended with a solid 60m CWT dive that will qualify her to return also in this discipline at the world champs in November.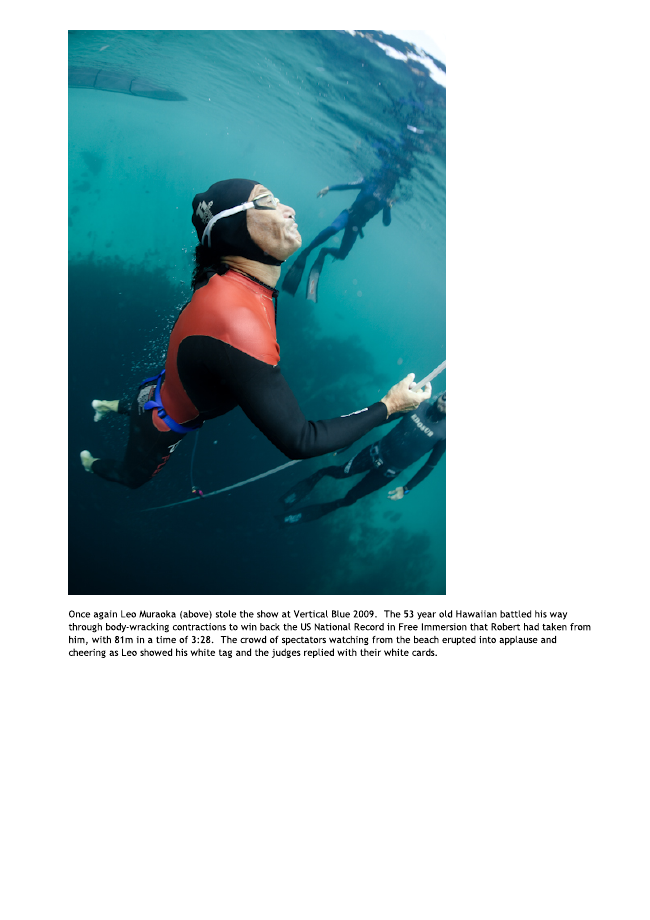 Once again Leo Muraoka (above) stole the show at Vertical Blue 2009. The 53 year old Hawaiian battled his way through body-wracking contractions to win back the US National Record in Free Immersion that Robert had taken from him, with 81 m in a time of 3:28. The crowd of spectators watching from the beach erupted into applause and cheering as Leo showed his white tag and the judges replied with their white cards.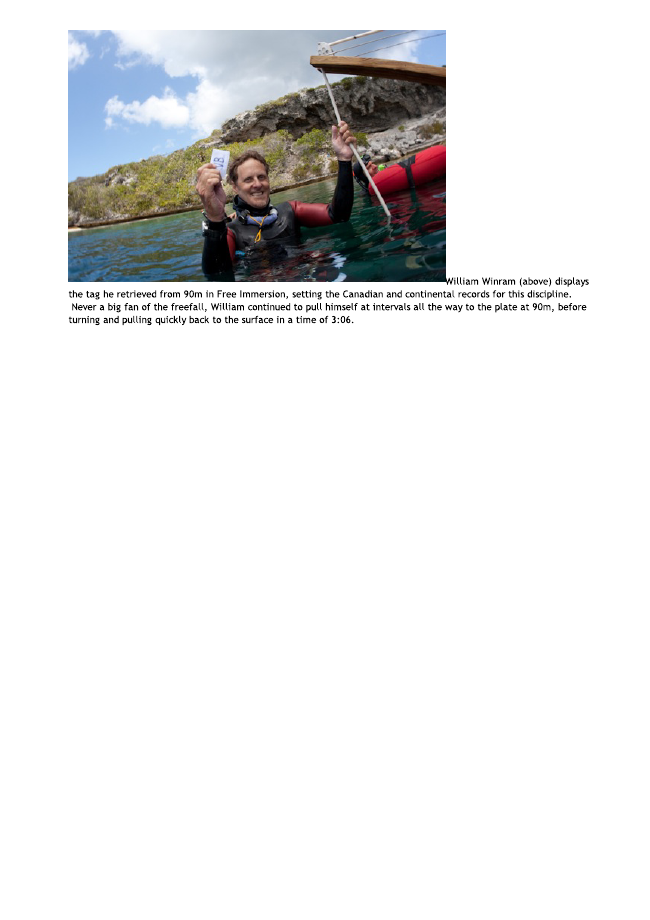 illiam Winram (above) displays the tag he retrieved from 90m in Free Immersion, setting the Canadian and continental records for this discipline.
Never a big fan of the freefall, William continued to pull himself at intervals all the way to the plate at 90m, before turning and pulling quickly back to the surface in a time of 3:06.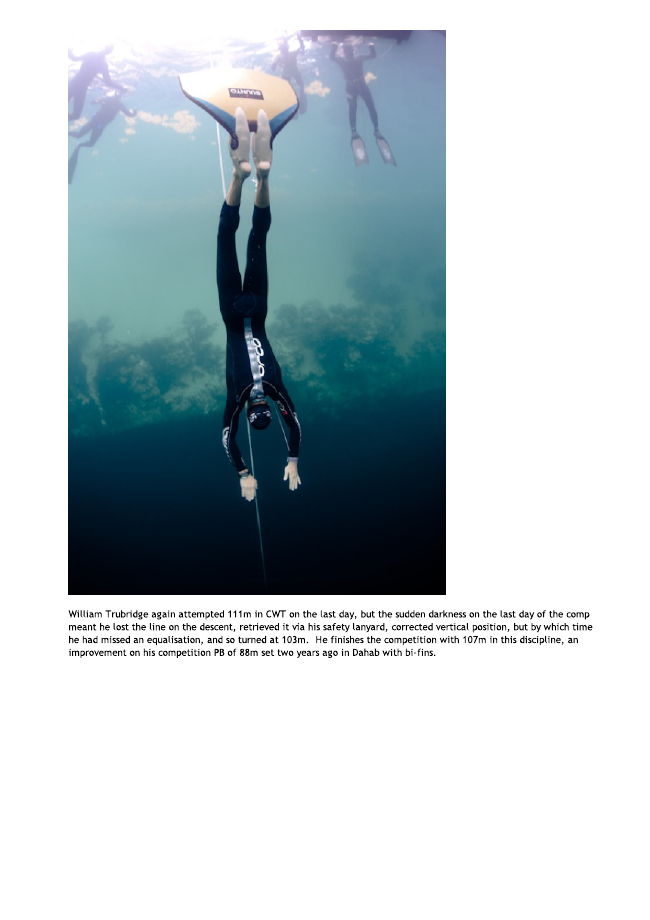 William Trubridge again attempted 111m in CWT on the last day, but the sudden darkness on the last day of the comp meant he lost the line on the descent, retrieved it via his safety lanyard, corrected vertical position, but by which time he had missed an equalisation, and so turned at 103m. He finishes the competition with 107m in this discipline, an improvement on his competition PB of 88m set two years ago in Dahab with bi-fins.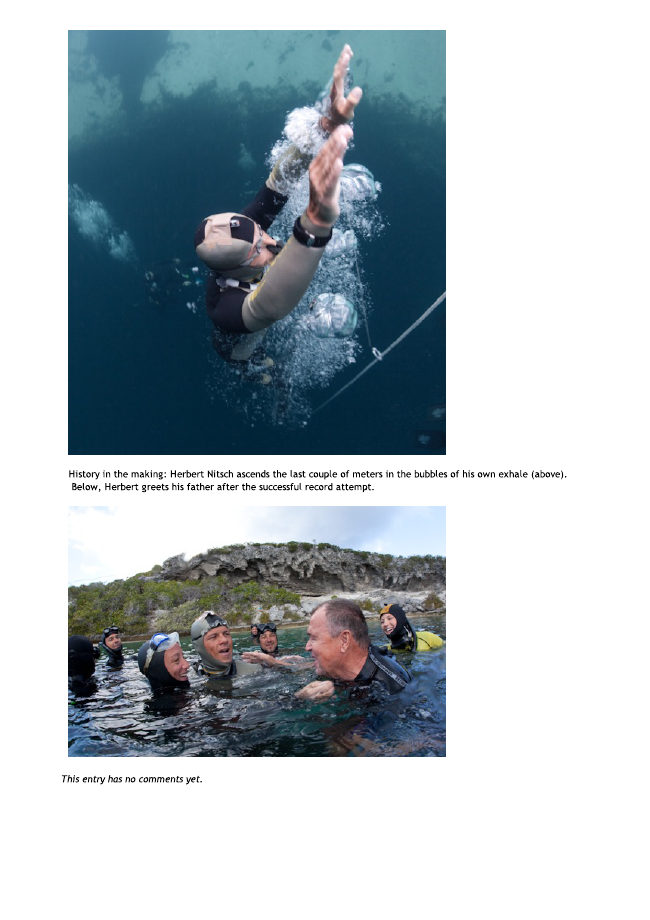 History in the making: Herbert Nitsch ascends the last couple of meters in the bubbles of his own exhale (above).
Below, Herbert greets his father after the successful record attempt.
This entry has no comments yet.