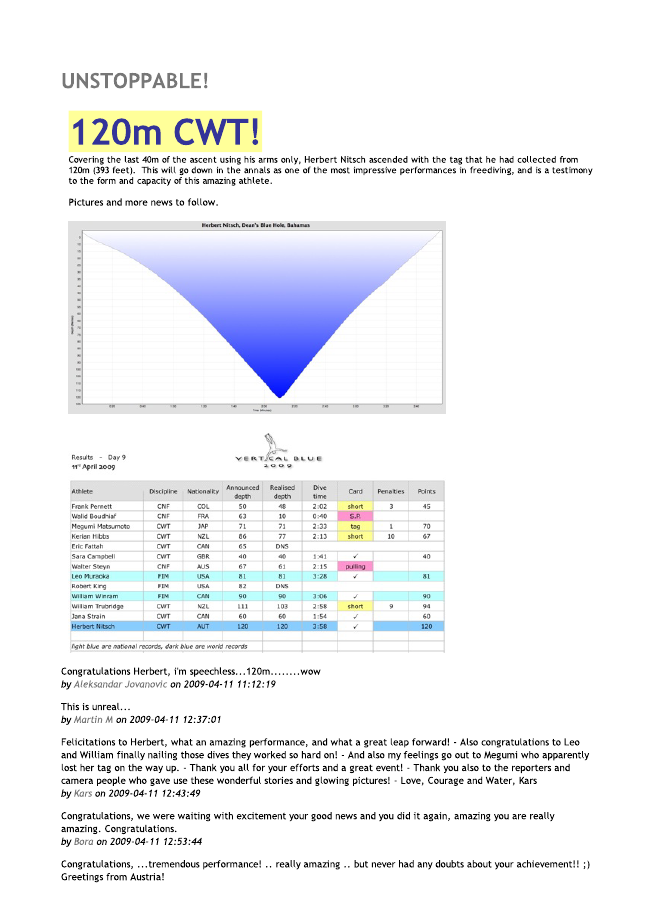 UNSTOPPABLE!
Covering the last 40m of the ascent using his arms only, Herbert Nitsch ascended with the tag that he had collected from 120m (393 feet). This will go down in the annals as one of the most impressive performances in freediving, and is a testimony to the form and capacity of this amazing athlete.
Pictures and more news to follow.
by Aleksandar Jovanovic on 2009-04- 11 11:12:19
This is unreal...
by Martin M on 2009-04- 11 12:37:01
Felicitations to Herbert, what an amazing performance, and what a great leap forward! - Also congratulations to Leo and William finally nailing those dives they worked so hard on! - And also my feelings go out to Megumi who apparently lost her tag on the way up. - Thank you all for your efforts and a great event! - Thank you also to the reporters and camera people who gave use these wonderful stories and glowing pictures! - Love, Courage and Water, Kars
by Kars on 2009-04- 11 12:43:49
Congratulations, we were waiting with excitement your good news and you did it again, amazing you are really amazing. Congratulations. by Bora on 2009-04- 11 12:53:44
Congratulations, ...tremendous performance! .. really amazing _. but never had any doubts about your achievement!! Greetings from Austria!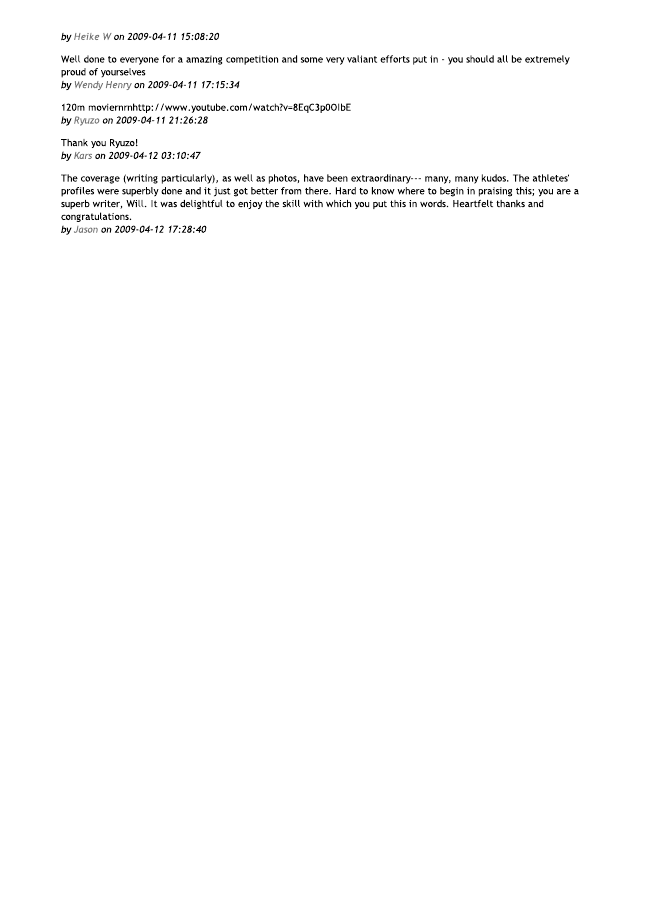 by Heike W on 2009-04- 11 15:08:20
Well done to everyone for a amazing competition and some very valiant efforts putin - you should all be extremely proud of yourselves by Wendy Henry on 2009-04-11 17:15:34
Thank you Ryuzo! by Kars on 2009-04- 12 03:10:47
The coverage (writing particularly), as well as photos, have been extraordinary--- many, many kudos. The athletes' profiles were superbly done and it just got better from there. Hard to know where to begin in praising this; you are a superb writer, Will. It was delightful to enjoy the skill with which you put this in words. Heartfelt thanks and congratulations.
by Jason on 2009-04- 12 17:28:40