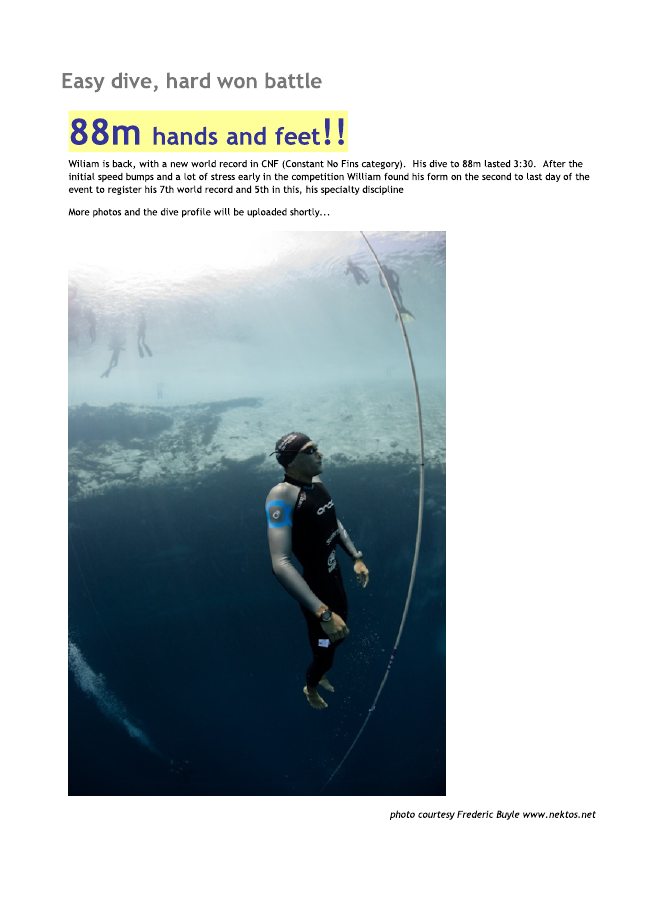 Easy dive, hard won battle
88m hands and feet!!
Wiliam is back, with a new world record in CNF (Constant No Fins category). His dive to 88m lasted 3:30. After the initial speed bumps and a lot of stress early in the competition William found his form on the second to last day of the event to register his 7th world record and 5th in this, his specialty discipline
More photos and the dive profi le will be uploaded shortly...
photo courtesy Frederic Buyle www. nektos. net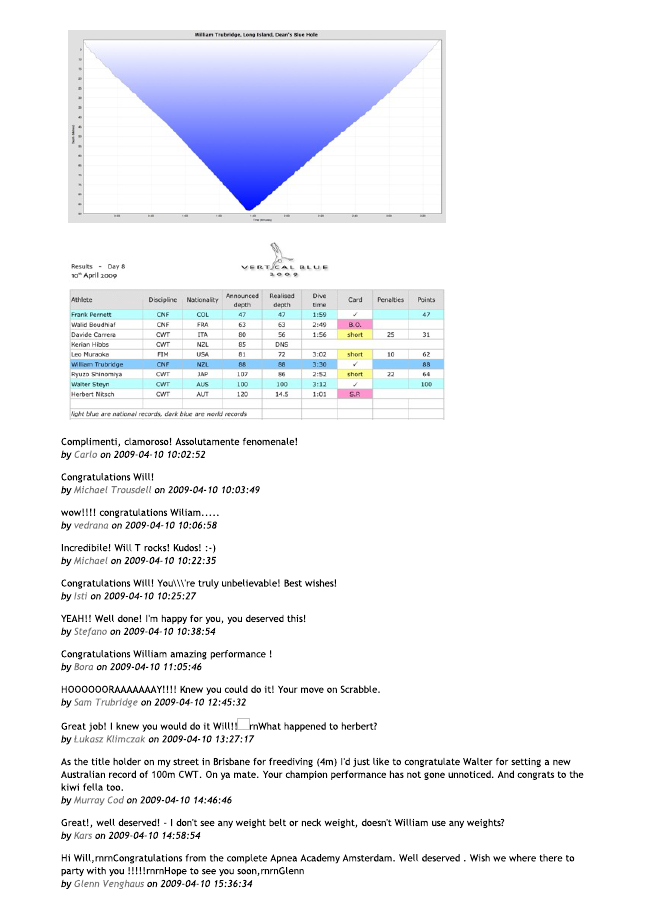 Complimenti, clamoroso! Assolutamente fenomenale! by Carlo on 2009-04- 10 10:02:52
Congratulations Will! by Michael Trousdell on 2009-04- 10 10:03:49
wow!!!! congratulations Wiliam..... by vedrana on 2009-04- 10 10:06:58
Incredibile! Will T rocks! Kudos! :-) by Michael on 2009-04-10 10:22:35
Congratulations Will! You\\\'re truly unbelievable! Best wishes! by lsti on 2009-04- 10 10:25:27
YEAH!! Well done! happy for you, you deserved this! by Stefano on 2009-04- 10 10:38:54
Congratulations William amazing performance by Bora on 2009-04- 10 11:05:46
HOOOOOORAAAAAAAYH!! Knew you could do it! Your move on Scrabble. by Sam Trubridge on 2009-04- 10 12:45:32
Great job! I knew you would do it Will!! rnWhat happened to herbert? by Lukasz Klimczak on 2009-04- 10 13:27: 17
As the title holder on my street in Brisbane for freediving (4m) just like to congratulate Walter for setting a new Australian record of 100m CWT. On ya mate. Your champion performance has not gone unnoticed. And congrats to the kiwi fella too.
by Murray Cod on 2009-04- 10 14:46:46
Greatl, well deserved! - I don't see any weight belt or neck weight, doesn't William use any weights? by Kars on 2009-04- 10 14:58:54
Hi Will,rnrnCongratulations from the complete Apnea Academy Amsterdam. Well deserved . Wish we where there to party with you !!!!lrnrnHope to see you soon,rnrnGlenn by Glenn Venghaus on 2009-04- 10 15:36:34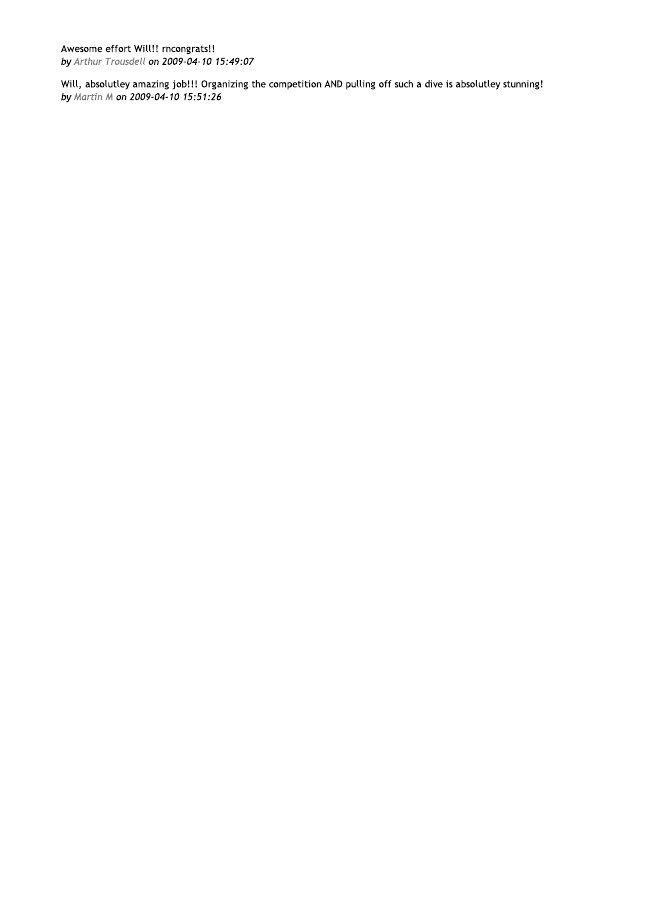 Awesome effort Will!! rncongrats!! by Arthur Trousdell on 2009-04- 10 15:49:07
Will, absolutley amazing job!!! Organizing the competition AND pulling off such a dive is absolutley stunning! by Martin M on 2009-04-10 15:51:26