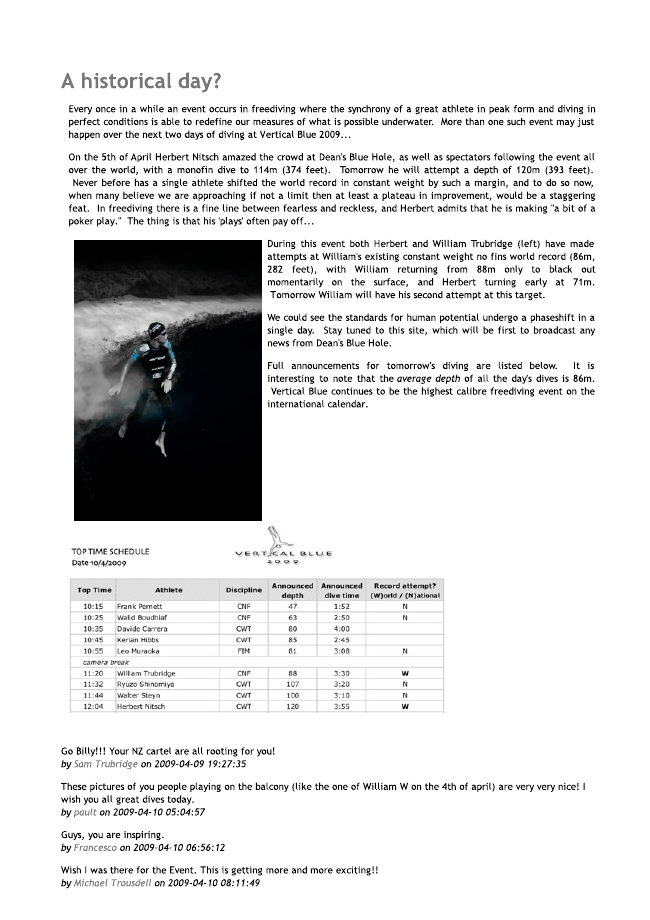 A historical day?
Every once in a while an event occurs in freediving where the synchrony of a great athlete in peak form and diving in perfect conditions is able to redefine our measures of what is possible underwater. More than one such event may just happen over the next two days of diving at Vertical Blue 2009. . .
On the 5th of April Herbert Nitsch amazed the crowd at Dean's Blue Hole, as well as spectators following the event all over the world, with a monofin dive to 114m (374 feet). Tomorrow he will attempt a depth of 120m (393 feet). Never before has a single athlete shifted the world record in constant weight by such a margin, and to do so now, when many believe we are approaching if not a limit then at least a plateau in improvement, would be a staggering feat. In freediving there is a fine line between fearless and reckless, and Herbert admits that he is making a bit of a poker play. The thing is that his 'plays' often pay off...
During this event both Herbert and William Trubridge (left) have made attempts at William's existing constant weight no fins world record (86m, 282 feet), with William returning from 88m only to black out momentarily on the surface, and Herbert turning early at 71m.
Tomorrow William will have his second attempt at this target.
We could see the standards for human potential undergo a phaseshíft in a single day. Stay tuned to this site, which will be first to broadcast any news from Dean's Blue Hole.
Full announcements for tomorrow's diving are listed below. It is interesting to note that the average depth of all the day's dives is 86m. Vertical Blue continues to be the highest calibre freediving event on the international calendar.
Go Billy!!! Your NZ cartel are all rooting for you! by Sam Trubridge on 2009-04-09 19:27:35
These pictures of you people playing on the balcony (like the one of William W on the 4th of april) are very very nice! I wish you all great dives today. by pault on 2009-04- 10 05:04:57
Guys, you are inspiring. by Francesco on 2009-04- 10 06:56:12
Wish I was there for the Event. This is getting more and more exciting!! by Michael Trousdell on 2009-04- 10 08:11:49