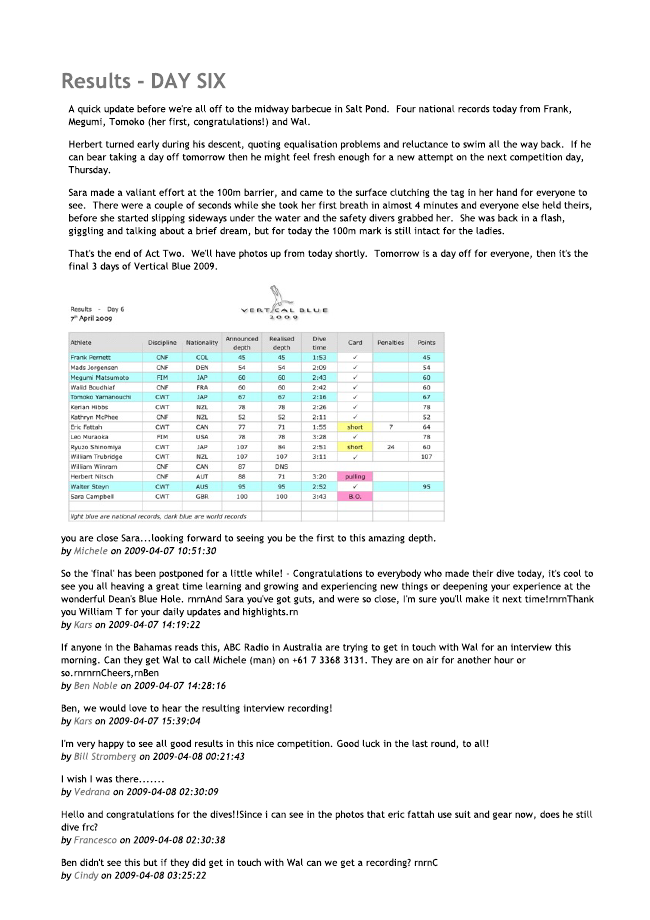 Results - DAY SIX
A quick update before we're all off to the midway barbecue in Salt Pond. Four national records today from Frank, Megumi, Tomoko (her first, congratulations!) and Wal.
Herbert turned early during his descent, quoting equalisation problems and reluctance to swim all the way back. If he can bear taking a day off tomorrow then he might feel fresh enough for a new attempt on the next competition day, Thursday.
Sara made a valiant effort at the 100m barrier, and came to the surface clutching the tag in her hand for everyone to see. There were a couple of seconds while she took her first breath in almost 4 minutes and everyone else held theirs, before she started slipping sideways under the water and the safety divers grabbed her. She was back in a flash, giggling and talking about a brief dream, but for today the 100m mark is still intact for the ladies.
That's the end of Act Two. We'll have photos up from today shortly. Tomorrow is a day off for everyone, then the final 3 days of Vertical Blue 2009.
you are close Sara...looking forward to seeing you be the first to this amazing depth. by Michele on 2009-04-07 10:51:30
So the 'final' has been postponed for a little while! - Congratulations to everybody who made their dive today, it's cool to see you all heaving a great time learning and growing and experiencing new things or deepening your experience at the
wonderful Dean's Blue Hole. rnrnAnd Sara you've got guts, and were so close, sure you'll make it next time!rnrnThank you William T for your daily updates and highlights.rn
by Kars on 2009-04-07 14: 19:22
If anyone in the Bahamas reads this, ABC Radio in Australia are trying to get in touch with Wal for an interview this morning. Can they get Wal to call Michele (man) on +61 7 3368 3131 . They are on air for another hour or so.rnrnrnCheers,rnBen
by Ben Noble on 2009-04-07 14:28: 16
Ben, we would love to hear the resulting interview recording! by Kars on 2009-04-07 15:39:04
very happy to see all good results in this nice competition. Good luck in the last round, to all! by Bill Stromberg on 2009-04-08 00:21:43
I wish I was there.......
by Vedrana on 2009-04-08 02:30:09
Hello and congratulations for the dives!!Since i can see in the photos that eric fattah use suit and gear now, does he still dive frc?
by Francesco on 2009-04-08 02:30:38
Ben didn't see this but if they did get in touch with Wal can we get a recording? rnrnC by Cindy on 2009-04-08 03:25:22