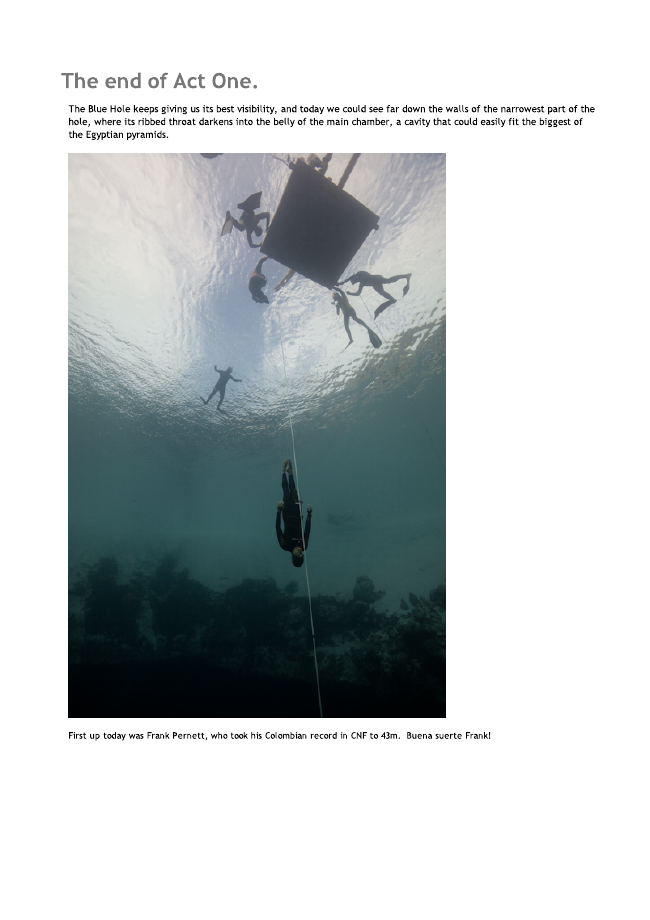 The end of Act One.
The Blue Hole keeps giving us its best visibility, and today we could see far down the walls of the narrowest part of the hole, where its ribbed throat darkens into the belly of the main chamber, a cavity that could easily fit the biggest of the Egyptian pyramids.
First up today was Frank Pernett, who took his Colombian record in CNF to 43m. Buena suerte Frank!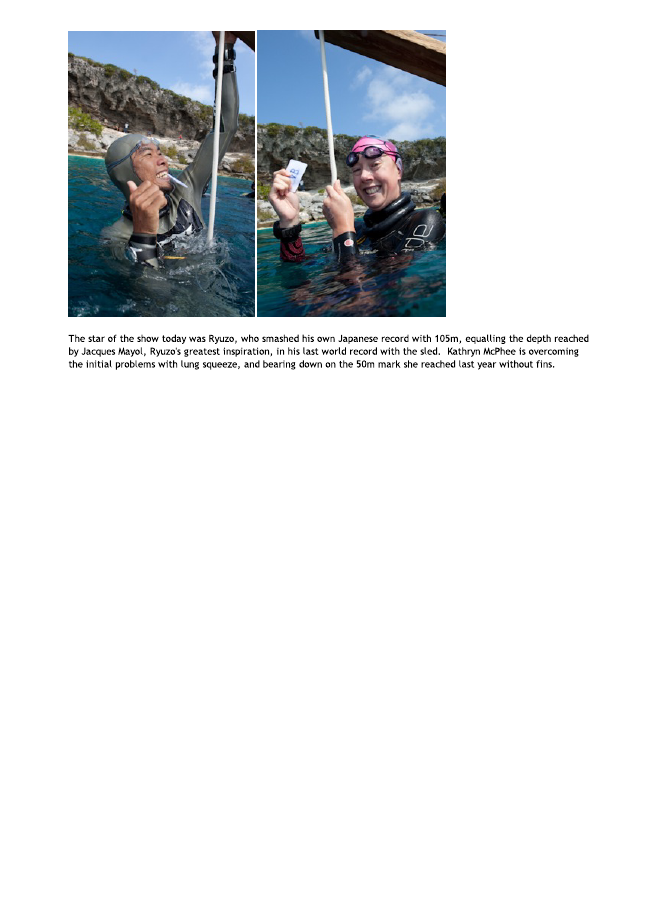 The star of the show today was Ryuzo, who smashed his own Japanese record with 105m, equalling the depth reached by Jacques Mayol, Ryuzo's greatest inspiration, in his last world record with the sled. Kathryn McPhee is overcoming the initial problems with lung squeeze, and bearing down on the 50m mark she reached last year without fins.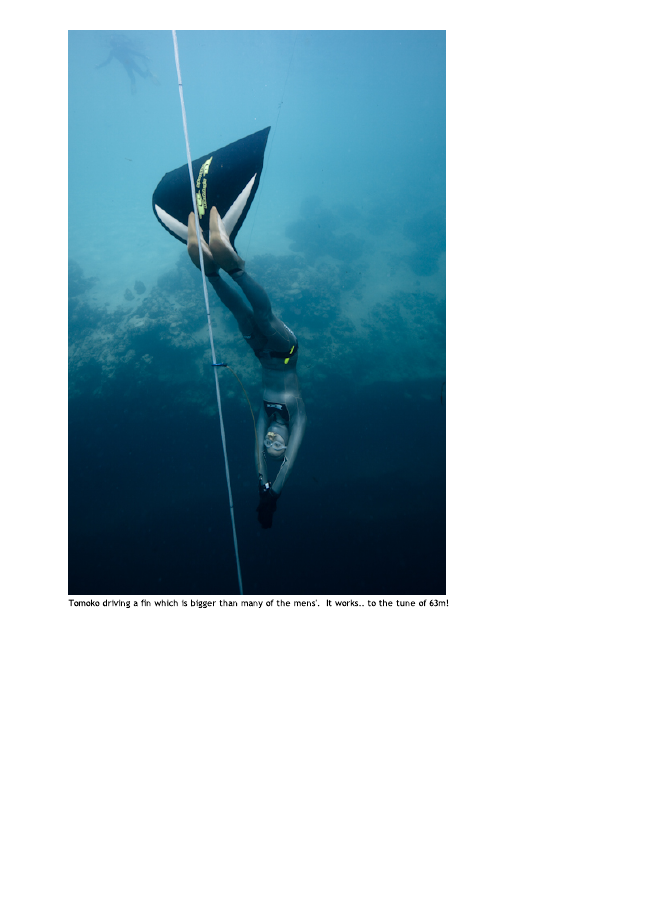 Tomoko driving a fin which is bigger than many of the mens'. It works.. to the tune of 63m!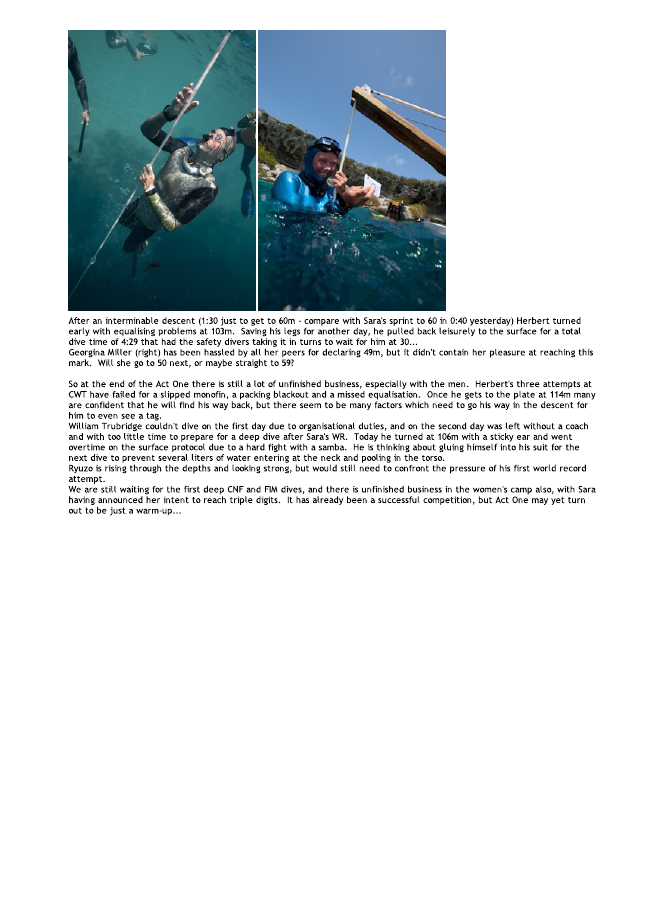 After an interminable descent (1:30 just to get to 60m - compare with Sara's sprint to 60 in 0:40 yesterday) Herbert turned early with equalising problems at 103m. Saving his legs for another day, he pulled back leisurely to the surface for a total dive time of 4:29 that had the safety divers taking it in turns to wait for him at 30...
Georgina Miller (right) has been hassled by all her peers for declaring 49m, but it didn't contain her pleasure at reaching this mark. Will she go to 50 next, or maybe straight to 59?
So at the end of the Act One there is still a lot of unfinished business, especially with the men. Herbert's three attempts at CWT have failed for a slipped monofin, a packing blackout and a missed equalisation. Once he gets to the plate at 114m many are confident that he will find his way back, but there seem to be many factors which need to go his way in the descent for him to even see a tag.
William Trubridge couldn't dive on the first day due to organisational duties, and on the second day was left without a coach and with too little time to prepare for a deep dive after Sara's WR. Today he turned at 106m with a sticky ear and went overtime on the surface protocol due to a hard fight with a samba. He is thinking about gluing himself into his suit for the next dive to prevent several liters of water entering at the neck and pooling in the torso.
Ryuzo is rising through the depths and looking strong, but would still need to confront the pressure of his first world record attempt.
We are still waiting for the first deep CNF and FIM dives, and there is unfinished business in the women's camp also, with Sara having announced her intent to reach triple digits. It has already been a successful competition, but Act One may yet turn out to be just a warm-up...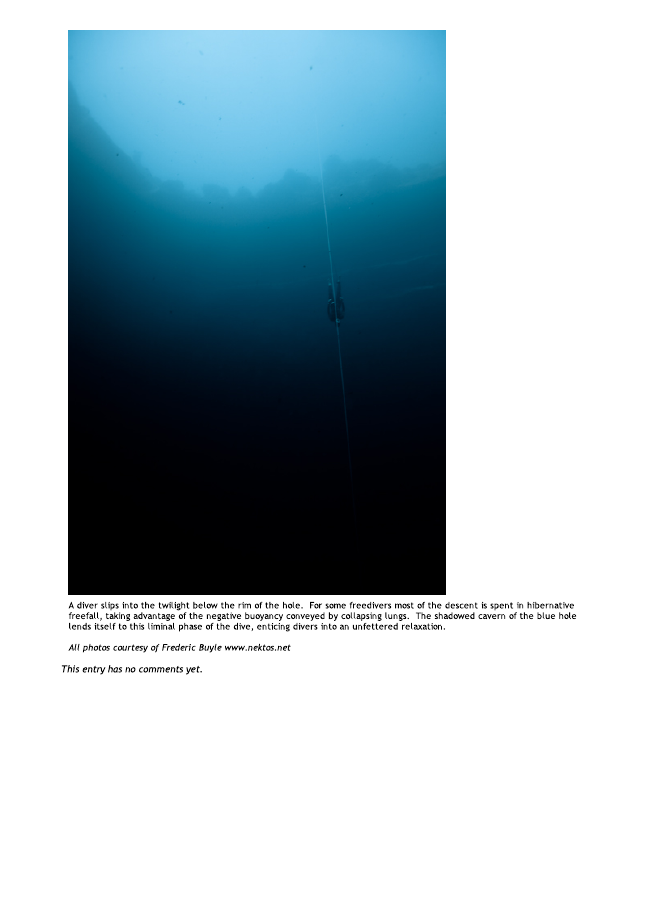 A diver slips into the twilight below the rim of the hole. For some freedivers most of the descent is spent in hibernative freefall, taking advantage of the negative buoyancy conveyed by collapsing lungs. The shadowed cavern of the blue hole lends itself to this liminal phase of the dive, enticing divers into an unfettered relaxation.
All photos courtesy of Frederic Buyle www.nektos.net
This entry has no comments yet.