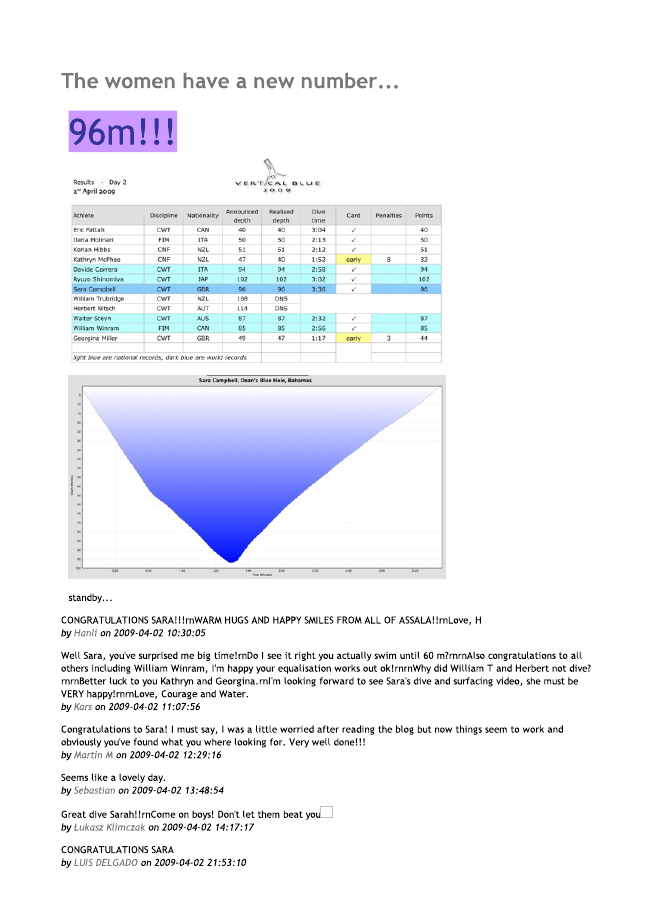 The women have a new number...
-In-|illllllllïlllllllil.
standby. . .
CONGRATULATIONS SARA!!!rnWARM HUGS AND HAPPY SMILES FROM ALL OF ASSALA!!rnLoVe, H by Hanli on 2009-04-02 10:30:05
Well Sara, you've surprised me big time!rnDo I see it right you actually swim until 60 m?rnrnAlso congratulations to all others including William Wínram, I'm happy your equalísation works out ok!rnrnWhy did William T and Herbert not dive? rnrnBetter luck to you Kathryn and Georgina.rnI'm looking forward to see Sara's dive and surfacing video, she must be VERY happy! rnrnLove, Courage and Water.
by Kars on 2009-04-02 11:07:56
Congratulations to Sara! I must say, I was a little worried after reading the blog but now things seem to work and obviously you've found what you where looking for. Very well done!!! by Martin M on 2009-04-02 12:29: 16
Seems like a lovely day. by Sebastian on 2009-04-02 13:48:54
Great dive Sarah! !rnCome on boys! Don't let them beat you by Lukasz Klimczak on 2009-04-02 14: 17: 17
CONGRATULATIONS SARA
by LUIS DELGADO on 2009-04-02 21:53:10