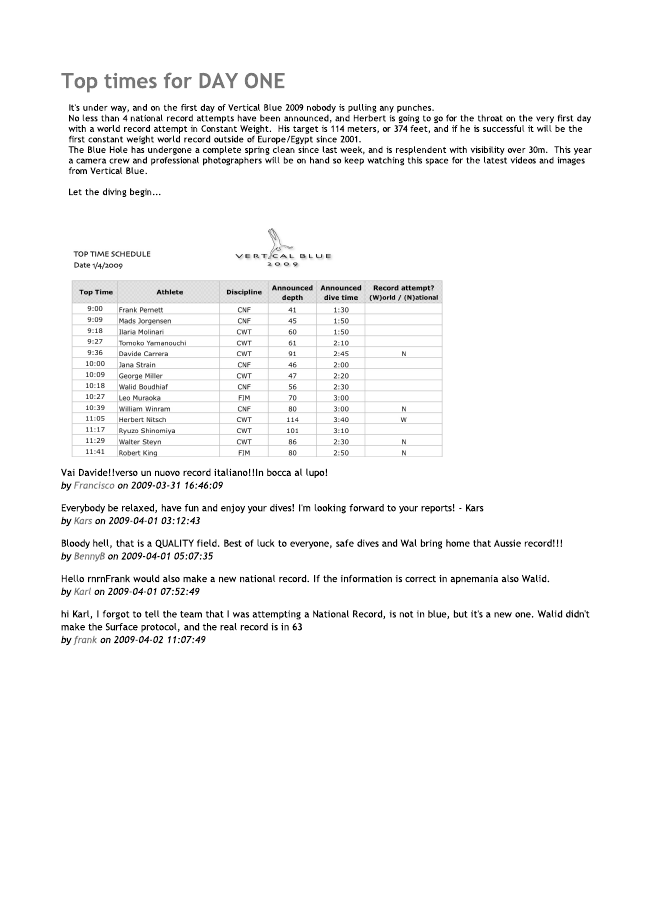 Top times for DAY ONE
under way, and on the first day of Vertical Blue 2009 nobody is pulling any punches.
No less than 4 national record attempts have been announced, and Herbert is going to go for the throat on the very first day with a world record attempt in Constant Weight. His target is 114 meters, or 374 feet, and if he is successful it will be the first constant weight world record outside of Europe/ Egypt since 2001.
The Blue Hole has undergone a complete spring clean since last week, and is resplendent with visibility over 30m. This year a camera crew and professional photographers will be on hand so keep watching this space for the latest videos and images from Vertical Blue.
Let the diving begin...
1 O O 9 Date 1/412009
Top Time Athìete Discipline
Vai Dav1'de!!verso un nuovo record italiano!!|n bocca al lupo! by Francisco on 2009-03-31 16:46:09
Everybody be relaxed, have fun and enjoy your dives! looking forward to your reports! - Kars by Kars on 2009-04-01 03: 12:43
Bloody hell, that is a QUALITY field. Best of luck to everyone, safe dives and Wal bring home that Aussie record!!! by BennyB on 2009-04-01 05:07:35
Hello rnrnFrank would also make a new national record. If the information is correct in apnemania also Walid. by Karl on 2009-04-01 07:52:49
hi Karl, I forgot to tell the team that I was attempting a National Record, is not in blue, but it's a new one. Walid didn't make the Surface protocol, and the real record is in 63 by frank on 2009-04-02 11:07:49