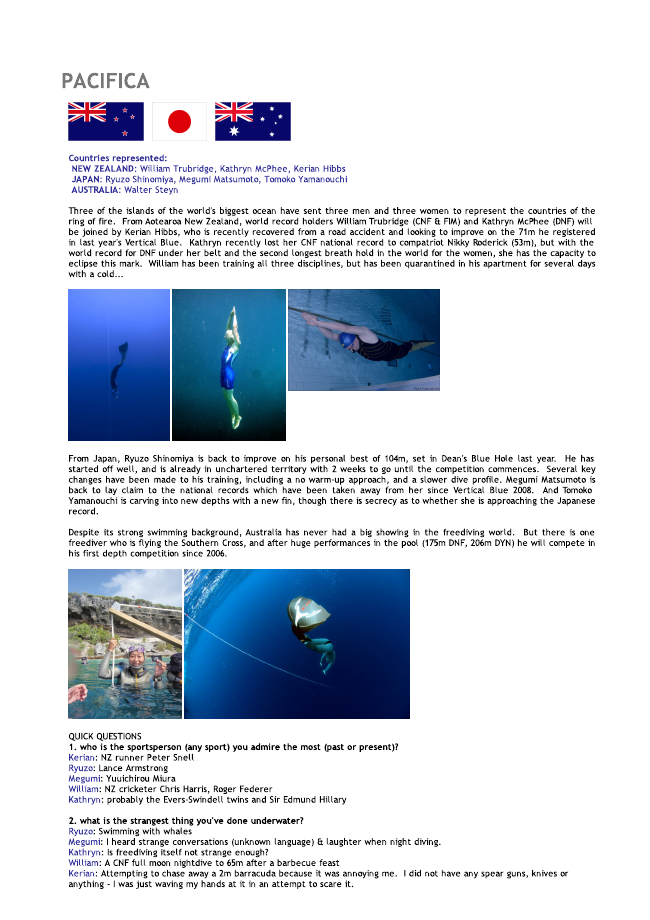 PACIFICA
Countries represented:
NEW ZEALAND: William Trubridge, Kathryn McPhee, Kerian Hibbs JAPAN: Ryuzo Shinomiya, Megumi Matsumoto, Tomoko Yamanouchi AUSTRALIA: Walter Steyn
Three of the islands of the world's biggest ocean have sent three men and three women to represent the countries of the ring of fire. From Aotearoa New Zealand, world record holders William Trubridge (CNF & FIM) and Kathryn McPhee (DNF) will be joined by Kerian Hibbs, who is recently recovered from a road accident and looking to improve on the 71m he registered in last year's Vertical Blue. Kathryn recently lost her CNF national record to compatriot Nikky Roderick (53m), but with the world record for DNF under her belt and the second longest breath hold in the world for the women, she has the capacity to eclipse this mark. William has been training all three disciplines, but has been quarantined in his apartment for several days with a cold...
From Japan, Ryuzo Shinomiya is back to improve on his personal best of 104m, set in Dean's Blue Hole last year. He has started off well, and is already in unchartered territory with 2 weeks to go until the competition commences. Several key changes have been made to his training, including a no warm-up approach, and a slower dive profile. Megumi Matsumoto is back to lay claim to the national records which have been taken away from her since Vertical Blue 2008. And Tomoko Yamanouchi is carving into new depths with a new fin, though there is secrecy as to whether she is approaching the Japanese record.
Despite its strong swimming background, Australia has never had a big showing in the freediving world. But there is one freediver who is flying the Southern Cross, and after huge performances in the pool (175m DNF, 206m DYN) he will compete in his first depth competition since 2006.
QUICK QUESTIONS
1. who is the sportsperson (any sport) you admire the most (past or present)? Kerian: NZ runner Peter Snell
Ryuzo: Lance Armstrong
Megumi: Yuuichirou Miura
William: NZ Cricketer Chris Harris, Roger Federer
Kathryn: probably the Evers-Swindell twins and Sir Edmund Hillary
2. what is the strangest thing you've done underwater?
Ryuzo: Swimming with whales
Megumi: I heard strange conversations (unknown language) & laughter when night diving.
Kathryn: Is freediving itself not strange enough?
William: A CNF full moon nightdive to 65m after a barbecue feast
Kerian: Attempting to chase away a 2m barracuda because it was annoying me. I did not have any spear guns, knives or anything - I was just waving my hands at it in an attempt to scare it.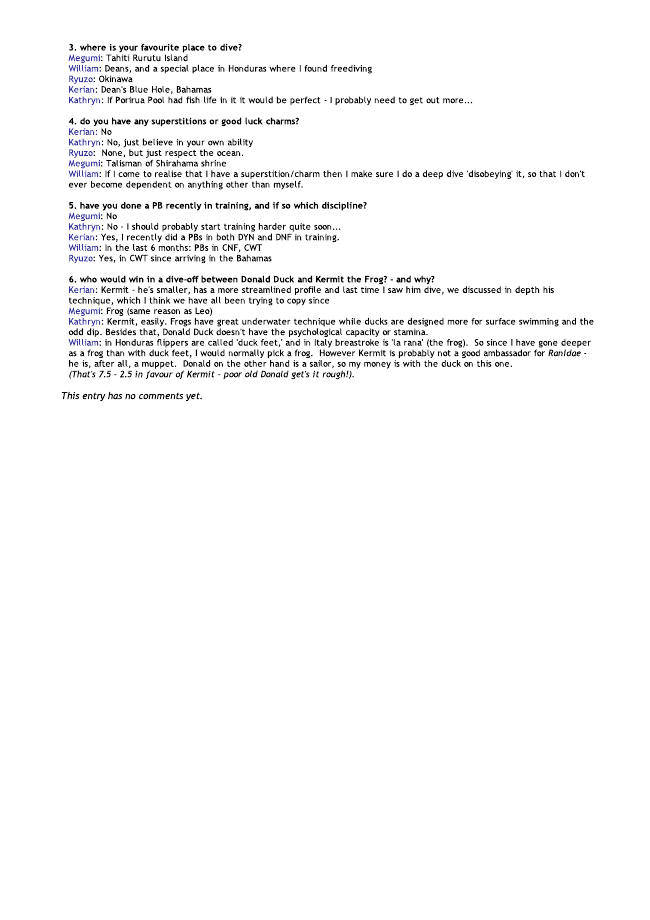 3. where is your favourite place to dive?
Megumi: Tahiti Rurutu Island
William: Deans, and a special place in Honduras where I found freediving
Ryuzo: Okinawa
Kerian: Dean's Blue Hole, Bahamas
Kathryn: If Porirua Pool had fish life in it it would be perfect - I probably need to get out more...
4. do you have any superstitions or good luck charms?
Kerian: No
Kathryn: No, just believe in your own ability
Ryuzo: None, but just respect the ocean.
Megumi: Talisman of Shirahama shrine
William: If I come to realise that I have a superstition/charm then I make sure I do a deep dive 'disobeying' it, so that I don't ever become dependent on anything other than myself.
5. have you done a PB recently in training, and if so which discipline? Megumi: No
Kathryn: No - I should probably start training harder quite soon... Kerian: Yes, I recently did a PBS in both DYN and DNF in training. William: In the last 6 months: PBS in CNF, CWT
Ryuzo: Yes, in CWT since arriving in the Bahamas
6. wha would win in a dive-off between Donald Duck and Kermit the Frag? - and why?
Kerian: Kermit - he's smaller, has a more streamlined profile and last time I saw him dive, we discussed in depth his technique, which I think we have all been trying to copy since
Megumi: Frog (same reason as Leo)
Kathryn: Kermit, easily. Frogs have great underwater technique while ducks are designed more for surface swimming and the odd dip. Besides that, Donald Duck doesn't have the psychological capacity or stamina.
William: in Honduras flippers are called 'duck feet,' and in Italy breastroke is 'la rana' (the frog). So since I have gone deeper as a frog than with duck feet, I would normally pick a frog. However Kermit is probably not a good ambassador for Ranidae - he is, after all, a muppet. Donald on the other hand is a sailor, so my money is with the duck on this one.
(T hat's 7.5 2.5 in favour of Kermit poor old Donald get's it rough!).
This entry has no comments yet.