THE AMERICAS
Countries represented:
USA: Leo Muraoka, Robert King
CANADA: William Winram, Jana Strain, Eric Fattah COLOMBIA: Frank Pernett
Five men and one woman will represent the Americas at this year's Vertical Blue. They are all record-holders, past and present, greedy for new depths and blue glory.
Flying the star-Spangled banner, Leo and Robert may end up going head to head for the US constant no fins (CNF) or free immersion (FIM) record. Robert is the current record holder in CNF, Leo holds FIM; although Leo attempted CNF in 2008's Vertical Blue he was too exhausted from his eventual victory in FIM - will we see a similar odyssey towards 55m no fins for him this year? He has had a year of training in the waters of
Í Hawaii to perfect his breaststroke technique, and he will return to quickly resume
where he left off.
Rob King, the lawyer from Miami, is already in training in Q the Blue Hole, and has been seen frequently with a É monofin. Could he be looking to make a raid on the 2-year
Immersion?? A will he steal in behind Leo to try for 76m in Free
Canada is represented by three world-class athletes this year: Eric Fattah and William Winram return for another year, and Jana Strain who is a fresh addition, after securing her first national record in the pool with a 171m dynamic apnea. In the waters of Hawaii the Humpbacks tell of a girl with a mermaid tattoo and a monofin falling past 50m... Last year Eric reached 67m in Dean's Blue Hole, diving on a partial exhale. He returned to train in the fall of 2008, and
was rumored to be making fundamental changes in his approach, which could push him back
amongst the world's deepest. William Winram is easily the top American freediver, with
continental records in all the disciplines, and medals in almost all the European competitions. There is only one thing bigger than a continent, and that's the world...
from left to right, William Winram, Jana Strain, Eric Fattah
William Winram
5 From high up in the mountains of Colombia, Frank Pernett is the lung doctor who has put his knowledge to practice. In Vertical Blue 2008 he swam without fins down to 43m in VB 2008. He is back in 2009 with his loyal support team: wife Cristina and daughter Valentina.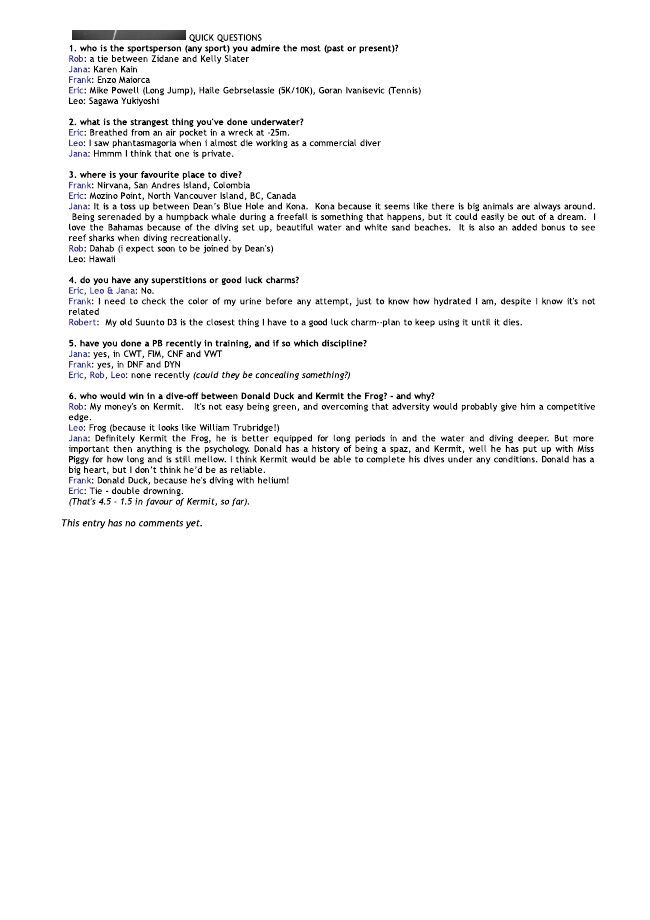 1. who is the sportsperson (any sport) you admire the most (past or present)?
Rob: a tie between Zidane and Kelly Slater
Jana: Karen Kain
Frank: Enzo Maiorca
Eric: Mike Powell (Long Jump), Haile Gebrselassie (5K/ 10K), Goran Ivanisevic (Tennis) Leo: Sagawa Yukiyoshi
2. what is the strangest thing you've done underwater?
Eric: Breathed from an air pocket in a wreck at -25m.
Leo: I saw phantasmagoria when i almost die working as a commercial diver Jana: Hmmm I think that one is private.
3. where is your favourite place to dive?
Frank: Nirvana, San Andres Island, Colombia
Eric: Mozino Point, North Vancouver Island, BC, Canada
Jana: It is a toss up between Dean's Blue Hole and Kona. Kona because it seems like there is big animals are always around.
Being serenaded by a humpback whale during a freefall is something that happens, but it could easily be out of a dream. I love the Bahamas because of the diving set up, beautiful water and white sand beaches. It is also an added bonus to see reef sharks when diving recreationally.
Rob: Dahab (i expect soon to be joined by Dean's)
Leo: Hawaii
4. do you have any superstitions or good luck charms?
Eric, Leo & Jana: No.
Frank: I need to check the color of my urine before any attempt, just to know how hydrated I am, despite I know it's not related
Robert: My old Suunto D3 is the closest thing I have to a good luck charm--plan to keep using it until it dies.
5. have you done a PB recently in training, and if so which discipline? Jana: yes, in CWT, FIM, CNF and VWT
Frank: yes, in DNF and DYN
Eric, Rob, Leo: none recently (could they be concealing something?)
6. who would win in a dive-off between Donald Duck and Kermit the Frog? - and why?
Rob: My money's on Kermit. |t's not easy being green, and overcoming that adversity would probably give him a competitive edge.
Leo: Frog (because it looks like William Trubridge!)
Jana: Definitely Kermit the Frog, he is better equipped for long periods in and the water and diving deeper. But more important then anything is the psychology. Donald has a history of being a spaz, and Kermit, well he has put up with Miss Piggy for how long and is still mellow. I think Kermit would be able to complete his dives under any conditions. Donald has a big heart, but I don't think he'd be as reliable.
Frank: Donald Duck, because he's diving with helium!
Eric: Tie - double drowning.
(T hat's 4.5 1.5 in favour of Kermit, so far).
This entry has no comments yet.