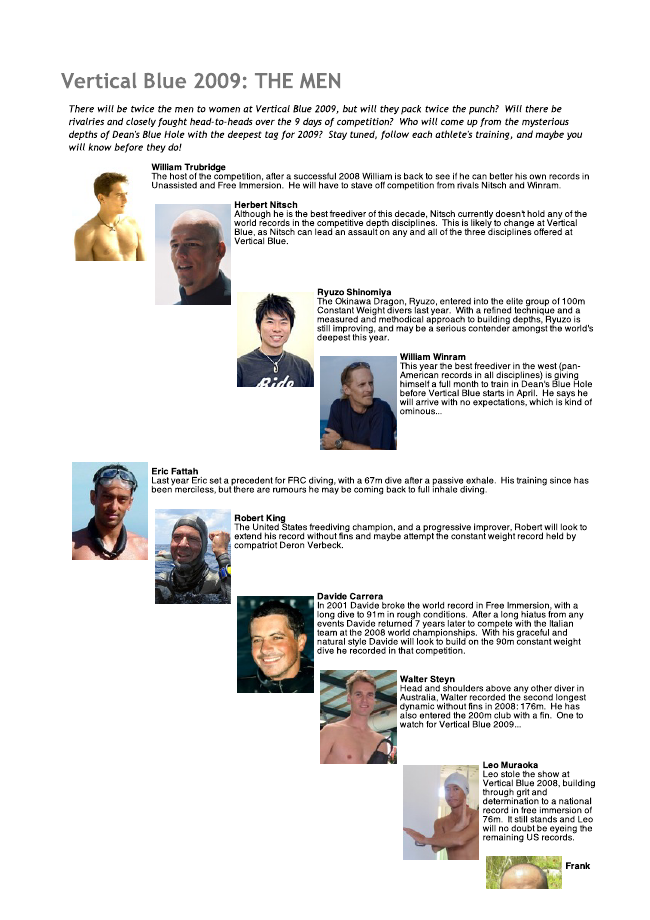 Vertical Blue ZOO9: THE MEN
There will be twice the men to women at Vertical Blue 2009, but will they pack twice the punch? Will there be rivalries and closely fought head- over the 9 days of competition? Who will come up from the mysterious depths of Dean's Blue Hole with the deepest tag for 2009? Stay tuned, follow each athlete's training, and maybe you will know before they do!
William Trubridge The host ofthe competition, after a successful 2008 William is back to see if he can better his own records in Unassisted and Free Immersion. He will have to stave off competition from rivals Nitsch and Winram.
Herbert Nitsch
Although he is the best freediver of this decade, Nitsch currently doesnt hold any ofthe
world records in the competitive depth disciplines. This is likely to change at Vertical
Blue, as Nitsch can lead an assault on any and all of the three disciplines offered ai Veńical Blue.
Ryuzo Shinomiya The Okinawa Dragon, Ryuzo, entered into the elite group of 100m Constant Weight divers last year. With a refined technique and a lb. El measured and methodical approach to building depths, Ftyuzo is
_I still improving, and may be a serious contender amongst the worId's
kif; deepest this year.
William Winram
This year the best freediver in the west (panAmerican records in all disciplines) is giving himself a full month to train in Dean's Blue Hole before Vertical Blue starts in April. He says he will arrive with no expectations, which is kind of ominous...
Eric Fattah Last year Eric set a precedent for FRC diving, with a 67m dive afler a passive exhale. His training since has been merciless, butthere are rumours he may be coming back to full inhale diving.
Robert King
The United States freediving champion, and a progressive improver, Robert will look to Q extend his record without fins and maybe attempt the constant weight record held by _Tí -I compatriot Deron Verbeck.
-1-I compatriot Deron Verbeck.
Davide Carrera
In 2001 Davide broke the world record in Free Immersion, with a long dive to 91m in rough conditions. After along hiatus from any events Davide returned 7 years later to compete with the Italian team at the 2008 world championships. With his graceful and natural style Davide will look to build on the 90m constant weight dive he recorded in that competition.
Walter Steyn
Head and shoulders above any other diver in Australia, Walter recorded the second longest
E dynamic without fins in 2008: 176m. He has
also entered the 200m club with a fin. One lo watch for Vertical Blue 2009...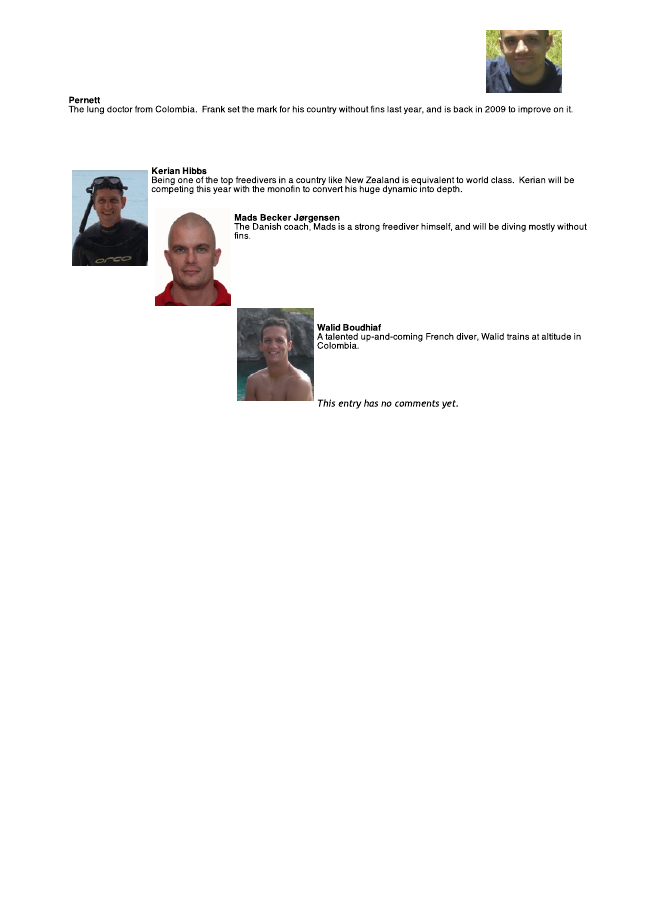 Pernett The lung doctor from Colombia. Frank set the mark for his country without fins last year, and is back in 2009 to improve on it.
_ Kerian Hibbs
Being one ofthe top freedivers in a country like New Zealand is equivalent to world class. Kerian will be competing this year with the monofin to convert his huge dynamic into depth.
Mads Becker Jnrgensen Danish coach, Mads is a strong freediver himself, and will be diving mostly without
Ins.
Walid Boudhiaf A talented up-and-coming French diver, Walid trains at altitude in Colombia.
El This entry has no comments yet.