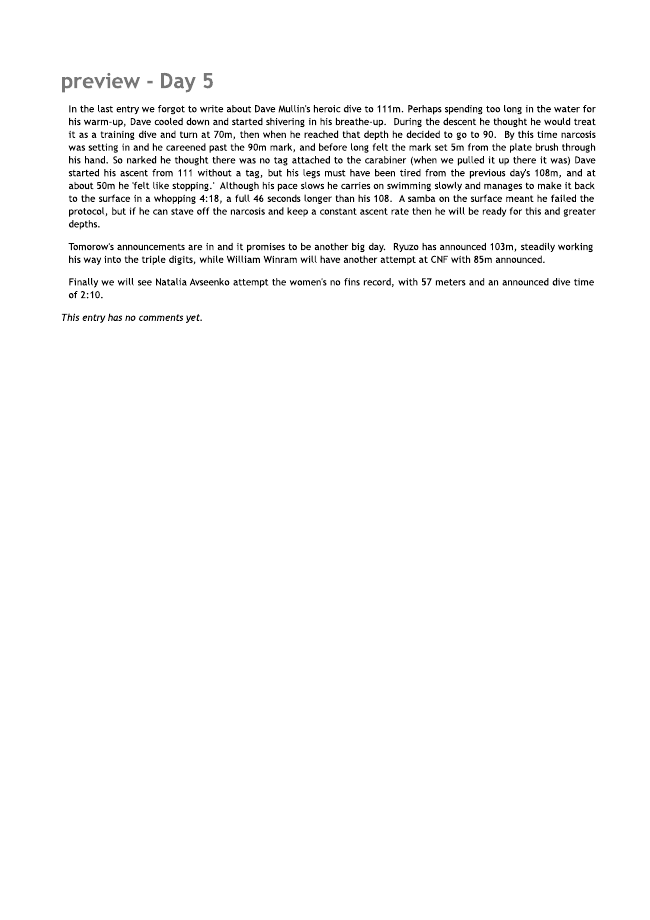 preview - Day 5
In the last entry we forgot to write about Dave Mullin's heroic dive to 111m. Perhaps spending too long in the water for his warm-up, Dave cooled down and started shivering in his breathe-up. During the descent he thought he would treat it as a training dive and turn at 70m, then when he reached that depth he decided to go to 90. By this time narcosís was setting in and he careened past the 90m mark, and before long felt the mark set 5m from the plate brush through his hand. So narked he thought there was no tag attached to the carabiner (when we pulled it up there it was) Dave started his ascent from 111 without a tag, but his legs must have been tired from the previous day's 108m, and at about 50m he 'felt like stopping.' Although his pace slows he carries on swimming slowly and manages to make it back to the surface in a whopping 4:18, a full 46 seconds longer than his 108. A samba on the surface meant he failed the protocol, but if he can stave off the narcosis and keep a constant ascent rate then he will be ready for this and greater depths.
Tomorow's announcements are in and it promises to be another big day. Ryuzo has announced 103m, steadily working his way into the triple digits, while William Winram will have another attempt at CNF with 85m announced.
Finally we will see Natalia Avseenko attempt the women's no fins record, with 57 meters and an announced dive time of 2:10.
This entry has no comments yet.