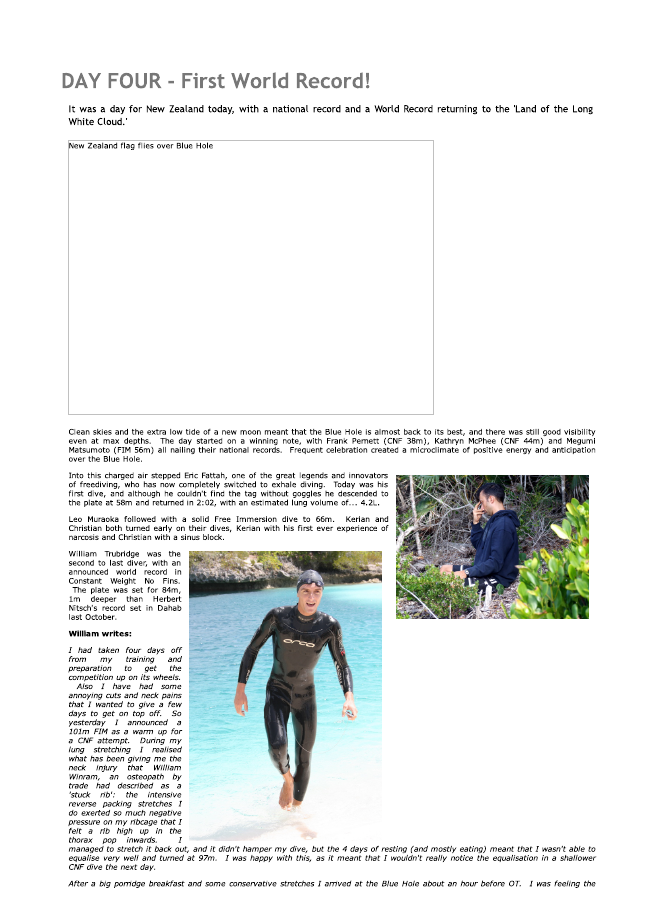 DAY FOUR - First World Record!
It was a day for New Zealand today, with a national record and a World Record returning to the 'Land of the Long White Cloud.'
New Zealand flag flies over Blue Hole
Clean skies and the extra low tide of a new moon meant that the Blue Hole is almost back to its best, and there was still good visibility even at max depths. The day started on a winning note, with Frank Pernett (CNF 38m), Kathryn McPhee (CNF 44m) and Megumi Matsumoto (FIM 56m) all nailing their national records. Frequent celebration created a microclimate of positive energy and anticipation over the Blue Hole.
Into this charged air stepped Eric Fattah, one of the great legends and innovators of freedìving, who has now completely switched to exhale diving. Today was his first dive, and although he couldn't find the tag without goggles he descended to the plate at 58m and returned in 2:02, with an estimated lung volume of... 4.2L.
Leo Muraoka followed with a solid Free Immersion dive to 66m. Kerian and Christian both turned early on their dives, Kerian with his first ever experience of narcosis and Christian with a sinus block. . á
William Trubridge was the second to last diver, with an announced worid record in Constant Weight No Fins. The plate was set for 84m, 1m deeper than Herbert Nitsch's record set in Dahab last October.
william writes:
I had taken four days aff from my training and preparation to get the competition up on its wheels.
Also I have had some annoying cuts and neck pains that I wanted to give a few days to get on top off. So yesterday I announced a 101m FIM as a warm up for a CNF attempt. During my lung stretching I realised what has been giving me the neck injury that William Winram, an osteopath by trade had described as a 'stuck rib': the intensive reverse packing stretches I do exerted so much negative pressure on my ribcage that I felt a rib high up in the
thorax pop inwards. I
managed to stretch it back out, and it didn't hamper my dive, but the 4 days of resting (and mostly eating) meant that I wasn't able to equalise very well and turned at 97m. I was happy with this, as it meant that I wouldn't really notice the equalisation in a shallower CNF dive the next day.
After a big porridge breakfast and some conservative stretches I arrived at the Blue Hole about an hour before OT. I was feeling the
nerves for the first time in a while, but blood pressure still felt high, which seems to be the most important thing (and an impossibility diving in Egypt). I had a nice long breathe-up on my back, with Kerian Hibbs propping my back up with his feet from the platform. 20 seconds out I inhaled and started packing. After a duck dive and 7 strokes I started the freefall and did a quick inventory of the
sensations.
VERTICAL BLUE
No major hypocapnic signals, so given my high blood pressure that basically meant that the dive was in the bag. Eric Fattah had advised me to congratulate myself after the duck dive, as by then the dive was determined, and the deeper I fell the more I empathised with this. It took me a while to find the tag on the bottom plate and attach it to the velcro on my leg, but I was still calm and relaxed as I started my ascent.
'28 strokes' I told myself (an extra 2 from how many it
OFFICIAL RESULTS
Congratulations Wíll!!Also good luck to William W. tommorow! by Aleksandar J. on 2008-04-04 16:41:28
would take without a lanyard). At 20 strokes I stil/ felt fine, so I lengthened the glides and started to enjoy the dive. cruised to the surface together. lately: I trained for a while without removing it in the surface protocol, and
sometimes revert to this bad habit. So as I came to the surface I focussed all my
attention on that one task, then relaxed into recovery breathing. 84m in 3:20 E (about 1:35 down and 1:45 up)
Peter Scott met me at 20 meters and we I have been having an issue with my noseclip