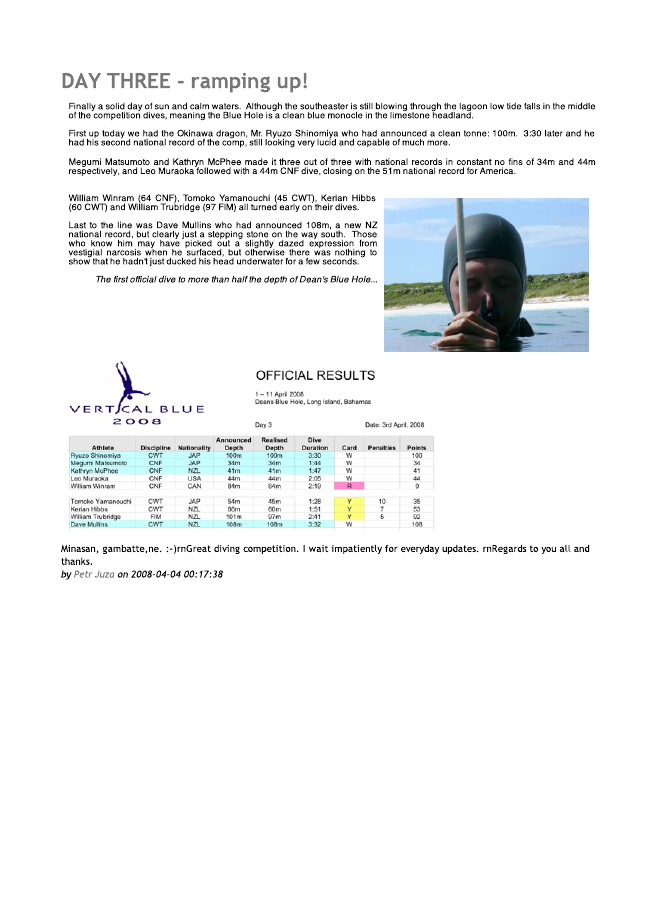 DAY THREE - ramping up!
Finally a solid day of sun and calm waters. Although the southeaster is still blowing through the lagoon low tide falls in the middle ofthe competition dives, meaning the Blue Hole is a clean blue monocle in the limestone headland.
First up today we had the Okinawa dragon, Mr. Ftyuzo Shinomiya who had announced a clean tonne: 100m. 3:30 later and he had his second national record of the comp, still looking very lucid and capable of much more.
Megumi Matsumoto and Kathryn McPhee made it three out of three with national records in constant no fins of 34m and 44m respectively, and Leo Muraoka followed with a 44m CNF dive, closing on the 51 m national record for America.
William Winram (64 CNF), Tomoko Yamanouchi (45 Kerian Hibbs (60 and William Trubridge (97 FIM) all turned early on their dives.
Last to the line was Dave Mullins who had announced 108m, a new NZ national record, but clearly just a stepping stone on the way south. Those who know him may have picked out a slightly dazed expression from vestigial narcosis when he surfaced, but otherwise there was nothing to show that he hadntiustducked his head undenfvater for a few seconds.
The dive to more than half the depth of Dean's Blue Hole...
OFFICIAL RESULTS
VERTICAL BLUE
Minasan, gambatte,ne. :-)rnGreat diving competition. I wait impatiently for everyday updates. rnRegards to you all and thanks.
by Petr Juza on 2008-04-04 00: 17:38