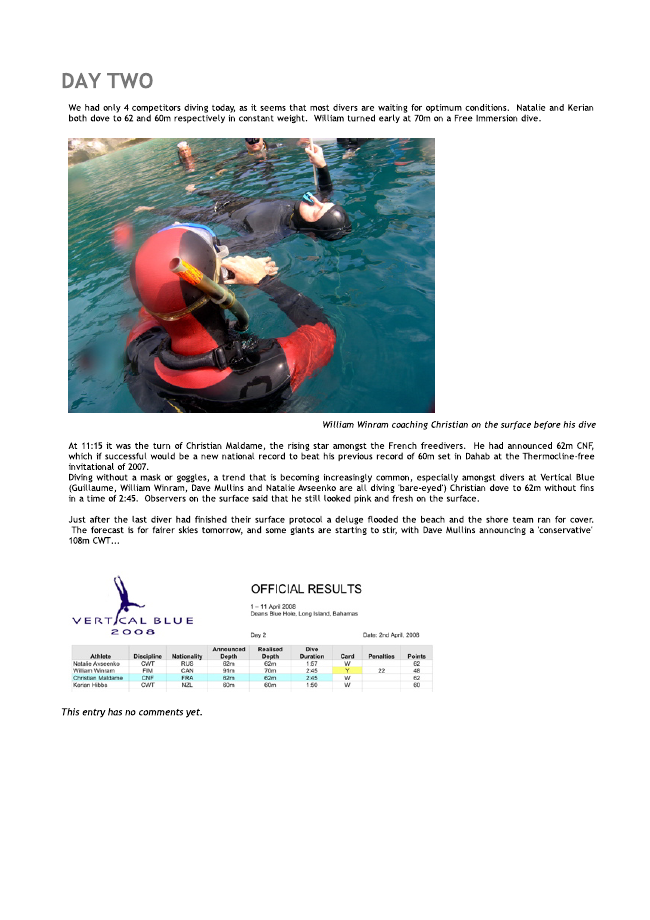 DAY TWO
We had only 4 competitors diving today, as it seems that most divers are waiting for optimum conditions. Natalie and Kerian both dove to 62 and 60m respectively in constant weight. William turned early at 70m on a Free Immersion dive.
William Winram coaching Christian on the surface before his dive
At 11:15 it was the turn of Christian Maldame, the rising star amongst the French freedivers. He had announced 62m CNF, which if successful would be a new national record to beat his previous record of 60m set in Dahab at the Thermocline-free invitational of 2007.
Diving without a mask or goggles, a trend that is becoming increasingly common, especially amongst divers at Vertical Blue (Guillaume, William Winram, Dave Mullins and Natalie Avseenko are all diving 'bare-eyed') Christian dove to 62m without fins in a time of 2:45. Observers on the surface said that he still looked pink and fresh on the surface.
Just after the last diver had finished their surface protocol a deluge flooded the beach and the shore team ran for cover. The forecast is for fairer skies tomorrow, and some giants are starting to stir, with Dave Mullins announcing a 'conservative' 108m CWT...
OFFICIAL RESULTS
VERTICAL BLUE
This entry has no comments yet.