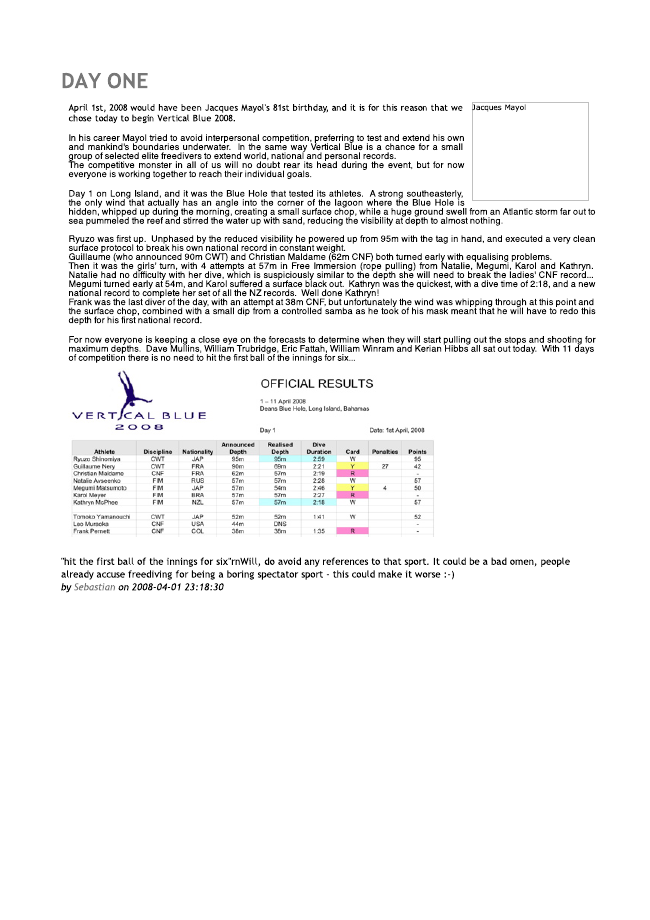 DAY ONE
April 1st, 2008 would have been Jacques Mayol's 81st birthday, and it is for this reason that we Jacques Mayol chose today to begin Vertical Blue 2008.
In his career Mayol tried to avoid interpersonal competition, preferring to test and extend his own and mankind's boundaries undenwater. In the same way Vertical Blue is a chance for a small group of selected elite freedivers to extend world, national and personal records.
The competitive monster in all of us will no doubt rear its head during the event, but for now everyone is working together to reach their individual goals.
Day 1 on Long Island, and it was the Blue Hole that tested its athletes. Astrong southeasterly,
the only wind that actually has an angle into the corner of the lagoon where the Blue Hole is
hidden, whipped up during the morning, creating a small surface chop, while a huge ground swell from an Atlantic storm far out to sea pummeled the reef and stirred the water up with sand, reducing the visibility at depth to almost nothing.
Ftyuzo was first up. Unphased by the reduced visibility he powered up from 95m with the tag in hand, and executed a very clean surface protocol to break his own national record in constant weight.
Guillaume (who announced 90m and Christian Maldame (62m CNF) both turned early with equalising problems.
Then it was the girls' turn, with 4 attempts at 57m in Free Immersion (rope pulling) from Natalie, Megumi, Karol and Kathryn. Natalie had no difficulty with her dive, which is suspiciously similar to the depth she will need to break the ladies' CNF record... Megumi turned early at 54m, and Karol suffered a surface black out. Kathryn was the quickest, with a dive time of 2:18, and a new national record to complete her set of all the NZ records. Well done Kathryn!
Frank was the last diver ofthe day, with an attempt at 38m CNF, but unfortunately the wind was whipping through at this point and the surface chop, combined with a small dip from a controlled samba as he took of his mask meant that he will have to redo this depth for his first national record.
For now everyone is keeping a close eye on the forecasts to determine when they will start pulling out the stops and shooting for maximum depths. Dave Mullins, Vlülliam Trubridge, Eric Fattah, William Winram and Kerian Hibbs all sat out today. With 11 days of competition there is no need to hit the first ball of the innings for six...
ÚFFICIÈL RESULTS
VERTICAL BLUE
hit the first ball of the innings for sixrnWill, do avoid any references to that sport. It could be a bad omen, people already accuse freediving for being a boring spectator sport - this could make it worse :-) by Sebastian on 2008-04-01 23:18:30