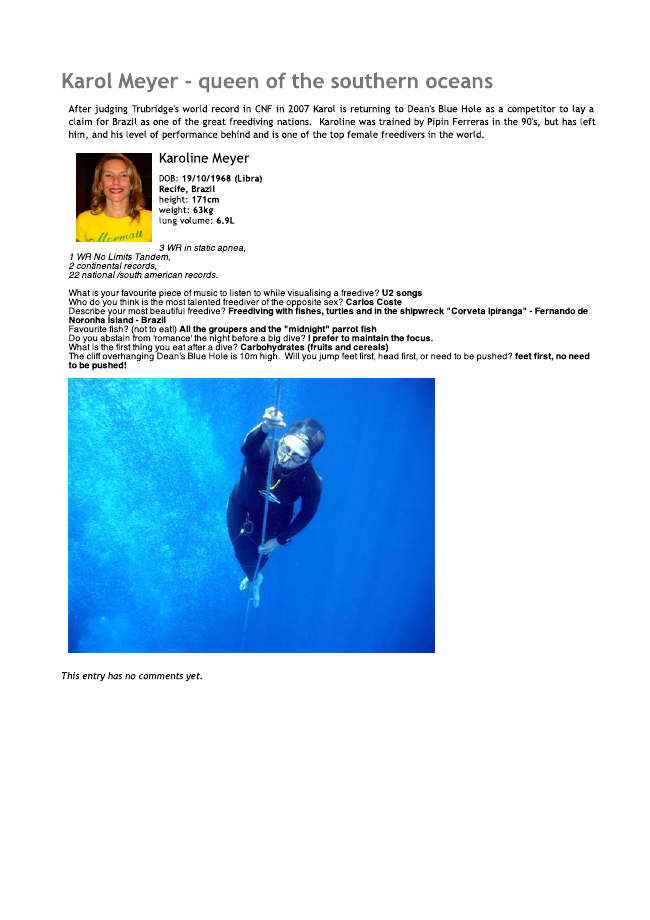 Karol Meyer - queen of the southern oceans
After judging Trubridge's world record in CNF in 2007 Karol is returning to Dean's Blue Hole as a competitor to lay a claim for Brazil as one of the great freediving nations. Karoline was trained by Pipin Ferreras in the 90's, but has left him, and his level of performance behind and is one of the top female freedivers in the world.
Karoline Meyer
DOB: 19/10/1968 (Libra) Recife, Brazil
height: 171 cm
weight: 63kg
lung volume: 6.9L
3 WR in static apnea, 1 WR No Limits Tandem, 2 continental records, 22 national /south american records.
What is your favourite piece of music to listen to while visualising a freedive? U2 songs
Who do you think is the most talented freediver of the opposite sex? Carlos Coste
Describe your most beautiful freedive? Freediving with fishes, turtles and in the shipwreck Corveta Ipiranga - Fernando de Noronha Island - Brazil
Favourite fish? (not to eat!) All the groupers and the midnight parrot fish
Do you abstain from 'romance' the night before a big dive? I prefer to maintain the focus.
What is the first thing you eat after a dive? Carbohydrates (fruits and cereals)
The cliff overhanging Dean's Blue Hole is 10m high. Will you jump feet lirst, head first, or need to be pushed? feet first, no need to be pushed!
This entry has no comments yet.