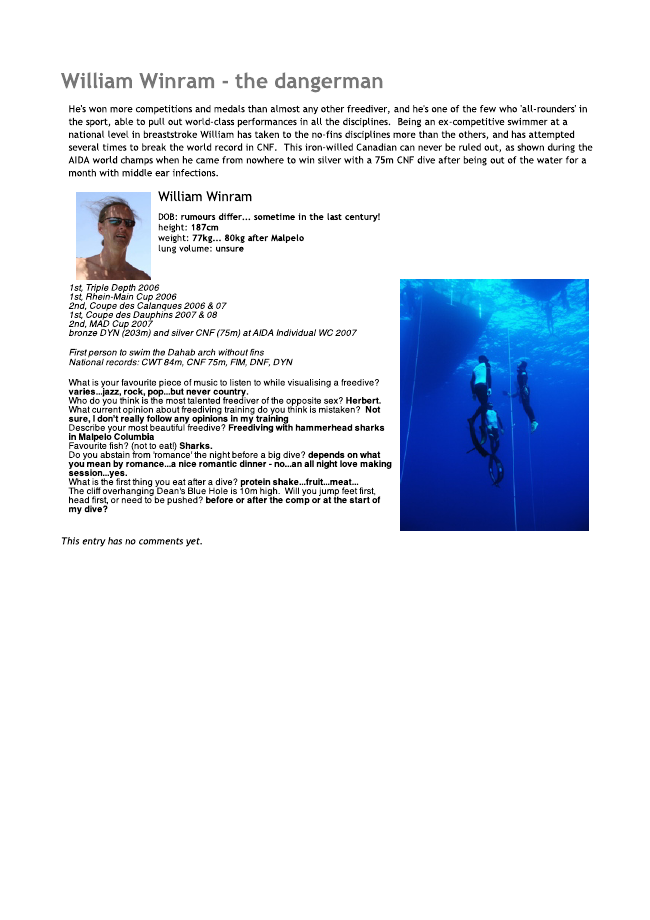 William Winram - the dangerman
He's won more competitions and medals than almost any other freediver, and he's one of the few who 'all-rounders' in the sport, able to pull out world-class performances in all the disciplines. Being an ex-competitive swimmer at a national level in breaststroke William has taken to the no-fins disciplines more than the others, and has attempted several times to break the world record in CNF. This iron-willed Canadian can never be ruled out, as shown during the AIDA world champs when he came from nowhere to win silver with a 75m CNF dive after being out of the water for a month with middle ear infections.
William Winram
DOB: rumours differ... sometime in the last century! height: 187cm
weight: 77kg... 80kg after Malpelo
lung volume: unsure
1st, Triple Depth 2006
1st, Rhein­Main Cup 2006
2nd, Coupe des Calanques 2006 & 07
1st, Coupe des Dauphins 2007 & 08
2nd, MAD Cup 2007
bronze DYN (203m) and silver CNF (75m) atAIDA Individual WC 2007
First person to swim the Dahab arch withoutfîns National records: CWT84m, CNF 75m, FIM, DNF, DYN
What is your favourite piece of music to listen to while visualising a freedive? varies...jazz, rock, pop...but never country.
Who do you think is the most talented treediver of the opposite sex? Herbert. What current opinion about freediving training do you think is mistaken? Not sure, I don't really follow any opinions in my training
Describe your most beautiful freedive? Freediving with hammerhead sharks in Malpelo Columbia
Favourite fish? (not to eat!) Sharks.
Do you abstain from 'romance' the night before a big dive? depends on what you mean by romance...a nice romantic dinner - no...an all night love making session...yes.
What is the first thing you eat after a dive? protein shake...fruit...meat...
The cliff overhanging Dean's Blue Hole is 10m high. Will you jump feetlirst, heagfirslt), or need to be pushed? before or after ihe comp or ai the start of my Ive.
This entry has no comments yet.