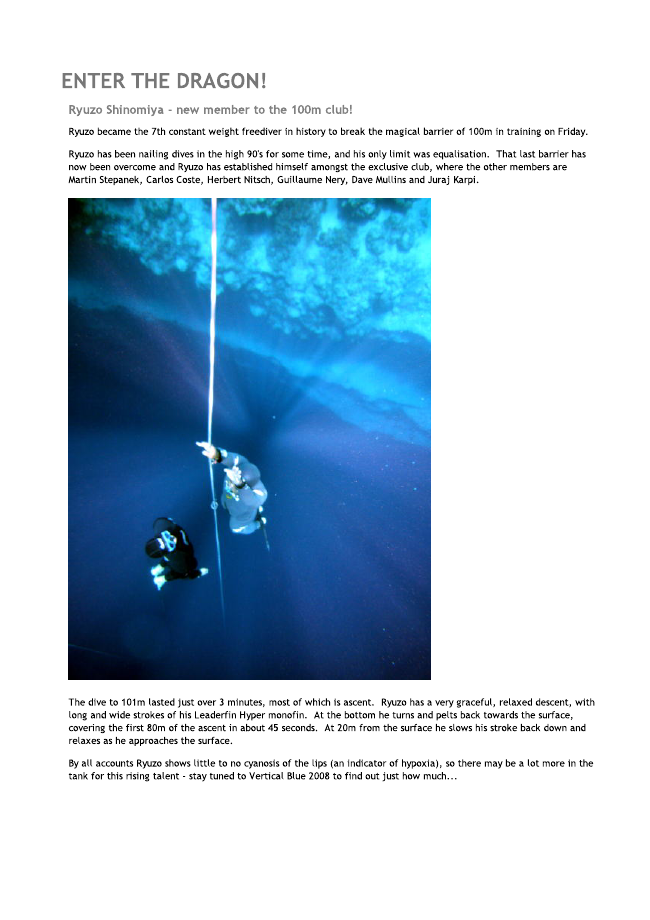 ENTER THE DRAGON!
Ryuzo Shinomiya - new member to the 100m club!
Ryuzo became the 7th constant weight freediver in history to break the magical barrier of 100m in training on Friday.
Ryuzo has been nailing dives in the high 90's for some time, and his only limit was equalisation. That last barrier has now been overcome and Ryuzo has established himself amongst the exclusive club, where the other members are Martin Stepanek, Carlos Coste, Herbert Nitsch, Guillaume Nery, Dave Mullins and Juraj Karpi.
The dive to 101m lasted just over 3 minutes, most of which is ascent. Ryuzo has a very graceful, relaxed descent, with long and wide strokes of his Leaderfin Hyper monofin. At the bottom he turns and pelts back towards the surface, covering the first 80m of the ascent in about 45 seconds. At 20m from the surface he slows his stroke back down and relaxes as he approaches the surface.
By all accounts Ryuzo shows little to no cyanosis of the lips (an indicator of hypoxia), so there may be a lot more in the tank for this rising talent - stay tuned to Vertical Blue 2008 to find out just how much...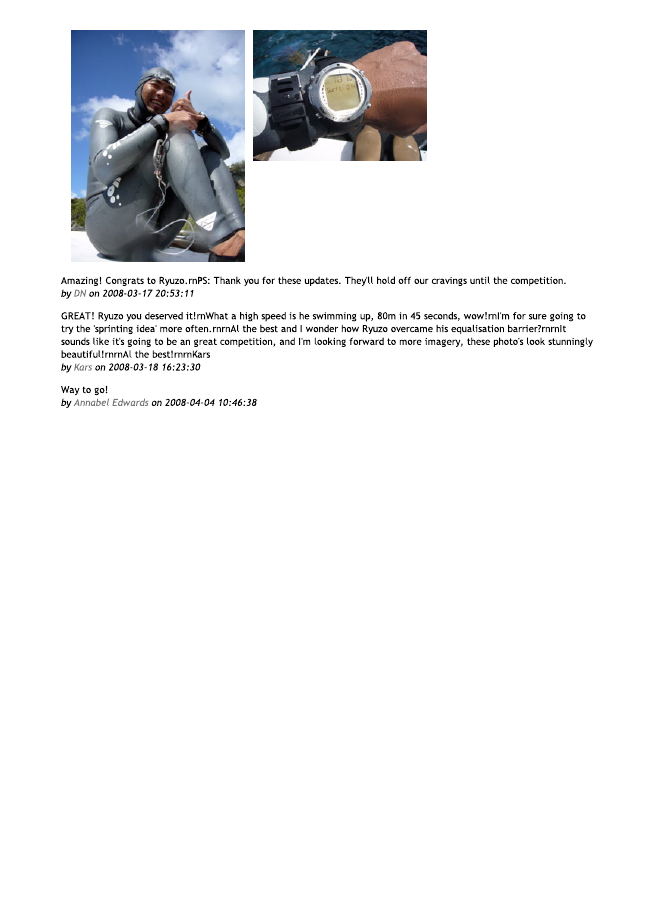 Amazing! Congrats to Ryuzo.rnPS: Thank you for these updates. They'll hold off our cravings until the competition. by DN on 2008-03- 17 20:53: 11
GREAT! Ryuzo you deserved it!rnWhat a high speed is he swimming up, 80m in 45 seconds, for sure going to try the 'sprinting idea' more often.rnrnAl the best and I wonder how Ryuzo overcame his equalisation barrier?rnrnIt sounds like it's going to be an great competition, and looking forward to more imagery, these photo's look stunningly beautiful!rnrnAl the best!rnrnKars
by Kars on 2008-03- 18 16:23:30
Way to go! by Annabel Edwards on 2008-04-04 10:46:38