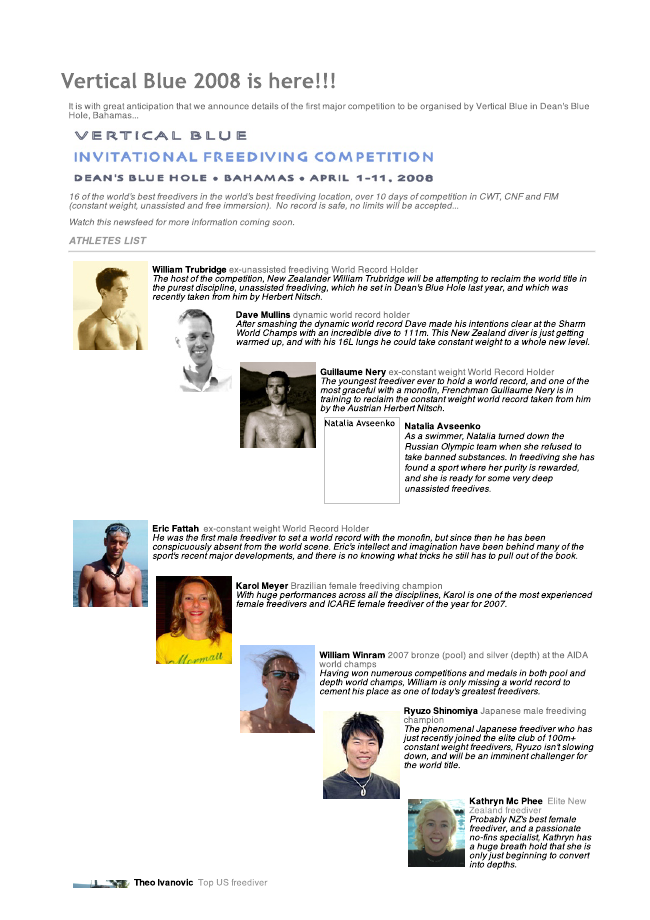 Vertical Blue 2008 is here!!!
Itis with great anticipation that we announce details of the first major competition to be organised by Vertical Blue in Dean'S Blue Hole, Bahamas...
VERTICAL BLU [E
INVI'lAT}ONAL. FREED"/ING COMPETITION
beAN's Ho|.E . BAHAMAS Alban. '1-11. zoos
16 of the world's best freedivers in the world's best freediving location, over 10 days of competition in CW7', CNF and FIM (constant weight, unassisted and free immersion). No record is safe, no limits will be accepted...
Watch this newsfeed for more informa tion coming soon.
ATHLE TES LIST
William Trubridge ex-unassisted freediving World Record Holder The hostof the competition, New Zealander VWlliam Trubridge will be attempting to reclaim the world title in
the purest discipline, unassisted freediving, which he setin Dean's Blue Hole last year, and which was recently taken from him by Herbert Nitsch.
,M Dave Mullins dynamic world record holder
After smashing the dynamic world record Dave made his intenüons clear at the Sharm World Champs with an incredible dive to 111m. This New Zealand diver is just getting K E warmed up, and with his 16L lungs he could take constant weight to a whole new level.
Guillaume Nery ex-constant weight World Record Holder
The youngest freediver ever to hold a world record, and one of the most graceful with a monolin, Frenchman Guillaume Nery is in training to reclaim the constant weight world record taken from him by the Austrian Herbert Nitsch.
Natalia Avseenko Namia Avseenko
As a swimmer, Natalia turned down the Russian Olympic team when she refused to take banned substances. In freediving she has found a sport where her purity is rewarded, and she is ready for some very deep unassisted freedives.
Eric Fattah ex-constant weight World Record Holder
He was the first male freediver to seta world record with the monotin, butsince then he has been conspicuously absent from the world scene. Eric's intellect and imagination have been behind many of me sport's recentmajor developments, and there is no knowing what tricks he still has to pull out ofthe book.
Karol Meyer Brazilian female freediving champion
I/Wth huge performances across all the disciplines, Karol is one of the most experienced female freedivers and /CARE female freediver of the year for 2007.
I . 'Lf afd I William Winram 2007 bronze (pool) and silver (depth) at the AIDA L N world champs
Having won numerous competitions and medals in both pool and depth world champs, VWlliam is only missing a world record to cementhis place as one of today's greatest freedivers.
Ryuzo Shinomiya Japanese male freediving champion
The phenomenal Japanese freediver who has just recently joined the elite club of 100m+ constant weight freedivers, Ryuzo isn 't slowing _L_ down, and will be an imminentchallenger for the world title.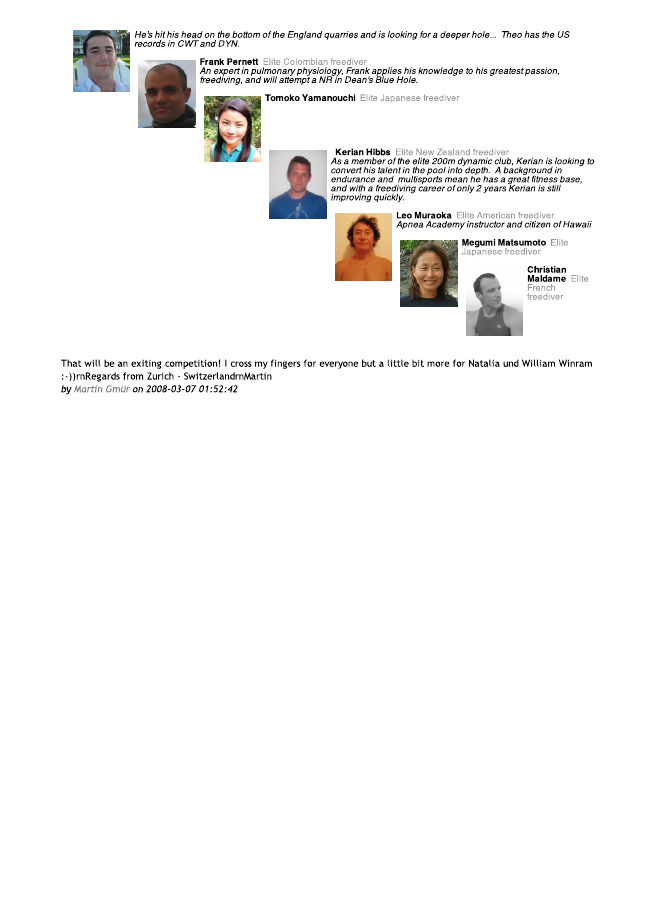 He's hit his head on the bottom of the England quarries and is looking fora deeper hole... Theo has the US records in CWTand DYN.
Frank Pernett Elite Colombian lreediver An expert in pulmonary physiology, Frank applies his knowledge to his greatestpassion, freediving, and will attempta NR in Dean's Blue Hole.
i Tomoko Yamanouchi Elite Japanese freediver
Kerian Hibbs Elite New Zealand freediver rn` As a member of the elite 200m dynamic club, Kerian is looking to
' conveń his talentin the pool into depth. A background in
endurance and multisports mean he has a greatfîtness base,
3 ' and with a freediving career of years Kerian is still ń improving quickly.
._ Í Leo Muraoka Elite American freediver
Apnea Academy instructor and citizen of Hawaii
Megumi Matsumoto Elite Japanese freediver
Christian Maldame Elite French
freed iver
That will be an exiting competition! I cross my fingers for everyone but a little bit more for Natalia und William Winram :-))rnRegards from Zurich - SwitzerlandrnMartin by Martin Gmür on 2008-03-07 01:52:42